Lot's of parts for sale.
- Prices included
- Price are 'asking for'; I am open to fair offers!
- Payment with Paypal
- I tried to put down all dimensions/sizes - best effort
- Shipping within Europe is no problem (on buyers cost). If so: it will take some extra time due to all Covid19 measures
- For reviews on satisfaction and my shipping see the topic in the mountainbike-section.
- Send me a PM with your email for extra pictures.
- Some extra parts will follow; ie Campagnolo Shamal HPW-12 wheelset (with minor cranks in the rear rim)
- Extra pictures are in the album:
https://www.pinkbike.com/u/Owwwwk/album ... ts-4-sale/
(how to create a link 'click here'?)
Sunn Dronn steel race frame:
- I think about 52cm; very dark green color (Unitone paint)
- NOS but some very small scratches due to storage
- for rimbrake
- nice, classic and rare frame
- € 175,-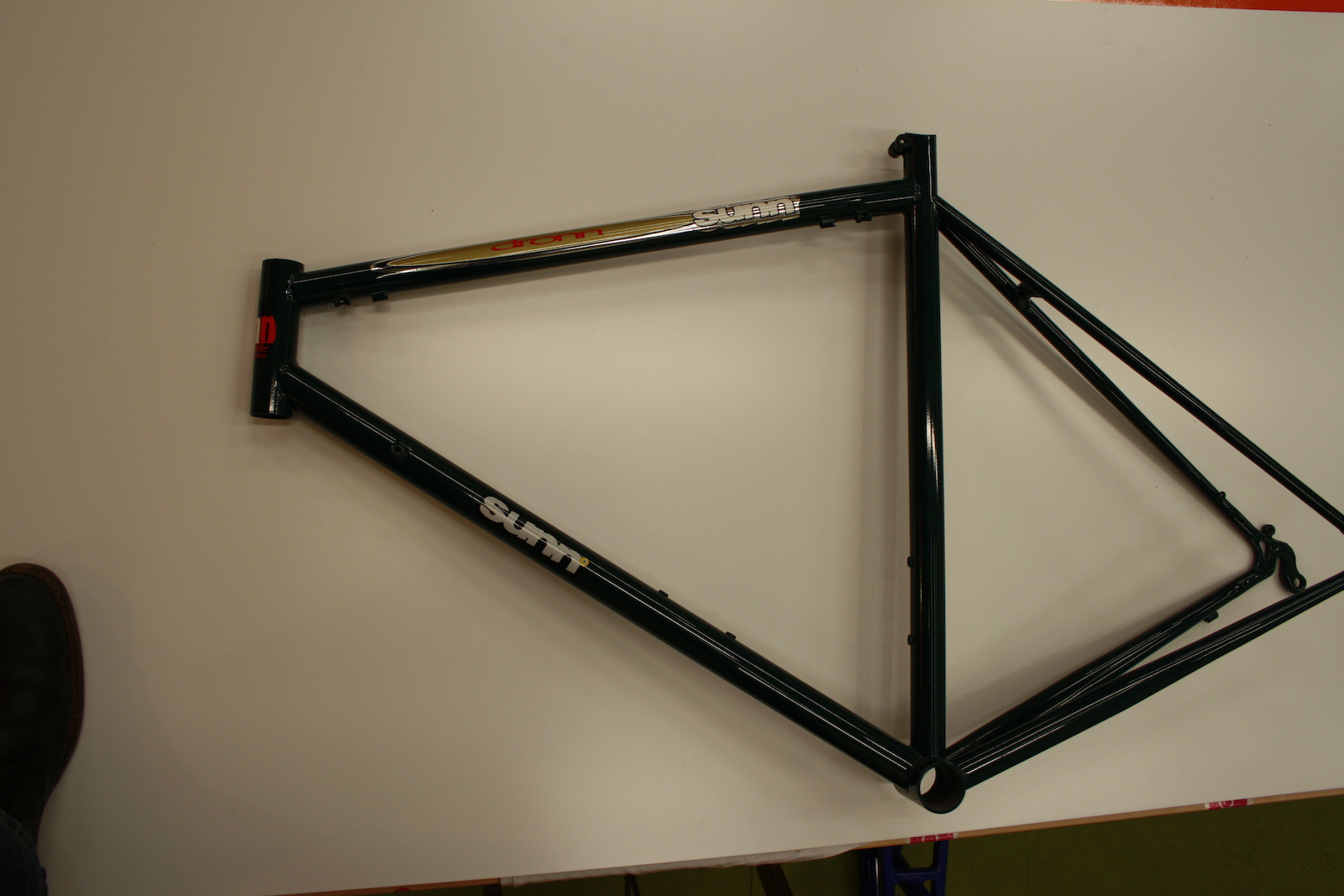 Colnago Precisa Chrome fork:
- 1" ahead
- 295mm (uncut)
- rimbrake
- NOS but some very small scratches due to storage
- € 300,-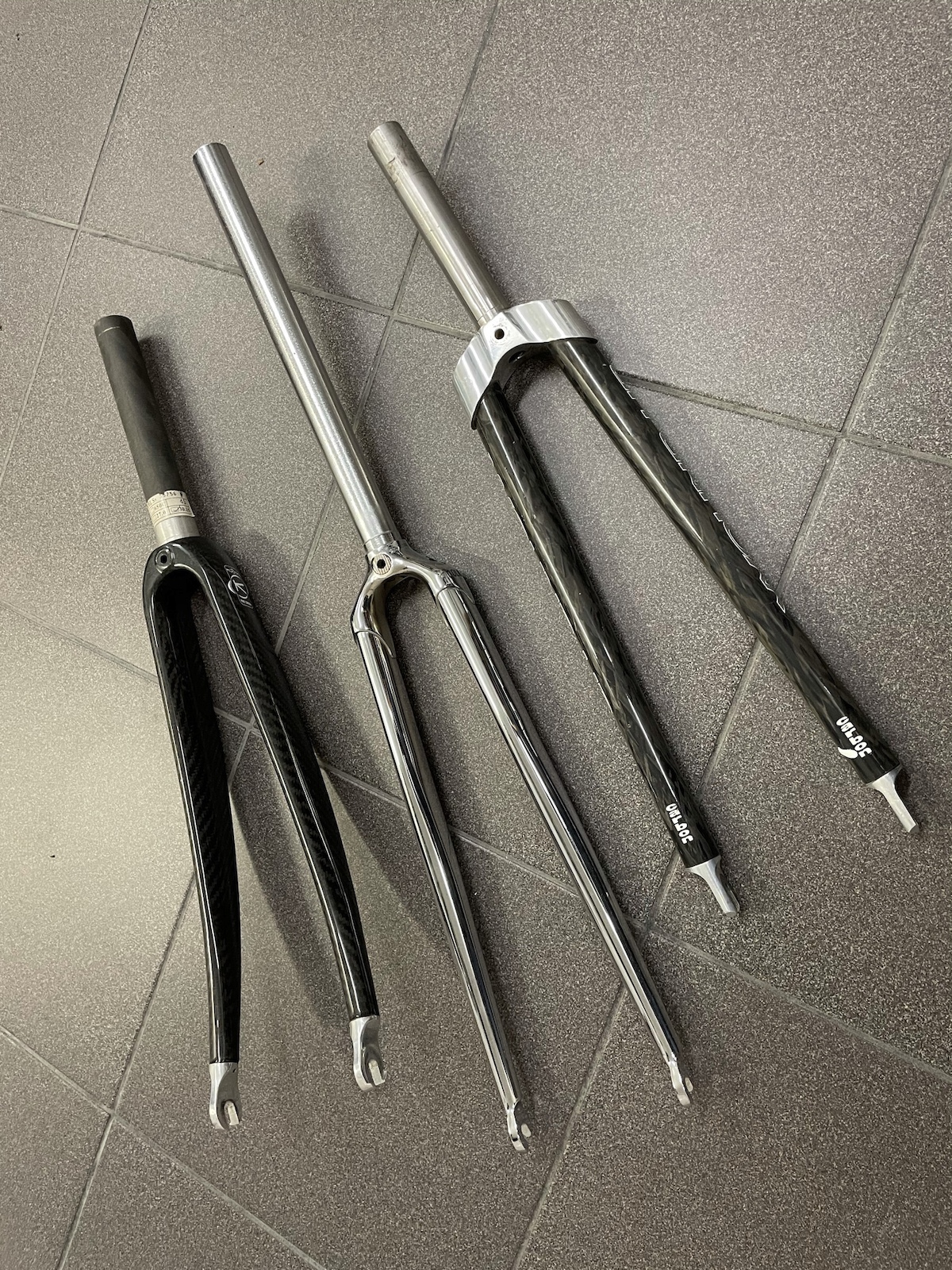 See album for extra pictures
Wound Up carbon fork:
- carbon legs; alloy crown
- for rimbrake
- cut - 146mm
- 1" ahead
- hardly used, some small scratches due to storage
€ 250,-
See album for extra pictures
Kuota carbon fork (700c):
- 1 1/8 ahead
- uncut - 185mm
- for rimbrake
- hardly used, some small scratches due to storage
€ 95,-
See album for extra pictures
Campa groupset (wo cranks):
- Campa Record 10-speed ergopower shifters
- Campa Chorus 10-speed rear and front deri (front looks like Ti)
- Campa Chorus brakes
- Used but in good condition
€ 325,-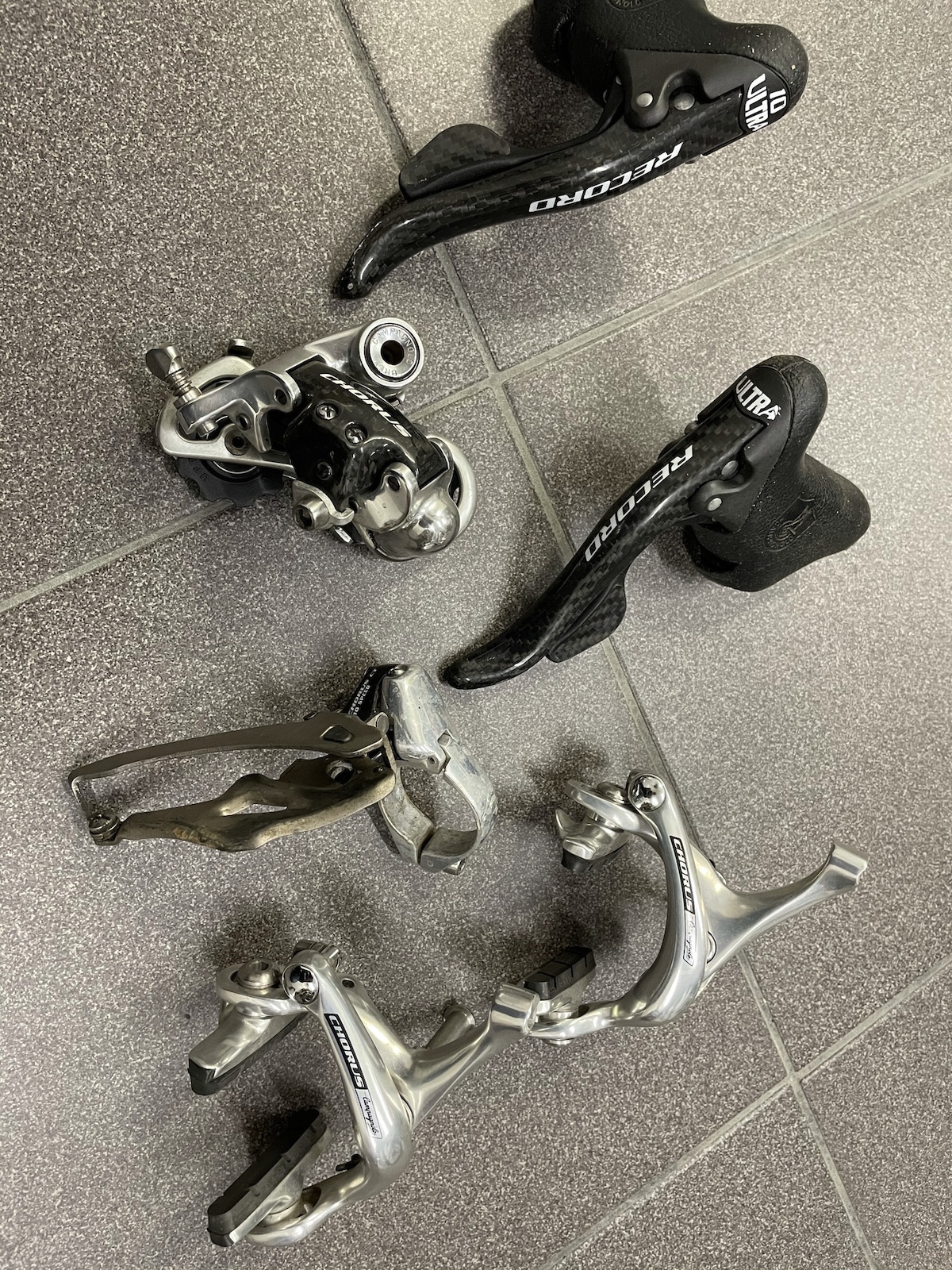 Campagnolo Chorus alloy crank:
- classic axle
- 175mm
- 53/42 chainrings
- used but in good condition; normal wear & tear of shoe
€ 85,-
Campagnolo Chorus alloy crank:
- classic axle
- 172,5mm
- 52/small chainring missing)
- used but in good condition; normal wear & tear of shoe
€ 70,-
Multiple stems:
- Klein Quantum specific (105mm? / -15(?)), 25,4mm: € 75,-
- Syncros (1) quill, 1, 100mm length, negative 15 degrees (?), 25,4mm; € 50,-
- Syncros (2) quill, silver, 1"", 125mm length, negative 15 degrees (?), 25,4mm; € 50,-
- Syncros (3) black, 1 1/8", 130mm length, 0 degrees (?), 25,4mm; € 50,-
- Tune ahead, black, 1 1/8", 120mm length, 6 degrees (?), 25,4mm; € 50,-
- Italmanubri (steel) quill, silver, 1"", 110mm length, negative 15 degrees (?), 25,4mm; € 50,-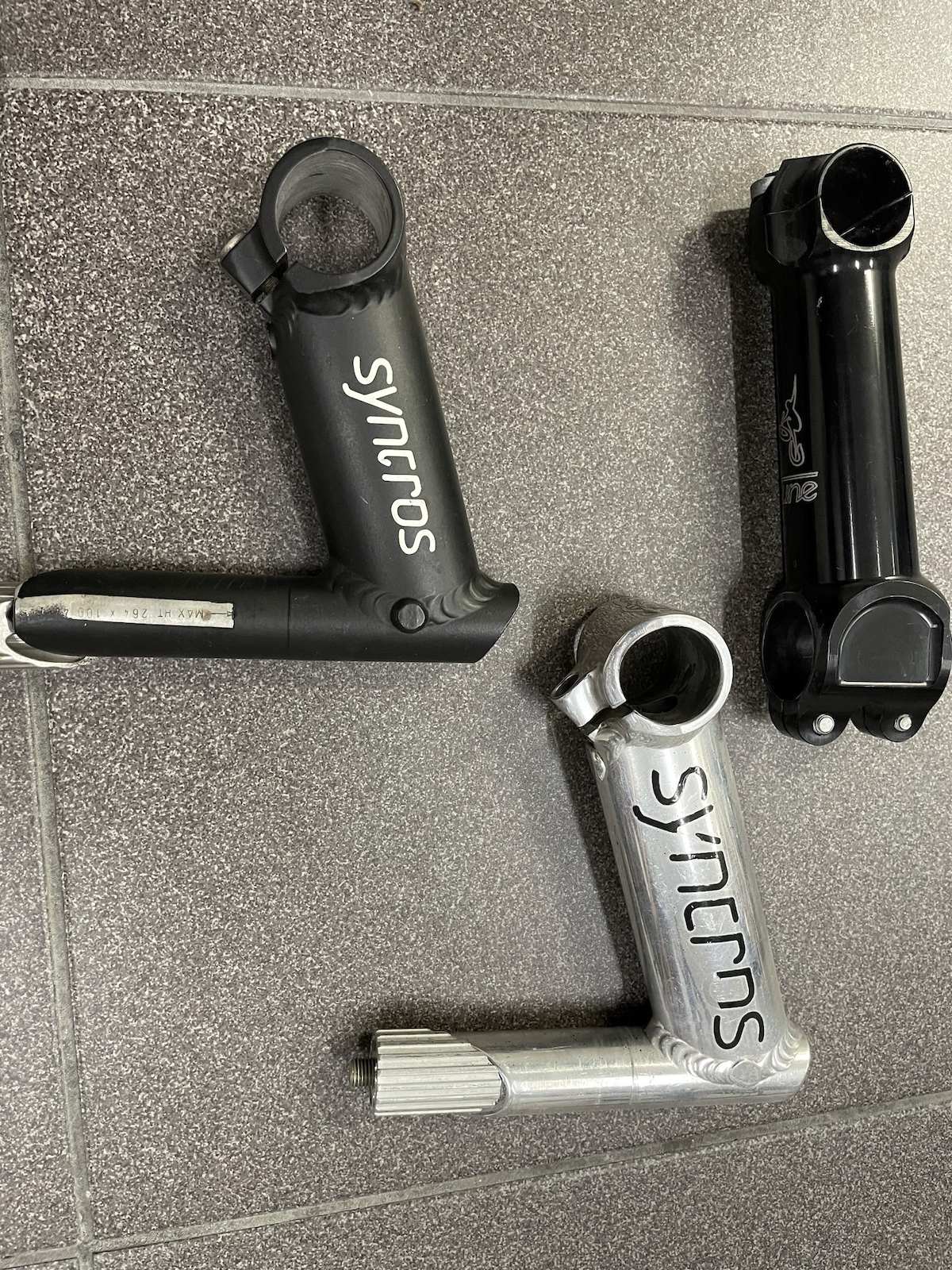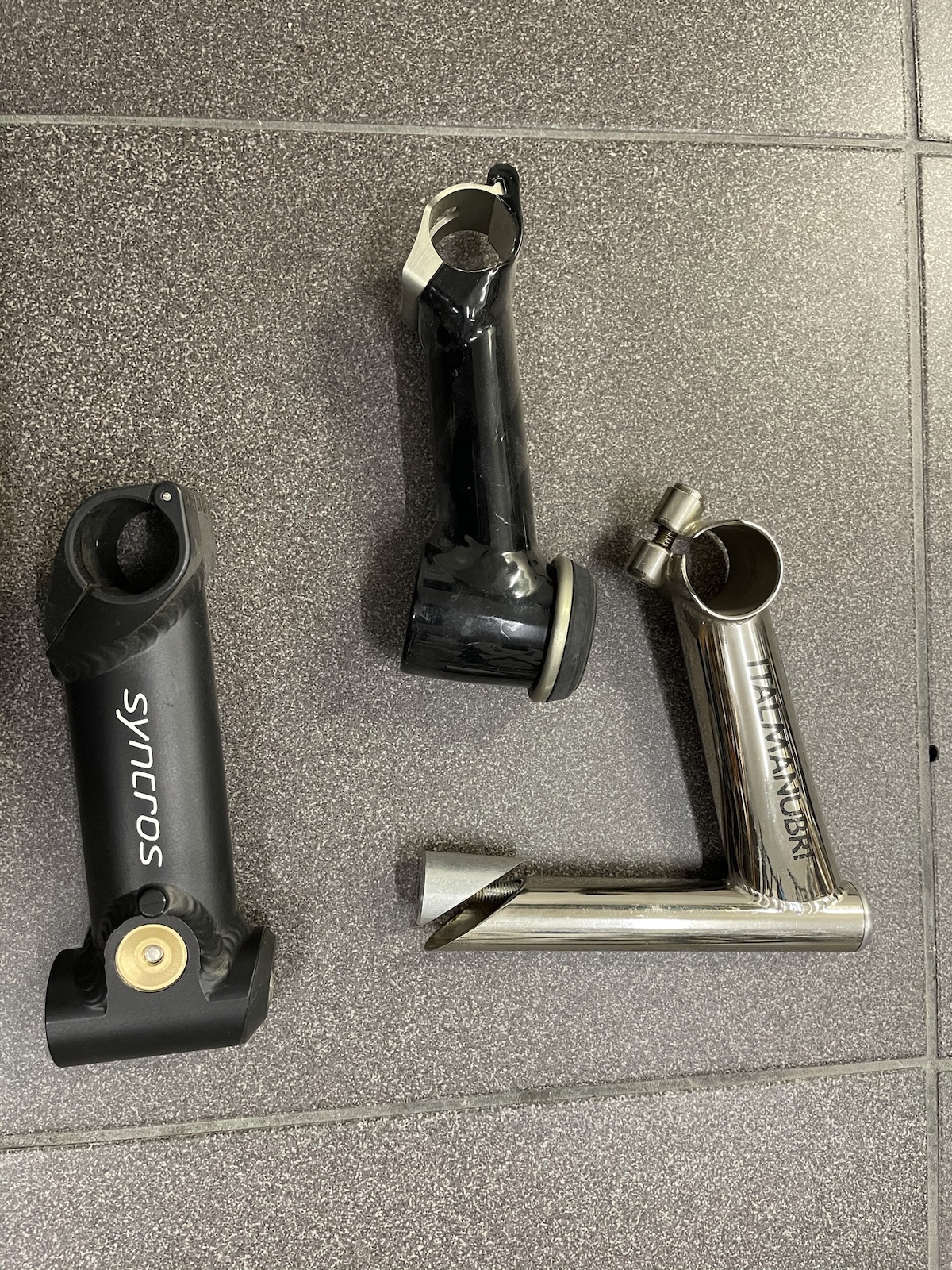 Seatposts:
- Campa Chorus (NOS) 26,8 x 200mm; € 50,-
- Syncros (1) (NOS) 27,2 x 225mm; € 50,-
- Syncros (2) (NOS) 27,2 x 225mm; € 50,-
- Syncros (3) (NOS) 27,2 x 225mm; € 50,-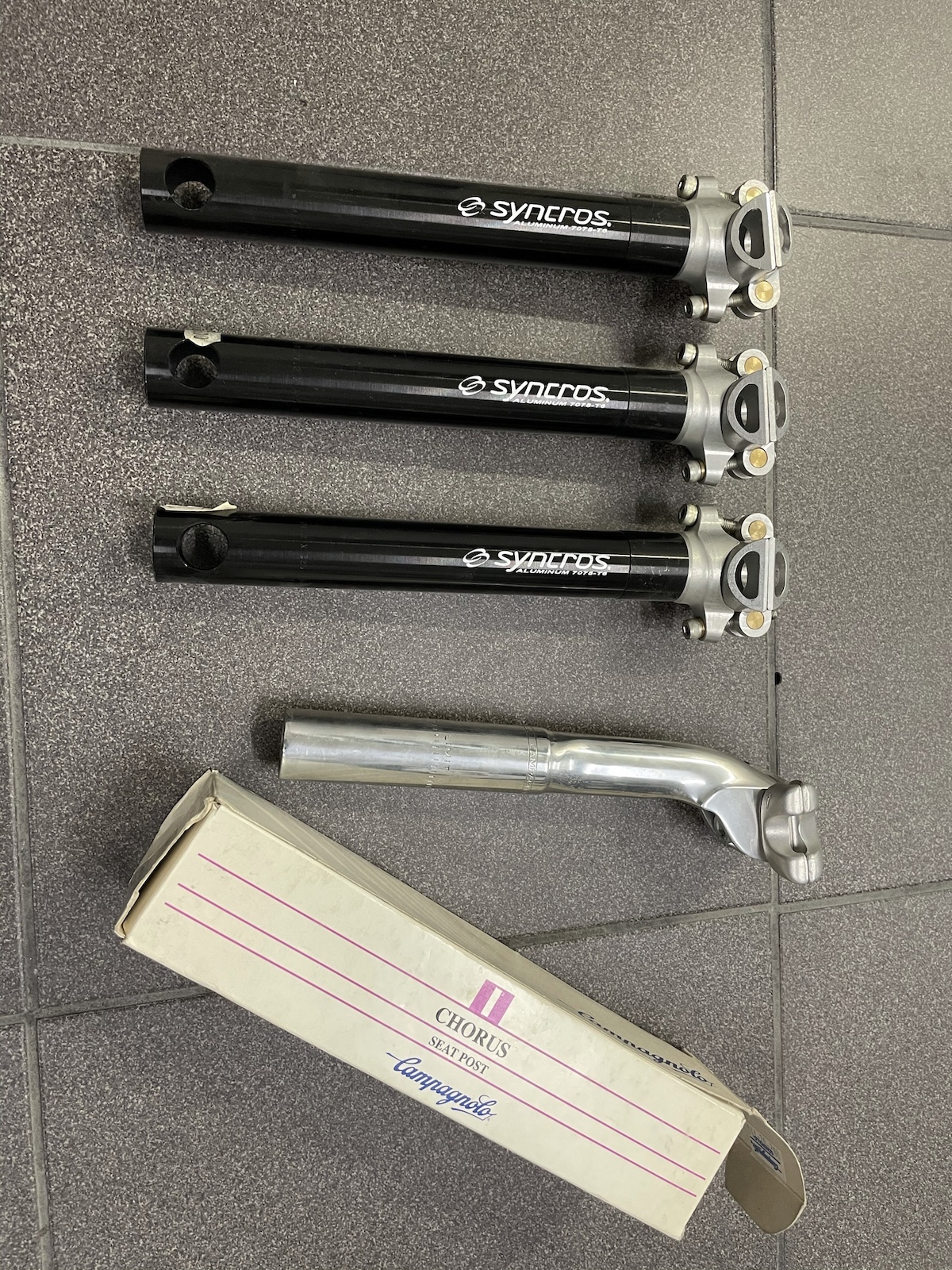 Shifters:
- Dura Ace classic
- NOS with box (box has some damage)
- € 125,-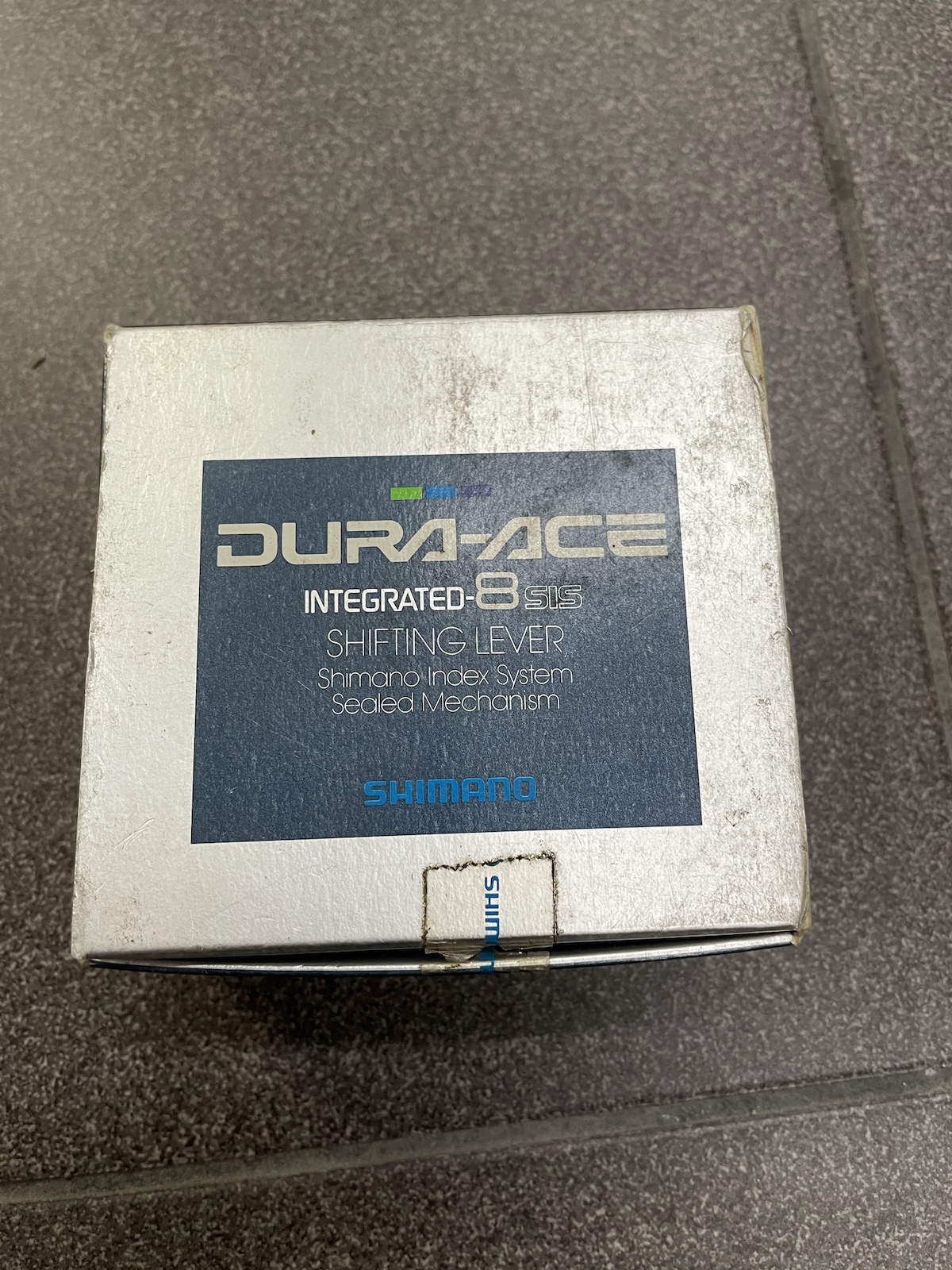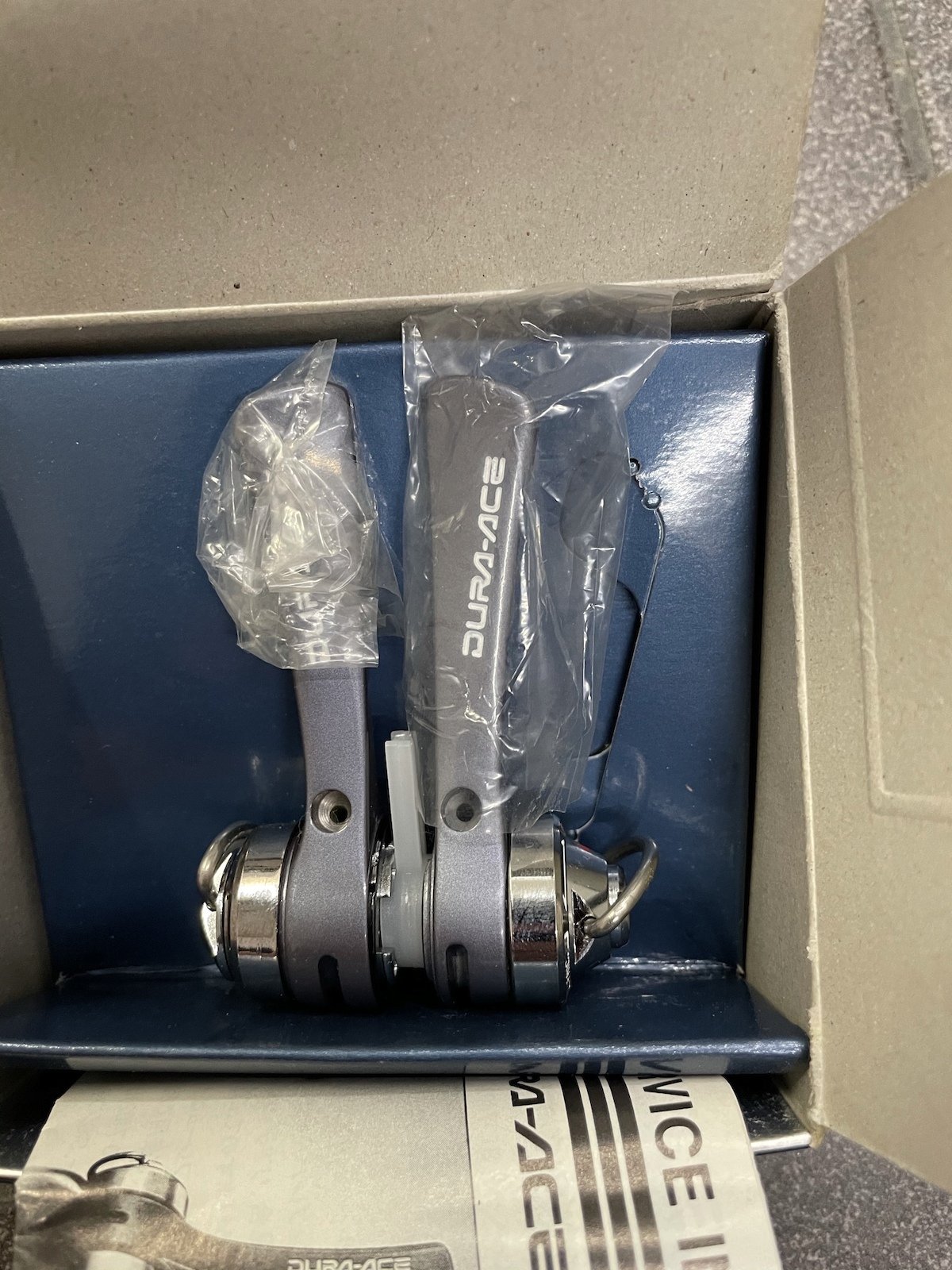 Bottom bracket:
- Dura Ace BB7400 classic axle
- 36x24T
- NOS but no box
- € 75,-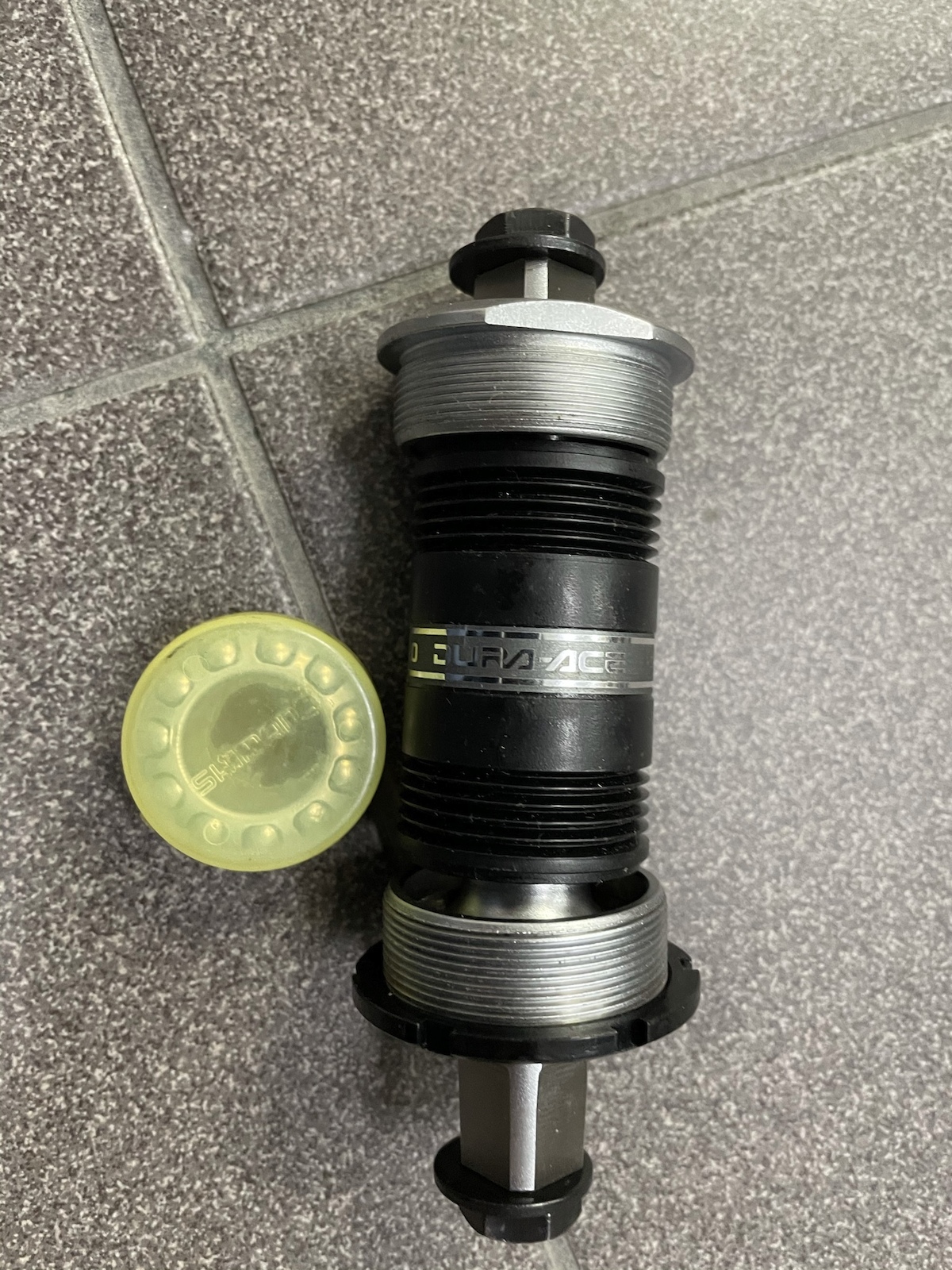 Bottom bracket:
- Ultegra classic axle
- Italian 70x115mm
- NOS with box
- € 50,-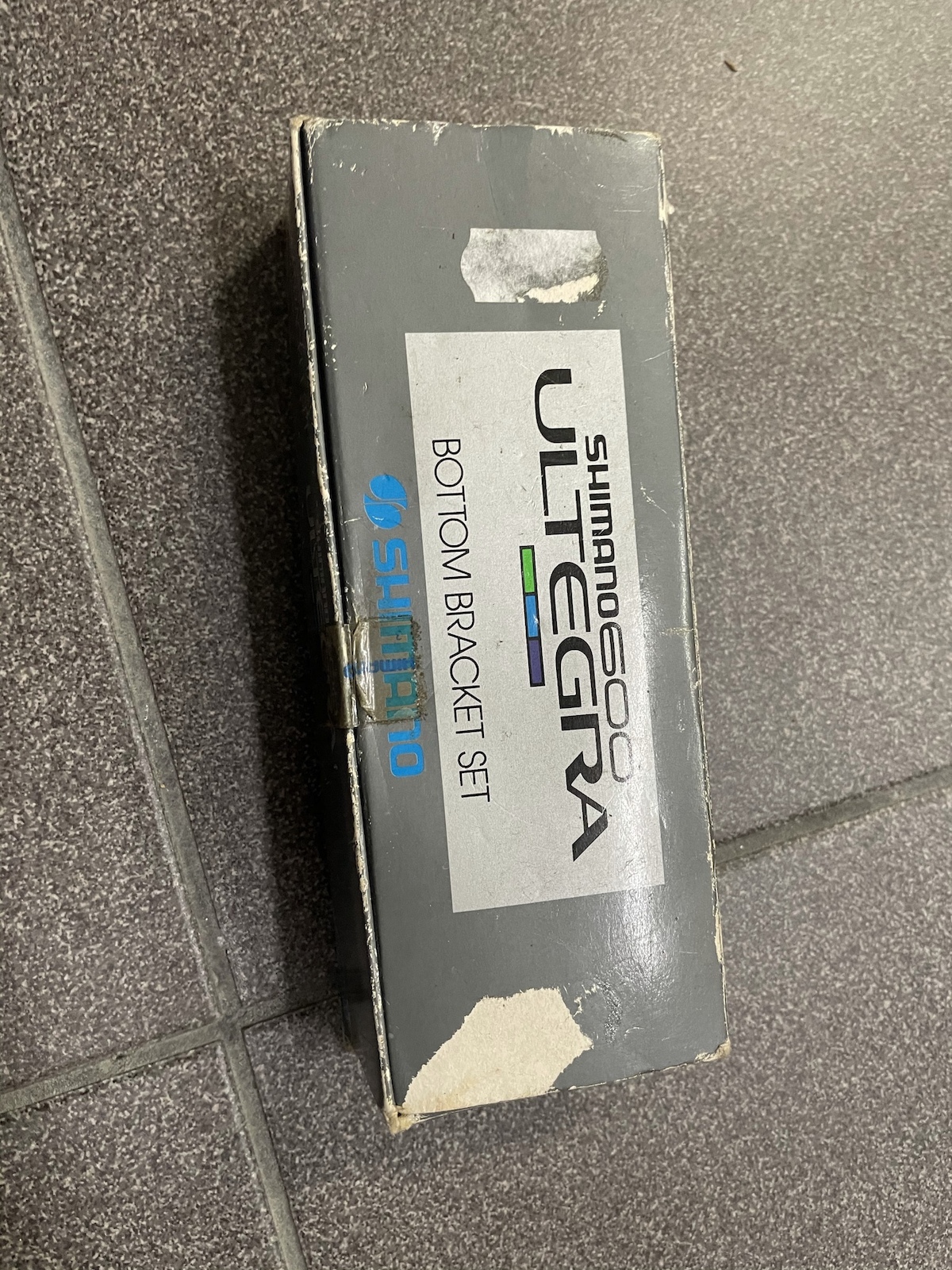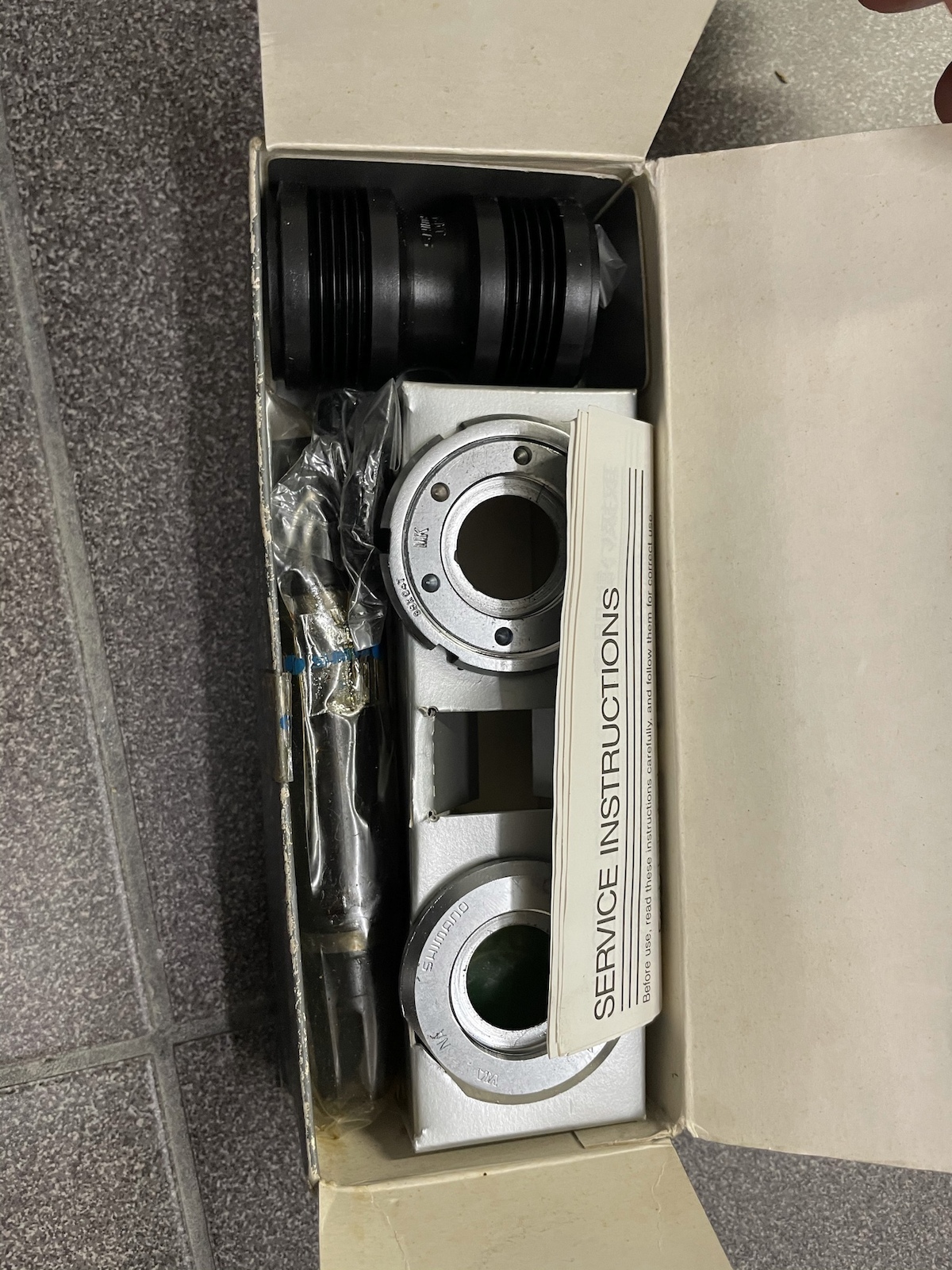 Other:
SRP Ti axle kit for Campa hubs (100mm/135mm): € 50