'96 Kona Kapu
Very nice Kapu frame with mudshark fork, in great condition for an 18yr old frame.
Comes with the original headset and seatpost clamp. It's in a dark blue-grey colour and made of Columbus Genius steel with Ritchey dropouts.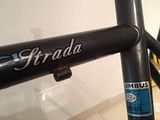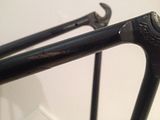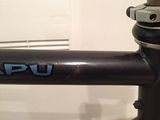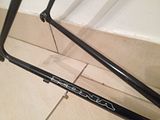 There is certainly cable-rub and some rust spots, but it is extremely presentable. I think it'd look cracking with an hour or so of elbow grease. The Velocity stem is in very nice condition and is a bronze colour. It came from a '98 Kapu.
I haven't built or ridden this. My intention was to build it with a recent alloy Campagnolo groupset, a black King classic headset and a pair of Wound Up forks, but it wasn't to be; I can sell the frame with the Wound Ups and headset if anyone is interested.
Measurements:
* Seat tube (centre-to-centre): 480mm
* Seat tube (centre-to-top): 560mm
* Head tube: 130mm
* Top tube effective: 540mm
* Stem: 100mm
Without wanting to sound over-the-top, up until recently the '98 bike I used to own was the best riding steel frame I've ever owned and I regretted parting with it ever since selling it. My intention was to restore this frame (I contacted H Lloyd and they can provide decals) but I'd probably leave it well alone.
I'd like £350 including UK postage.

_________________
Pegoretti Marcelo, Fixie Inc Betty Leeds, Wraith Fabrication Hustle, Traitor Ruben CX
Kona Grand Wagon, Kona Kapu, Kona Haole