Welcome to my for sale thread, please note that prices include postage within the UK (Highlands/islands extra). The second price in each case is for payment by Paypal Goods if the buyer prefers that method. I can also take bank transfers.
By the way although I'm not very active here, I have an extensive track record on ebay and Bikeradar under the same username.
Campagnolo Veloce Power Torque chainset
53/39
172.5mm
Quite a bit of heel rub as you can see but the rings are in very good condition and the DS bearing (the one pressed onto the crank) is silky smooth.
I'll throw in the BB (English thread) which is usable but a bit rough.
£35 posted (£36.43 Paypal Goods)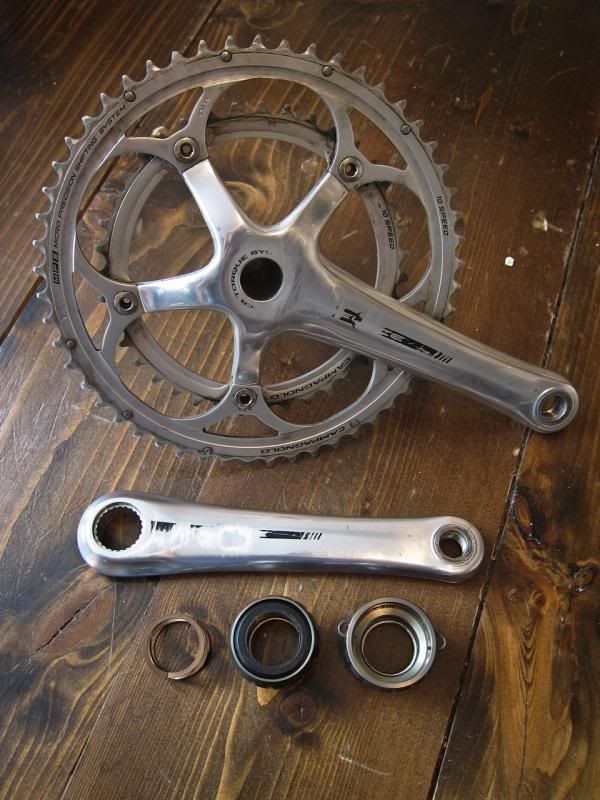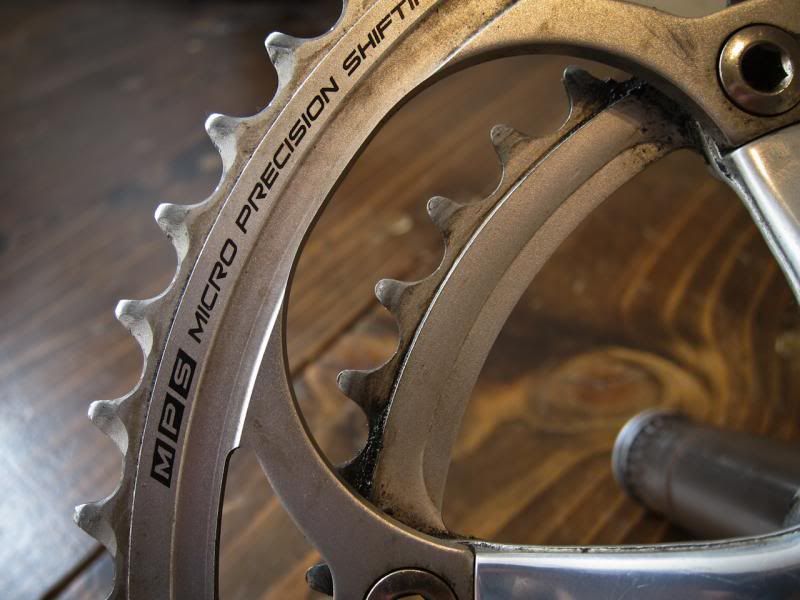 Campag 8 speed 12-21 cassette. Used, but doesn't look very worn.
£10/£10.55 Paypal Goods
SOLD ITEMS:
Bontrager saddle. Has some cracks in the cover and a scuff on the rear left corner, but structurally sound. Nice brown cover to match your leather bar tape -
£9/£9.52 SOLD
Campagnolo Reggisella (seatpost) box. This is the box only, just to be clear. Useful if you're selling a post or have one to display -
£8/£8.48 posted. SOLD
2 unbranded carbon bottle cages - these were on my lady's bike for a few rides before she decided she preferred white cages to match her frame -
£14/£14.69 the pair - SOLD
Shimano 105 9 speed right hand shifter - very tatty as you can see. This works (8 clear clicks) but there is a lot of play in the rear shift lever, which doesn't spring back very cleanly. Because of this I'm selling it as seen -
£15/£15.76 posted please. SOLD
DT Swiss 240s freehub for Campagnolo. This has slight cassette marking but has only seen intermittent (non winter) use over the course of a single season. The bearings are perfect and the endcap (slighty scratches on the inside, not visible when assembled) is included -
£22/£22.97 posted please. SOLD
Pair of Shimano Deore XT hubs in excellent condition. These are used but only have the odd tiny mark on them, plus the usual spoke marks. Bearings are in great shape - I've just repacked them with fresh grease and the cones and races are spotless.
£25/£26.08 posted SOLD
Brand new and unused Shimano UN55 bottom bracket. I accidentally ordered two!
£12/£12.62 posted SOLD
Pair of Wolber Super Champion Aubisque tub rims, 36h. These have a little corrosion on the eyelets and there's slight wear to the brake tracks, but from a few feet away they look pretty nice and grey -
SOLD £30/£31.26 posted SOLD
Shimano 600 aero seatpost, 27.2. This has the usual light insertion marks on the lower portion but looks lovely -
£30/£31.26 SOLD
Campagnolo Athena Ultra Torque carbon chainset
53/39
172.5mm
Smooth bearings, minimal wear to the rings. Note that this is Ultra Torque NOT Power Torque.
£120 posted (£124.42 Paypal Goods) SOLD
SR Sakae SA chainset, 50/36 square taper, 170mm. Used, but loads of life left in the rings, which are minimally worn. I'm not sure if the left arm is the original but it's not a bad match. Tapers and threads look good -
£20/£20.90 SOLD
FSA Vero square taper - some wear to the rings, but should be plenty of life in them. Judge for yourself from the pics!
£15 posted please SOLD
1. Black B17, black rails, inscribed "OJ7" on underside of leather, Brooks badge (overlapping Os) intact, good 'vintage' condition -
£25/£26.08 posted.
SOLD to johnystevenson
2. Brown B17, silver rails, Brooks badge present and intact, but logo has rubbed off. Shape is good with minimal sagging, lots of small cracks in leather. One rail is broken however (see below) so requires repair to be usable -
£15/15.73 posted. SOLD
3. Black B17, silver rails, badge missing, leather is quite cracked and saddle is a bit distorted but not beyond salvation -
£15/15.73 posted. SOLD
4. Peugeot leather saddle including clamp assembly. Stamped 'PEUGEOT SPORT' ('Made in France') and 'CROUPON' on the side. Good shape and leather is quite smooth, albeit with quite a patina -
SOLD £15/15.73 posted.