Basso Loto 58cm Columbus SLX
incl. fork, stem, headset, seatpost, handlebars and BB: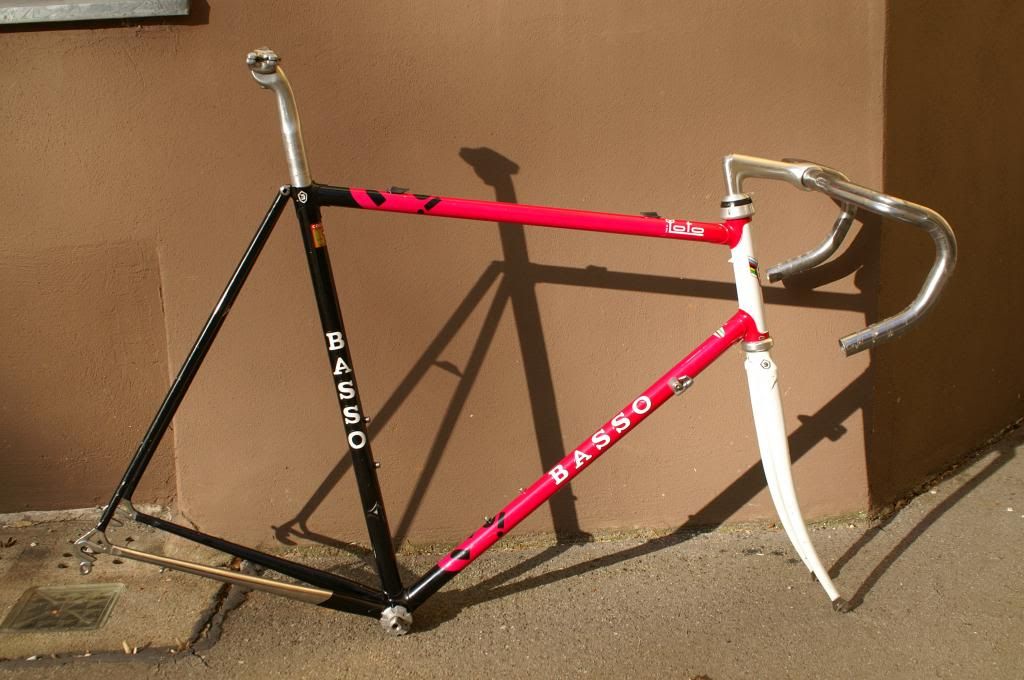 Image Gallery:
http://s1273.beta.photobucket.com/user/therealskunkworks/library/Basso%20Loto
serial 912420
original fork
Stronlight headset - running fairly smooth
Dura Ace stem
Dura Ace STI frame adapters
SKF BB - not running smooth but still in working order
Modolo handlebar
Koga Miyata rubber cable guides.
570mm TT c-c alongside
590mm ST c-t
165mm HT
27,2mm seatpost dia
I bought this frame new/nos.
few chips and cable rubs here and there. Please take a look at the image Gallery. I've ridden it for about 5000 miles without crashes.
It felt straight when I rode it but due to the tolerances I recommend measuring it in a frame jig - I do it with all my frames since 3years before build up wether new or used.
The seat clamp is special and has always been taken care of.
DRY & NO RUST! Feel free to ask!
265
GBP
or
325
Euro
Payment via IBAN, Paypal or cash.
Frame is situated in Berlin, Germany.
Shipping to EU Zone 1 via DHL is 25 Euro or 20 GBP - insured "Paket international"