'08 Kona Kapu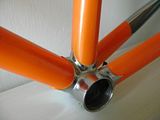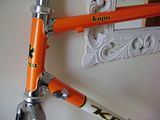 56cm Kona Kapu in Molteni Orange
* Kona advertise this frame as 56cm. It measures 56cm centre-to-top, 55cm centre-to-centre, top tube is 55cm c-to-c.
* I have never ridden this frame. There is evidence of it being built (on the brake bridge, for example) but not a single blemish from uses. I don't think it has ever ventured outside. The manufacturing sticker on the underside of the BB still looks new.
* Deda SAT 14.5 steel with chromed lugs. If interweb rumours are to be believed this frame is built under the same roof as some pricer (but very similar looking and identically tubed) Itallian framesets.
* 1" Kona fork with chromed crown and cartridge bearing Cane Creek headset included.
* The frame is almost offensively orange. The colour sparkles in the light and looks brilliant with chromed lugs. Build it with black finishing kit and you'll have an absolutely beautiful bike.
* Equipped with a pump peg and room for fat tyres, a rack and mudguards.
* Rare!
* £375 UK posted

_________________
Pegoretti Marcelo
Fixie Inc Betty Leeds
Wraith Fabrication Hustle
Traitor Ruben CX

Lynskey Cooper Frame for sale - medium Kona Grand Wagon Whole bike for sale Tonic Fabrication Vanishing Point - Di2 For sale