Hello,
I've got a collection of bits to sell:
2x Cinelli 66-42 Campione del Mondo bars
- One of these is very clean indeed, came off a secondhand bike I'd bought and has only done 750miles or so. Very very light insertion marks and a tiny suface nick in the lever clamp area. Otherwise excellent++ condition. £40. SOLD
- The other is a little tattier with some scoring underneath the stem (see photo). £20
1x Cinelli XA 100mm stem. Used in mint condition. £25 SOLD
1x Cinelli 1A 120mm stem. Used and in very good condition. £15 SOLD
2x Look pedals. Both well used but the bearings are still smooth and good, £7.50 each BOTH SOLD
- Cream colour, Campagnolo branded.
- Black, Look, unsure of model but these have Free-Arc on them and adjustable tension.
1x Ritchey WCS 27.0mm stem. Unusual size, used in v good condition (black anodising is a little worn, but it's very clean). 2-bolt design head 250mm long. £15
1x Fizik Arione. Used but in good condition. Couple of wall scuffs on the side. Ideal as a try-out, which I did but it didn't suit my behind! £20.
1x Pair of campag brake levers. Old style pointy hoods, I think these date from the early/mid-90s. (Note, these aren't ergo levers, just brake). Very good condition but one has some scuffing on the lever, and the other has some marks in the rubber on the outer side. (See photos). £20 SOLD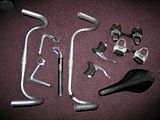 (Click for more photos)
I also have a new ITM Big-One/Millenium 25.0mm/240mm seatpost, new and boxed - very nice 2-bolt design. £25. (photo to follow)
All prices excluding postage, which I'll charge at cost.
Thanks for looking and any questions or other photos required, just ask.