I've been meaning to sell this stuff for ages but never got around to it. I think this is probably the wrong place, but I'm in front of a computer and not at work, so I thought I'd mention I have these things and if anyone is interested I'll go and take photos.
Miche Primato Chainset
- in silver and in 172.5mm for your pleasure. They have a 46T chainring and haven't seen much use. No scuffs or anything like that, nice and clean. I also have a Miche bottom bracket to go with it.
I am thinking
£75 posted
.
Goldtec Wheelset
. Black 32H Goldtec hubs laced to silver Mavic Open Pro rims with silver spokes. The rear has a Shimano freewheel and an unknown fixed sprocket / Condor lockring. These haven't seen much action
at all
and look box-fresh and new. The braking surfaces are still gleaming. Rear is 120mm.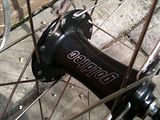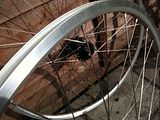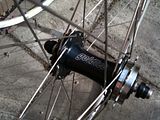 This wheelset feels very assured - stiff and bombproof. These saw very light use before being permanently swapped out for a winter pair. Any dirt on the wheels is just from being in the garage - these are very, very tidy.
Looking for
£200 posted
.

_________________
Pegoretti Marcelo
Fixie Inc Betty Leeds
Wraith Fabrication Hustle
Traitor Ruben CX

Lynskey Cooper Frame for sale - medium Kona Grand Wagon Whole bike for sale Tonic Fabrication Vanishing Point - Di2 For sale