Lots of stuff for sale to fund a new pair of wheels. Click the images to make them big.
Hope Ti Hubs
* Front Hope Suspension and rear Ti Glide hubs with red 32H flanges.
* The front is used but has barely seen action and looks perfect.
* Rear is slightly marked in places - visible on the photos.
* Front is lighter in colour than the rear, but they look fine together.
* Bearings are sweet.
* No cracks!
£55 posted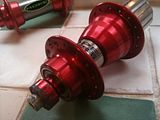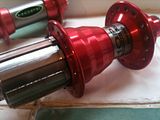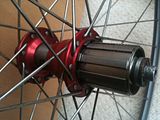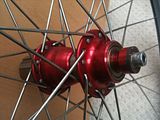 Hope Mono Hubs
* Red, 32H, non-disc hubs
* Front has been built but is unmarked and pretty much perfect
* Rear is unused, brand new in its box, and is the steel freehub version.
£95 posted
2010 Campagnolo Centaur Skeleton brakes
* Barely used before I replaced them
* Unmarked
* Pads are show scuffs from use but haven't even started to wear yet
£55 posted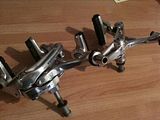 Selle Italia Flite Titanium saddle
* Red
* Decals intact; used but excellent condition
£30 posted
Dura Ace 7700 Wheelset
* Both hubs are fine. The rear one went to the LBS the other day and was stripped and re-packed with grease.
* Both rims are true. The rear one was "tweaked" at the LBS when I took it in.
* The rims are old-style Open Pro in CD finish. All the original decals were removed by the previous owner - I've put small, tasteful Mavic stickers on the rims.
The CD coating on the braking surfaces is long gone. They looked quite patchy when I got them. I tried to tidy them up by polishing off the remaining grey. They look better but not perfect.
* Loads of braking surface is left and they're in much better condition in real life than I am making out. They are stupidly light and the spokes are satisfying to look at - they are visibly butted and it is clearly a high-quality wheel build.
* The Dura Ace lettering has faded slightly; light scratches on the skewers, probably consistent with being leant against walls.
£125 posted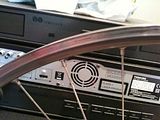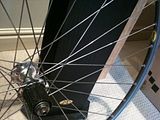 Paypal is fine but please pay the fee; UK-Retrobikers only

_________________
Pegoretti Marcelo
Fixie Inc Betty Leeds
Wraith Fabrication Hustle
Traitor Ruben CX

Lynskey Cooper Frame for sale - medium Kona Grand Wagon Whole bike for sale Tonic Fabrication Vanishing Point - Di2 For sale