Hi guys this is how i got to where i am. i think it was 2003 and i had had a few crappy bikes that i hammered round the streets. i got an i drive xcr 3000 frame from my dad for my birthday. it was second hand from his friend but great condition. this was my first proper bike. it had his purple ambrosio rims (formula hubs) his retro wildgrippers, some mozo r150d dual crown forks, a planet x beam me up stem and some deore v brakes. i would often go cann woods to ride it. i crashed it into a bus stop at some point and bent the forks and bars (cant remember what they got replaced with... after this i rode it around still and went to a place called shaugh prior, at shaugh prior is a footpath of boulders (8-10ft wide) well used so quite smooth. i rode down it and that is where i think i snapped my frame (at seat tube, common fault with the frame). so i rode another bike. eventually i got a friend at college to weld it back together and then i stupidly stripped the paint (some was charred) with an angle grinder
then i was going to oil dip it for a multi faceted look. this didnt happen and has been partially sanded since
and now sits in shed.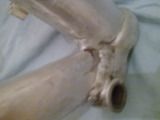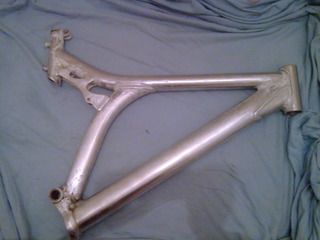 so comes 2009 and im still wanting an i drive or to build mine again. i was advised not to use the frame so i opted to buy one (on a tiny budget!). mr rubble helped me with this by buying me a frame on ebay and holding it till i had the cash (thanks mr rubble!!
)
this is the said frame: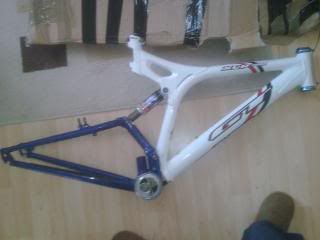 a blue and white xcr 1000 (american made unlike my older xcr 3000). it was a v only frame and i wanted discs so i bought another! i drive frame for the rear, this time it was an i drive 3.0 orange front and silver rear from ebay. i have since sold the front with my xcr 3000 rear and kept both blue rear and silver rear
my ideal build colour wouldve been a custom white and purple camo but budget said different so it turned black and blue (almost there).
i built it up today and its not missing much (i will have a wants list for swapsies
).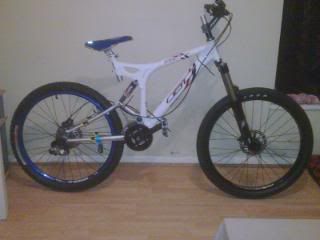 the blue rear wheel was from another build (wheel from ebay) and has only one ride on it (its a blue weinmann xm820 rim on deore hub) get the front eventually! its got sram sx4 for now (budget
). the blue x lite bars came with the frame. the seat was donated by mr burgundy
. the front is a wheel from my other bike. the tyres are specialised resolution 2.1s (i do have both). got some blue dmr v8s on there from charlieboy and the cranks i already had. still looking for a 73mm bb. seatpost was again with frame as was fsa headset and shock which is a fox vanilla float r. i have a set of hayes nine to go on (need to sort hose lengths), it also has a deore front mech. the forks are made by spinner (used to make rock shox) and i had them imported from USA at cost!
as i came into some money
so theyre brand new, havent been ridden yet or cut! they are 110-150mm travel and air. the stem was from another user on here and is another beam me up stem. oh and evetually i will have a blue front triangle and black rear to match. and thats as far as ive got
let me know what you think
thanks for reading
cyfa