But its now a single speed
I have had this frame hacking around most of the year and have started 2 previous attempts to build it but they both ended due to other things going on with me/around me. It has been sat, stripped back to frame only in my storage unit since the move to London.
Heres the closest it made it to rideable before: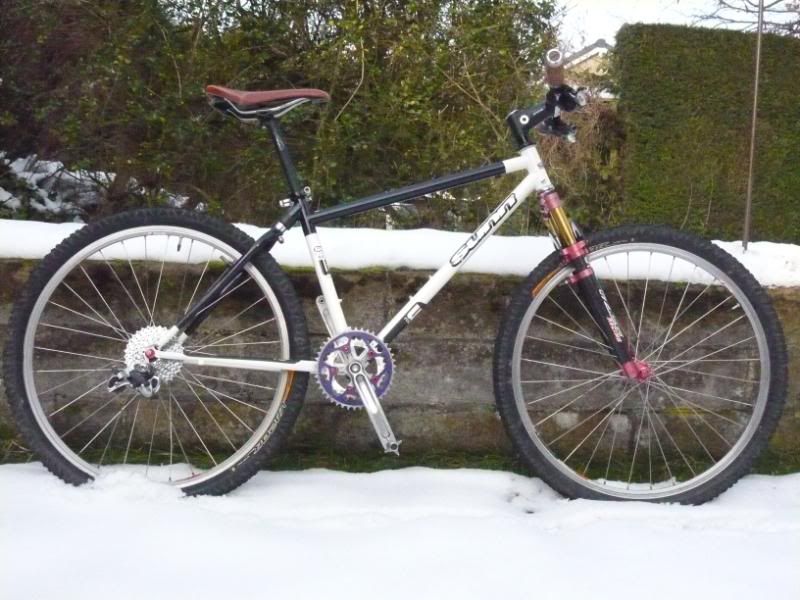 Well on saterday I set off to the unit in Oxford with the intent to do something about it. Here is a crappy picture of the result (I should of taken my camera out ysterday/today when I was out on it as apposed to getting this crap shot in my flats stair well.)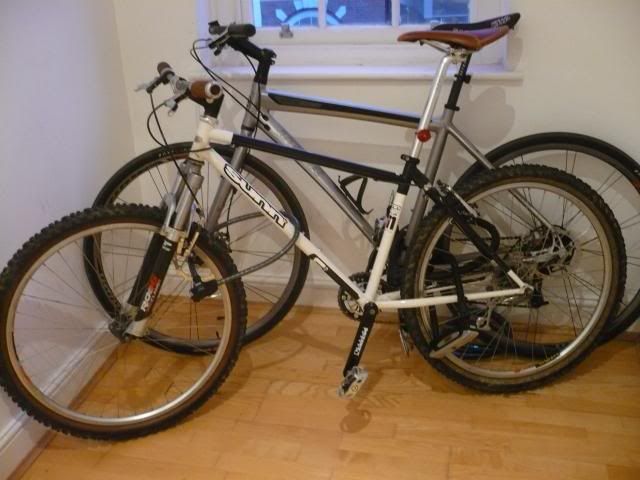 Everything on the bike came from my spares bin. Yesterday I set it up with a set of cooks RSR compacts, only to find the non drive side had a hairline crack...
So this morning I swapped it over to some Race face turbine DH cranks.
Ful spec:
Frame- 16" 1999 Sunn Tottal UN soft tail frame
Forks- Pace RC36 Proclass 2 forks
Headset- FSA Orbit head set (upper races),Unknown sealed bearing lower races
Cranks- Race face Turbine DH
Wheels- LX M570
Cassette- (need propper S/S gear) 9spd LX
Stem- Syncros (hinged front)
Bars- Ritchey forcelight
Levers- M570 LX
Grips- Brooks
Brakes- XT M747 & M750
Post- Push
Saddle- Charge spoon.
I need to play with the ratios a little, currently running 32:16 and its not alot of use around the London flat lands.

_________________
[size=67]Where we're going we don't need roads!
Under cover operative of the YVMBAPFS cartel.

The Pace fleet:
16" RC100/ 21" RC100/ RC100 Trials prototype/ RC200 F5/ RC200 F8/ RC250 Trials/ RC300 Gunmetal/ RC300 Silver/ RC500 F1 DH