Sorry for the long post but just wanted to explain how much this forum has helped me.. Its now been 2 months since I joined and posted my bike picture here. In that time I have made a few purchases from the sales thread in an attempt to re-create what I wanted my bike to be like back in the day (10 years ago).
The 3 main things I lusted after were Hope Big Un's (old fatter style), Hope DH4 disc brakes and 3.0 Nokian Gazzaloddi tyres.
Managed to get the old style Hope Big Un's (with rims, tyres and 205 discs) from the sale thread. Another forum member sold me a QR conversion kit for the front hub when I posted in the wanted section.
Then I got DH4 callipers with sport leavers from the sale thread. These came with a warning that they had not been used for a long time but I stripped them down and cleaned them and they're great. Also no discs but the wheels I bought already had the discs fitted.
One of the clippers was for a Rock Shox Boxxer so I managed to find an online shop based in the US with a number 3 DH4 calliper half in stock! Cost me £27 posted (Fedex) complete with seals, bolts and pistons
Also had to get a couple of IS to IS adaptors, a +20mm for the front and a +40mm for the back. Still on the look out for a silver +40mm if anyone knows where I can get one?
Got the Nokian tyres I wanted separately off ebay, both nearly new. Ones an older style but both 3.0.
There are still a few more things I'd like to do; have the Big Un's built up onto my old blue Planet X BMF rims, see first page pics (what do you think?) and also an XTR rear mech etc..
Here's where I'm up to anyway;
Managed to take one outdoor pic before the rain started again.
Like new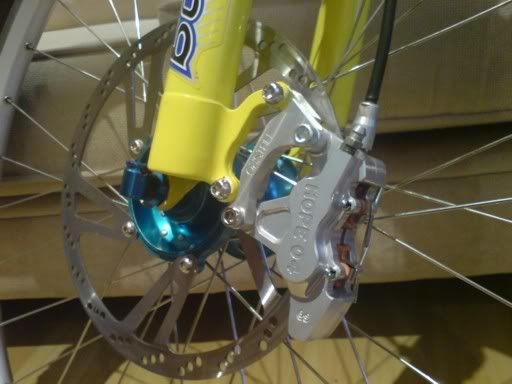 Needs a silver adapter (and a proper bleed nipple)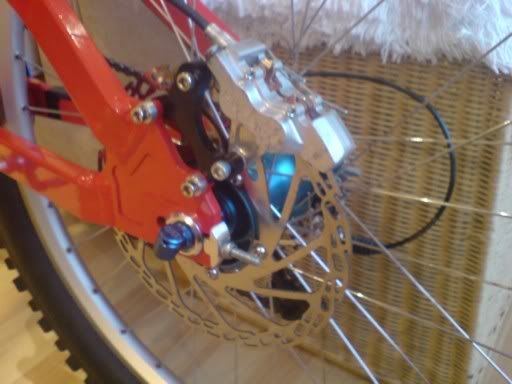 Had to cut off my old Yeti grips so purchased some modern lock on style grips, 'Lizard Skins Peaty'.