Yep the bike has nosedived Here's the bike with the Z2 Atoms on. Yep 80mm is just not enough. Bike just doesn't look right and if the looks are wrong I've no doubt the ride will be bloody awful.
The rear chainstay is actually sloping towards the ground!
So I've just sourced a set of Marzocchi Z1 drop off freeride with a massive 5" of travel (5" is massive but I'm talking forks here
). Black with red decals so will look OK. Here's a pic from the Seller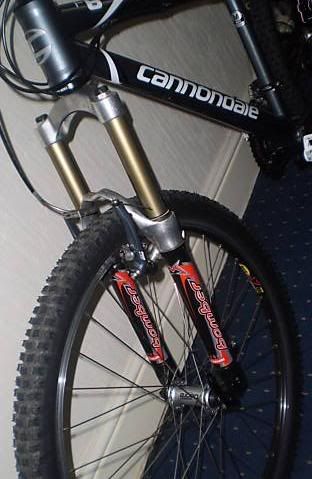 Done a few other things to the bike, Fitted new headset, NOS Syncros Stem, Flat Bars and controls. I've now decided to fit some Magura's rather than cable brakes. Using Hope hose guides on the top tube, won't look as neat as cable but will be far more capable.
Another pic
The wheels are currently Deep V Velocity's with LX Hubs. These aint staying, I'm going for looks here more than anything so decided on trying something a bit radical and possibly a bit suspect
26" Mags!
Haven't had them yet. Just a poor man's Spins I guess. Apparently they weigh 7lbs a pair, which is pretty heavy but this will be ridden on the flat in the sunshine. I've got other bikes for getting dirty. One of my mates was trying to persuade me to get white ones but I've gone for black as I would have felt as if I should have been riding around playing a harp and wearing a set of wings and a halo.
The seatpost that came with this bike is a bog standard Kalloy with a diameter of 31.2. This size is a real pain to try and source. Bikepedia gives the 1998 spec as having a 31.6 post. I've tried a 31.6 post in the seat tube just to see if the 31.2 was a 'bodge.' Nope it's tight as hell won't go in so I guess 31.2 is the correct size. Had a look on Sheldon Browns site and there's not a single GT bike with this post size. Whats going on here? Any other LTS-DS owners out there who can confirm the post diameter.
Looks like I'm stuck with 31.2 and will have to go down the route of a shim from CRC for 27.2 - 31.2
Bike should be finished by next weekend, will post a few pics when done.
I'm selling a few things from the original bike. Fox Rear Shock, Wheels, etc. They're posted in the 'For Sale' section. PM me if you want anything. The Atoms will be finding a new home on my Zaskar by the way, we live and learn.