Another bit of foolish eBay bidding I am awaiting delivery of a 2005 Bianchi S.A.S.S. frame. 17.5" of chromed out steelness.
I had been toying with the idea of butchering my Hahanna frame and welding in disc mounts, removing canti bosses and cable guides, sandblasting and clear powder coating it. But, with a quote of over $350 to get the work done, it seemed a little silly - especially as the Hahanna frame, as sentimental to me as it is, isnt exactly top of the line!
So, this Bianchi frame seems ideal. Its a better quality frame, fairly light weight and is also disc specific, which is what I want for this bike and of course has the horizontal drop outs which makes the whole chain tension thing a doddle!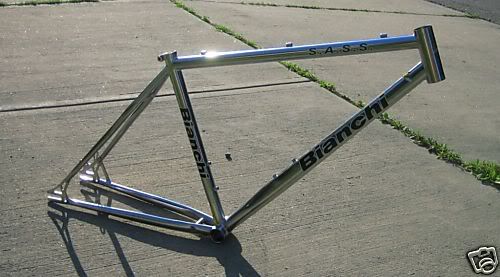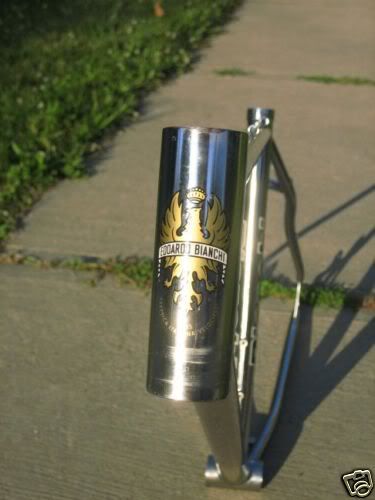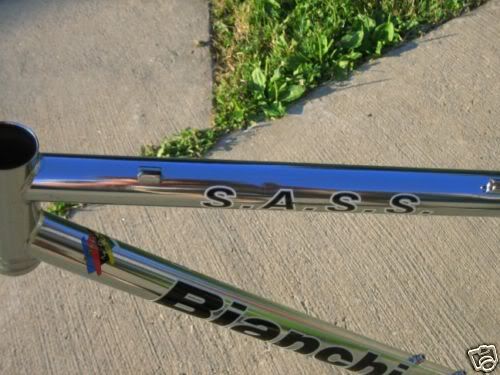 The plan is to take most of the parts off of my Kona SS (linky in Sig) and transplant them over to this one. However I may opt for some different cranks and also will have to get a new seat post (thankfully in a more common 27.2mm size!).
I'll keep this updated with details of the build and I think that the combo of shiny frame, carbon forks and blacked out components will combine to make a sweet ride!
If anyone has any knowledge, info or experience of Bianchi SASS frames or bikes, I'd love to hear it.
_________________
'95 Kona Hahanna (first ever mtb), '06 Kona Dawg, '05
Bianchi S.A.S.S
,
'10 Bianchi Via Nirone 7 road bike