sam264 wrote:
looks nice, ride brakeless! (if you dare
)
Sell that chain guide and buy brakes! It's not doing anything on there!
Thanks!
The brief time i've had this out was hard enough without brakes but it made me more aware of whats up way, way ahead! Would go through trainers a lot quicker too not that they have any tread on them
Speaking of brakes, I've managed to finally get some off of ebay last night that i've been watching all week, a pair of all silver Hope mono m4's complete with discs.. The discs may be a size bigger than what was originally planned at 203mm so well see what ends on it when they arrive. Should be here later this week hopefully. Still may just use the rear only for now and see how it goes with just the one. Atleast there'll be a front there if needed at a later date assuming I do start taking this on the trails in the summer. It's more a big bmx in feel which is what it was build for mainly and should satisfy that need.. absolutely itching to get on it
ebay images of the brakes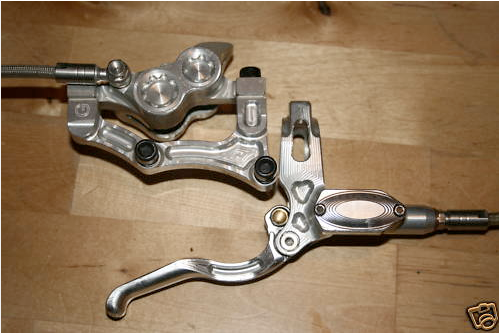 That chain tensioner is doing more now than it shows in the photos even though it probably isn't totally necessary and the chain will be wrapped round a lot more. The rear wheel should come forward a bit once the brakes are on and wheel set in position giving more slack. Made removing the wheel a bit easier too i found having a little extra chain to play around with.
Again, well see how it all goes with the tensioner once the bikes got some use, it's only a matter of unbolting it under the bb. The upper chain guide will be staying if anything even if only to help keep my jeans away from those saw teeth
but it's all added security for now.