It is a fairly common theme for small children to be scared of a monster living under their bed, however I know for a fact there has been one lurking under mine for the past few months. For it has been the temporary home of a collection of parts, that have been slowly growing into a beast of a project.
Background
I have been a fan of Pace products for as long as I have owned any sort of decent mountain bike. At the age of 14 I got a used set of RC35's for my Team Marin. I journeyed up tot Kirby Moorside, to the Pace factory to have a new crown & steerer fitted (1" to 1 1/8th) Whilst there I was lucky enough to have a brief tour of the large tin shed that was the factory at the time. I still hold that day partially responsible for me becoming an engineer. Since the visit every time I dropped by my LBS, Stif cycles in Leeds, I dribbled over the gorgeous RC200's and promised myself "one day, one day I will have one!"
Well skip forwards more than a decade and I am busy reliving my teenage years buying all the bikes I wanted when I was younger. My first Pace opportunity came in the form of an RC100, next came an RC200, the bike I lusted after years earlier, then this monster arrived the RC500!
I had been a member of the excellent Retrobike.co.uk site for nigh on a year when a thread reporting the whereabouts of a NOS Pace full suspension frame caught my interest.
http://www.retrobike.co.uk/forum/viewto ... ight=rc500
It took me some time (in fact 13 months) since the thread was started, but eventually it was mine. In a strange turn of events I was made redundant, given a payoff, and then found myself a new job earning a good deal more than the one I had just lost. So with my payoff burning a hole in my pocket I set off to find my new Pace.
There seems to be very little data available on the web about the RC500, I have found it hard to learn much about it at all. The most information is from a thread on another cycling forum complaining about the bikes build quality and design. Unfortunately it looked like this was the only traceable legacy of the frame.
That was until the good people of Retrobike stepped up to the scanners! A number of reviews were pointed in my direction, offering a far more receptive view of the frame. I understand that perhaps this wasn't the best DH bike ever conceived but to me it doesn't matter, its special, it is a proper square tubed pace!
Sourcing the parts,
I thought this would be relatively simple; the frame isn't as old as many that I have worked on, however it has thrown up a few surprisingly difficult searches. The initial purchase got me the Frame, fork and a Hope bulb rear hub. But the build presented a number of problems:
1-
The first issue would probably have left many people very stuck. The Pace specific seat clamp had been lost from the frame, not an easy part to track down however thanks to some sort of premonition I had bought such a part of Jez, some 6 months earlier.
2-
Next problem was the splined spider for the rear hope hub to which the disc rotor attaches. This part has been far harder than it should have been to locate. I tried Hope to no avail, I tried hunting on eBay and thought I had hit gold, it was only then that I learned the front and rear hope bulbs used a different spline pattern, eventually it was resolved by the awesome Daj, who sent through an entire Hope XC disc (old stylee) just for me to salvage the spider.
3-
The next worry was the oddly small disc tab on the Monster forks, the Pace triple clamps used a strange arrangement of a small tab which led onto an adaptor which in turn the disc calliper fitted to. Pace had a couple of adaptors left, but nothing that fitted the IS pattern, which was a shame as I had intended to cheat a little on the brakes and use a set of mono-minis I had in. However supplied with a no.3 hope calliper adaptor I set about sourcing the brake to fit it.
The other parts were slightly easier, again Retrobike members offering invaluable tip offs!
A forum tip off led me to a phone call reservation of a Pace DH stem, 2 weeks later I made the trip (broken collar bone and all) up to Aire valley cycles in order to collect it. New old stock and even at its original sticker price it was £30 cheaper than one I had just missed on eBay!
I managed to get a pair of Hope levers and callipers off of ebay, one type 3 and a type 5. The 3 was destined for the front and the 5 I had thought to use on the rear with the addition of a +20mm hope adaptor. The type 3 was intended for use with 185mm dia. disc upfront and the type 5 for 145 so the +20mm should of taken it up to 165mm. The ideal would have been a second type 3 which runs as a 165mm dia as standard on a rear mount.
Components
Frame
- Pace RC500 DH F1
Fork
- Pace RC150 Monster
Stem
- Pace RC45 DH
Post
- Use Alien
Crankset
- Raceface Turbine DH
Chainring
- Blackspire
Pedals
- Shimano DH SPD
BB
- Shimano UN54 68x113mm
Shifter
- Shimano LX 9spd
Rear Mech
- EGS Up Shifter
Cassette
-Shimano 105
Brakes
- Hope Mono 185mm front 165mm rear
Saddle
- Charge Spoon (Temporary)
Bars
- Xlite Riser bars
Headset
- FSA Orbit
Grips
- Specialized lock on
Front wheel
- Hope Bulb 20mm bolt through (5 bolt splined disc), DT competition spokes, Mavic D521 Rim (32H)
Rear wheel
- Hope Bulb 12 mm Bolt through (5 bolt splined disc), DT competition spokes, Mavic D521 Rim (36H)
Tubes
- Nokian
Front tyre
- Tioga Factory DH F
Rear Tyre
- Tioga Factory DH R
The Pedals and shifter were the only parts I had "in stock" for this build.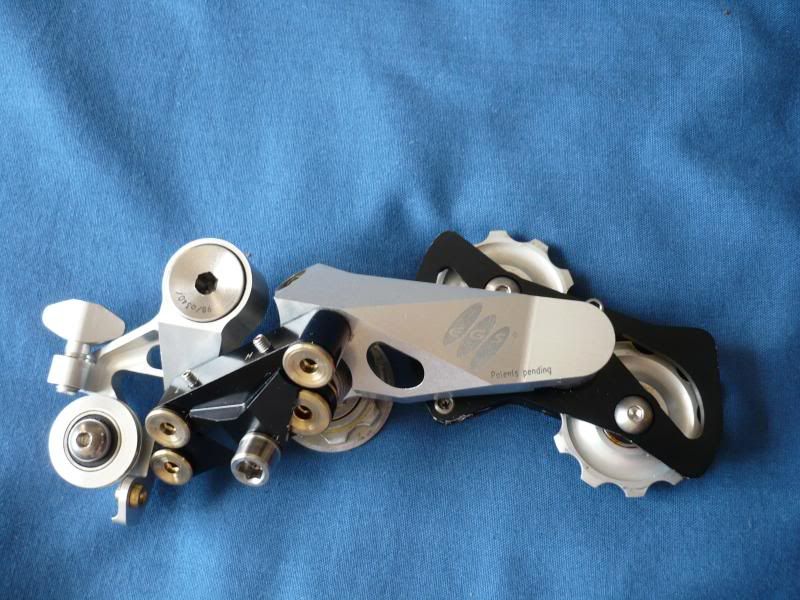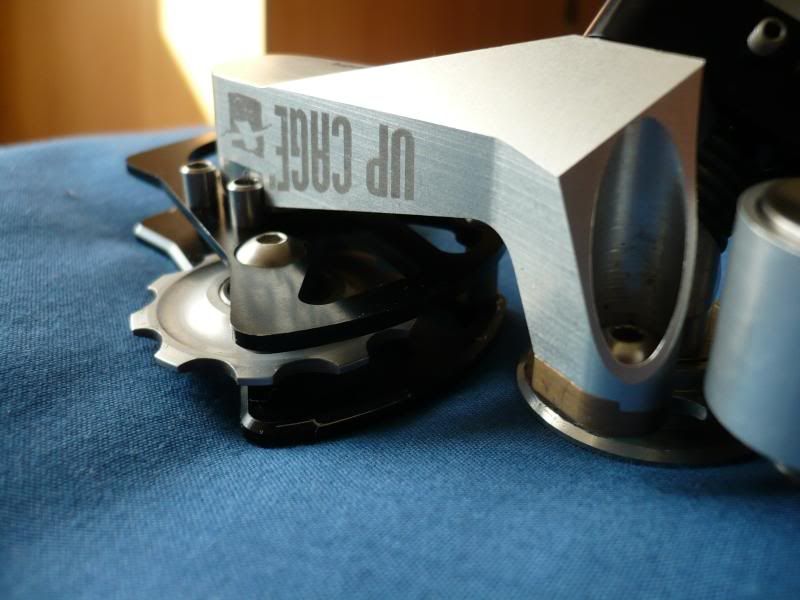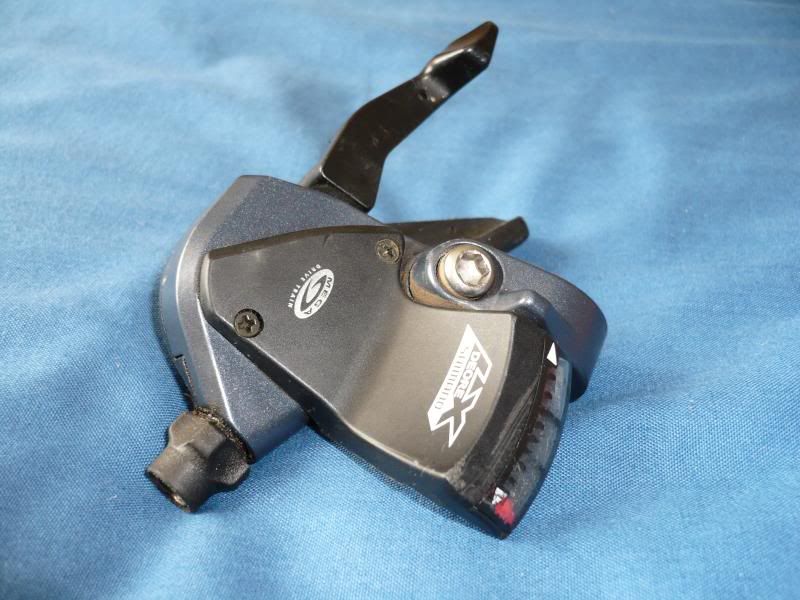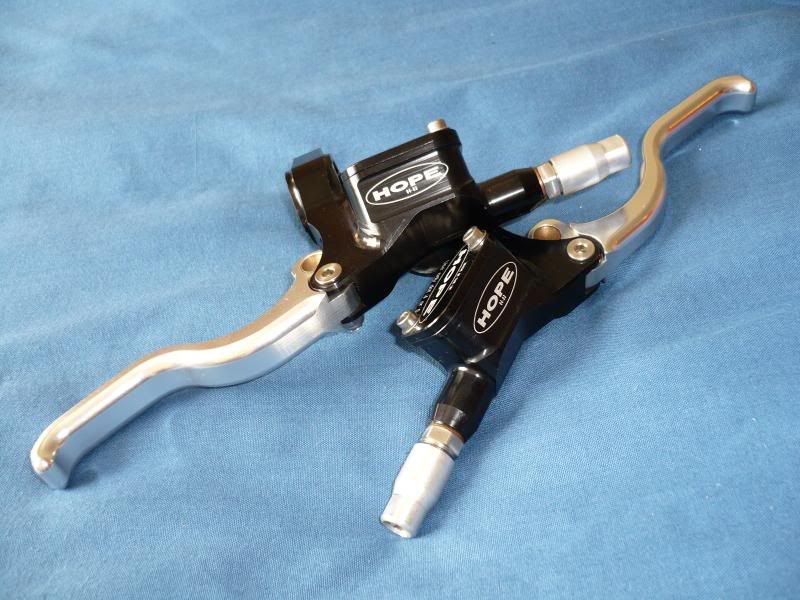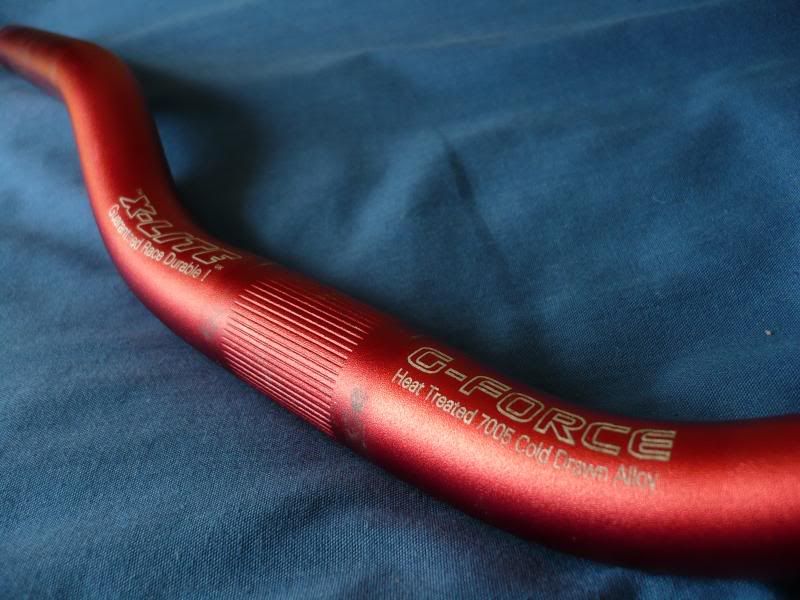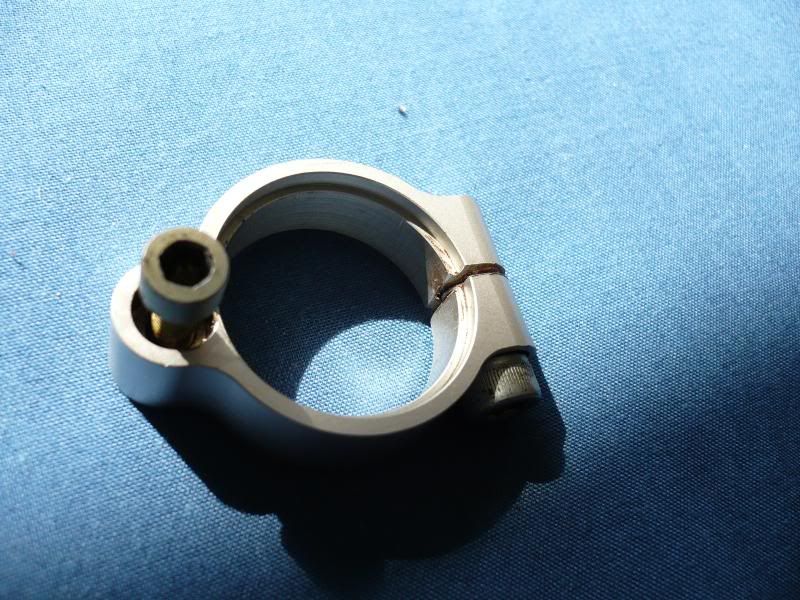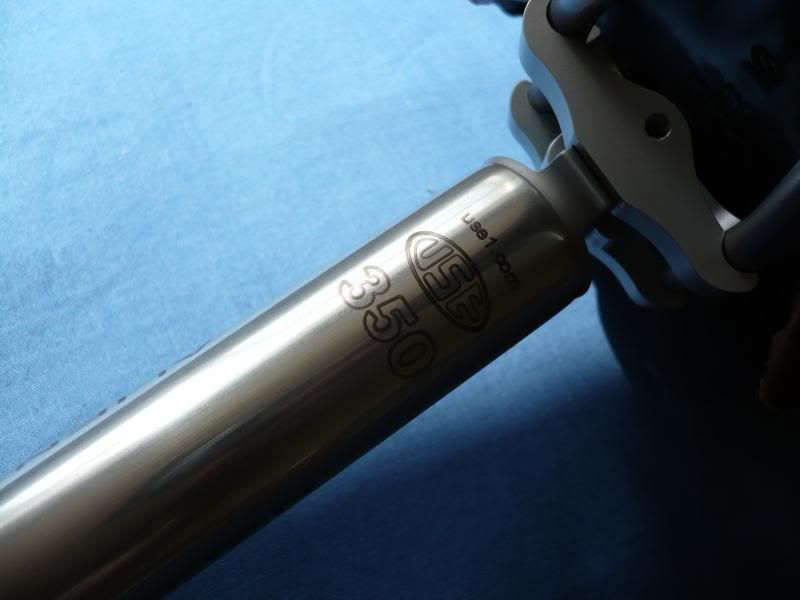 The Build
A few pictures at random build points.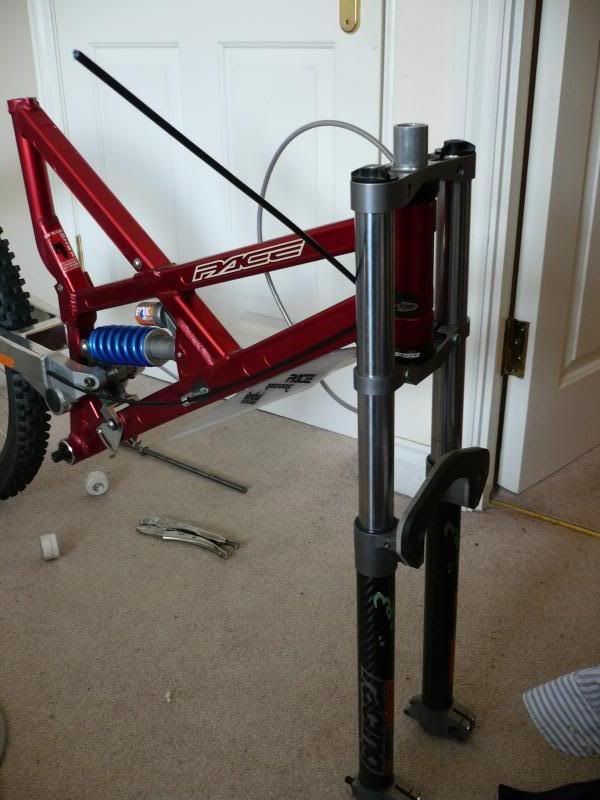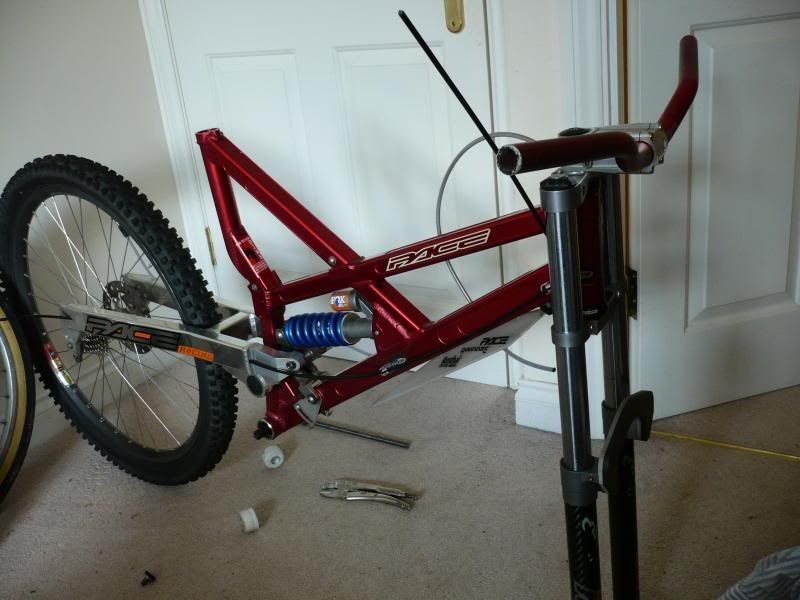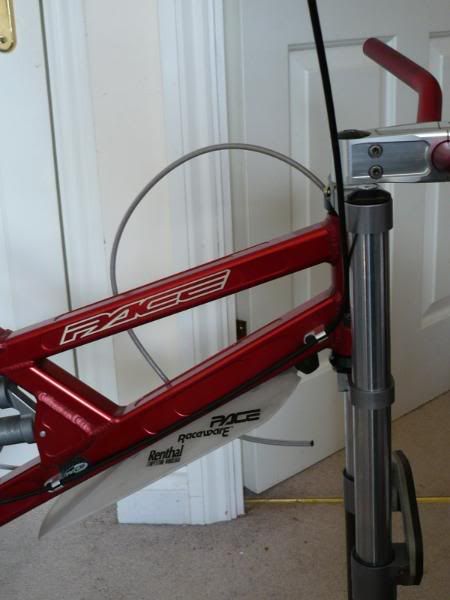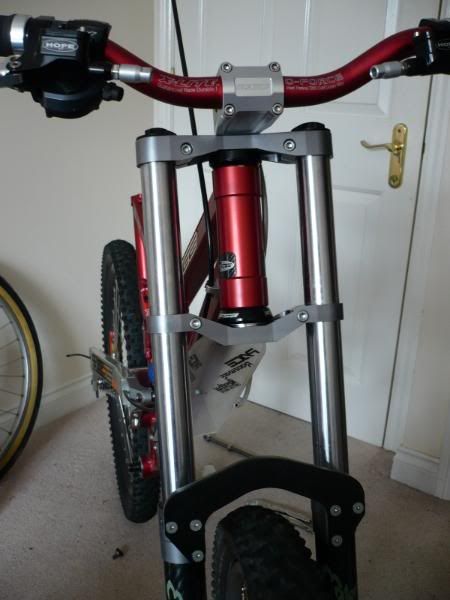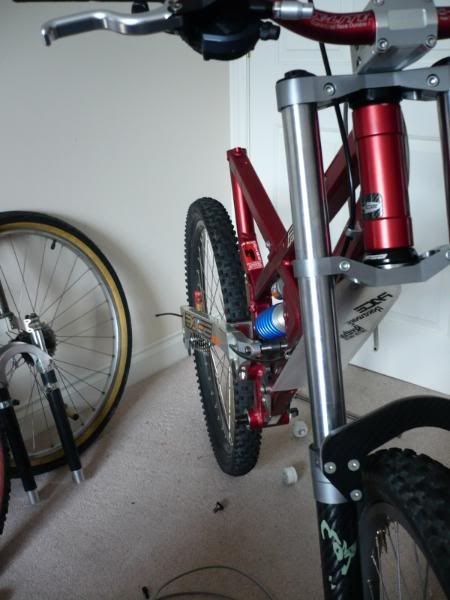 Out standing problems
Disc brakes!!
when using a Pace type 3 adaptor and a Hope type 3 caliper on the forks, the intended 185mm disc is too large. So I tried the 165mm I had intended to use on the rear. This does fit but only provides a pad/disc overlap of 5mm or so. It seems as though the ideal disc diameter should be approx 170-175mm...which doesn't seem to exist! Likewise the rear type 5 calliper & 20mm spacer which should in theory at least fit a 165mm disc is completely out with a 165mm dia. disc proving far too big again!
I am thinking I may have to machine my own disc tab adaptors in order to get the callipers fitting the discs correctly...not fun and more time consuming than I would have liked!
Arghh! Chainline
One of the criticisms of the frame was that the swing arm got in the way and prevented the use of many after market chain guide devices. My problem was more fundamental. I opted for a 113mm BB axle on advice from the LBS whom suggested it as being suitable for use with the Turbine DH's. However with the 46T outer in place on the 113mm axle it was worrying me that the gap between the ring and the swing arm pivot area was too small. So the option was to either add to the width of the axle, or reduce the chain ring diameter. The problem with adding width was that the chainline was already very much centred over the small end of the cassette as it was. On a DH bike I wasn't sure how much of a problem or otherwise that was. But to save me from working it out, I am now decided on looking for a smaller chain ring.
Wheels!
Not so much a problem but Wheels I would have loved to have built this bike using HED deep V DH rims, however they seem extremely scarce and when they do show up, they fetch too higher price. As such I opted for the solid Mavic 251 build.
Almost finished (mock up) pictures
Need to hook up the hoses & cables, remove some chain rings and resolve the problems listed above. Oh and find a decent saddle for it....