Yet another build happening, the only bike not in bits is my commuter!
Its modern. I think it was 2002 I began reading MBUK again and pondering getting into MTB's. I left MTBing in 1993 and went onto BMX for a couple year till Uni, I had a retro Marin for odd commutes and gave that a rebuild in 2002 then started getting ideas, and was liking the look of the Identiti bikes. A tough cool looking bike that was half MTB half BMX, almost a retro BMX like vision. Ideal, so in 2003 I picked up their pov version with Tectro discs and Ballistic blade forks. not best, so upgraded to the great value BSX one in 2004 as it was well specced and didn't want to spend 4 figures going custom...
I realised this heavy old thing I didn't even enjoy riding, but long for my liking despite being tall and a high BB and never really got on with the 24" wheels. After a blast round the BMX track I set about Single speeding it and lowering the 120mm forks. loss of weight and helping geometry a bit
I was gonna give up on daft fun bikes and go AXC steel bike route then got a go on a Commencal Absolut 4x race bike and was smitten
then put the 26's back on, But still a 14" BB height!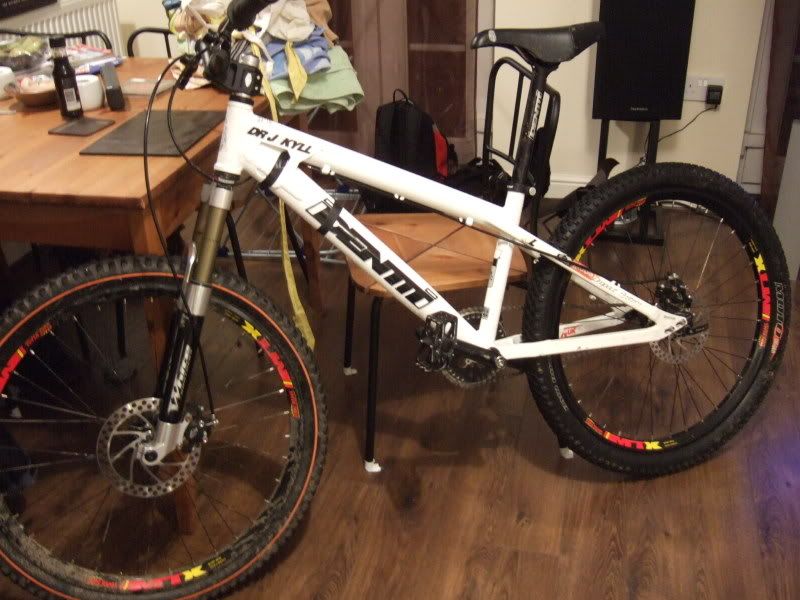 Still not happy I did loads research into lighter frames like the Absolut, I even went on Pink Bike! Everyone told me to buy a Giant STP. Seemingly wanting the moon on a stick I
asked on here about these frames
. Mainly cos everything is made overseas and theres a lot of talk about cracked alu frames.
I kept looking at dirt jump bikes on Pink Bike like the Blk Mrkt's light weight is back in fashion. partialy fancied summat small and nimble, then fancied summat all mountain like this
http://www.transitionbikes.com/2007/ima ... inal_2.jpg
but too expensive/unavailable.
I spotted summat else... Its heavier (than the Identiti 5.8lbs
) at 6.5lbs , its got good geometry like the 4.2lbs Commencal, its Cromo, its got a lower BB at 13", and its only a 13" frame!
But worth a shot.
There was an incident with Paypal and co but after a month waiting I'm ready to start the build
With the Cane Creek S8 in the frame I can try the forks for size...
Looking good!
still need to seat the fork race rest on the fork somehow and cut down the steerer finally, one for that garage this weekend...
made a mess getting the old one off.
And getting an engineering mate to find me summat to replace this from the forks
a combo of supersoft alloy and possible bad tools on occasion.
Got some sexy Saints on order to replace the 1400g BMX set up! and gonna order a Thomson, should be plenty diverse with a long post in there.
So If people wanna see the build and if its not too modern I'll keep ya posted.
Cheers