This was the bike that brought me here in the first place, my 1998 Orange E4.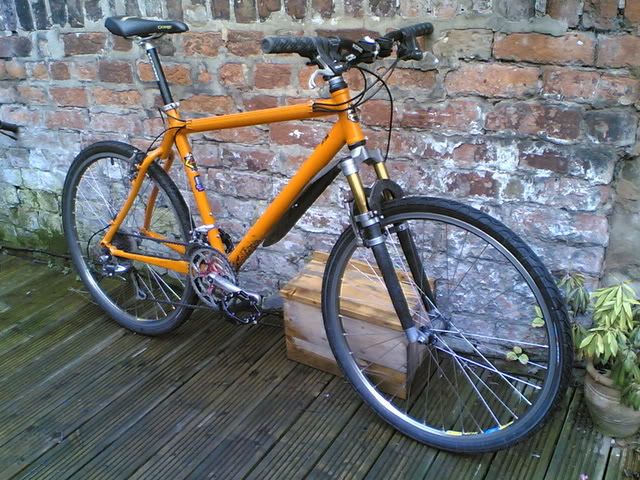 She looked like this back then, used and loved but just a little bit 'wrong'.
Anyway that was then and this is now and she has been transformed into a bike that I think is worthy of a new introduction, so here she is......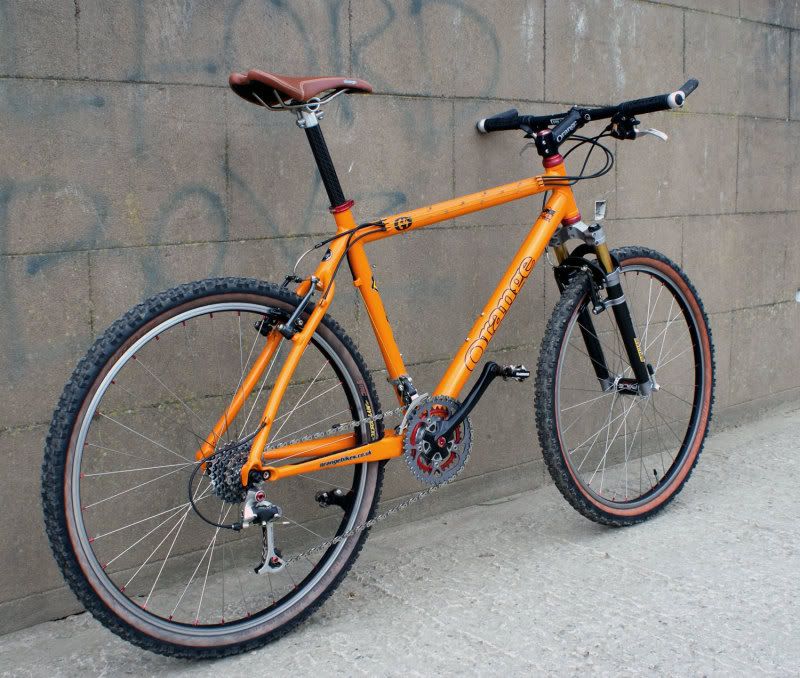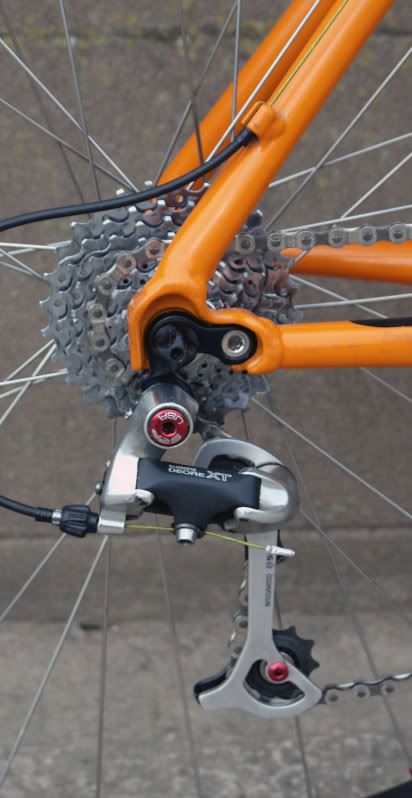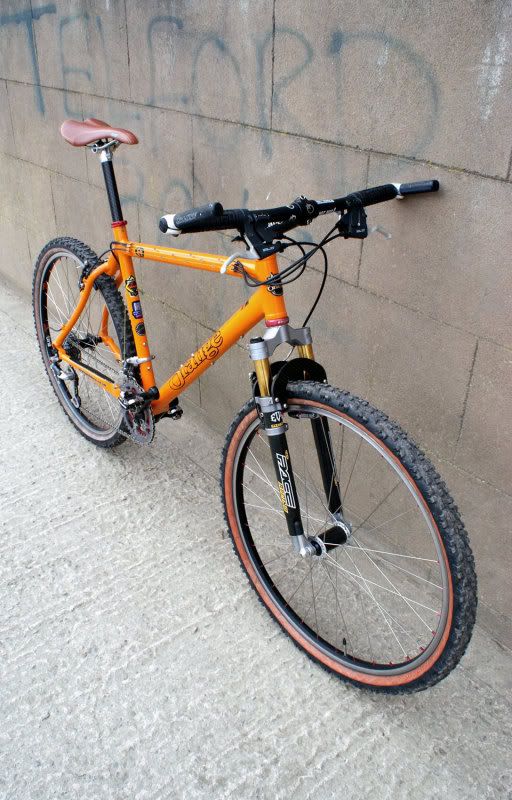 Updated spec. as of March 2009:
Orange E4 Frame No. MT80600456 19"
Frame: 19" June 1998 Easton Elite Aluminium alloy XC race hardtail (1 of 200 made)
Fork: Pace RC36 Proclass Evo
Headset: 11/8" Hope Sealed Cartridge (Red)
Stem: Orange
Handlebar: Orange Hotrod
Grips: Yeti
Barends: X-Lite Stubbie
Brakes: Avid Single Digit 7
Brake Pads: Avid Rim Wrangler
Brake Cables: Clarks
Cantilever cable hangers: N/A
Brake Levers: Shimano XT M739
Shifters: Shimano XT M739
Front Derailleur: Shimano XT M739 Top pull 31.8mm dia.
Rear Derailleur: Shimano XT 739SGS With red SRP breakaway & pulley bolts
Derailleur Cables: Shimano XT
Cassette: Shimano XT 8 speed
Chain: Sram Power Chain
Cranks: Shimano STX with Pace spider.
Crank Bolts: Red SRP
Chainrings: Pace 42 Gun metal-32 Red -24 Gun Metal
Chainring bolts: Stainless
Bottom Bracket: Shimano UN72
Pedals: Shimano M525
Hub Skewers: Front Zero Ti / Rear Hope
Rims: SUN USA CR-18
Hubs: Front Pace Carbon Suspension - Rear Black Hope XC
Nipples: Halo Red Alloy
Spokes: DT DB
Tyres: IRC Mythos 1.95" (rust wall)
Tubes: Yes
Saddle: Charge Spoon Ti (Brown)
Seatpost: ?
Seatpost Binder: Red Hope Bolt
Weight: Yes
_________________
Modern:
Cotic Solaris | Cotic Escapade
Retro:
1988 MF Explorer | 1991 DB Apex | 1992 DB Response | 1992 Dave Yates Diabolo | 1993 Orange Clockwork | 1994 GT Zaskar LE | 1994 Saracen Kili Flyer
WANTED
:
RS Mag 21 with 1/18" unthreaded steerer
|
DBR Dual Response