Hello all, I am currently up in my Leeds abode and I brought the Sunn with me to do a little bit with it.
I have taken off the awful truative crank that was on the frame when I bought it, and fitted a set of race face turbines (that I really must finish polishing- they used to be black anno untill they met with Mr Muscle.)
Also properly fitted the forks and sorted out the wheels. The only thing left to get for the build are the brakes and cable inner/outers,+ get the chain on & front mech back on.
Interesting bits of the build so far:
1999 Sunn Totall UN frame
Pace RC36 Proclass- Eddie Irvine/Ferrari Limited edition forks
Middleburn hubs
Charge Spoon saddle
Brooks leather spoke bound grips
Ritchey Force lite bars
Syncros stem
Race face turbines (stripped black anno & partially pollished)
Old style Hope skewers
Im affraid I shall be going Shimano for the rear mech, due to not wishing to spend much and use the bits I have.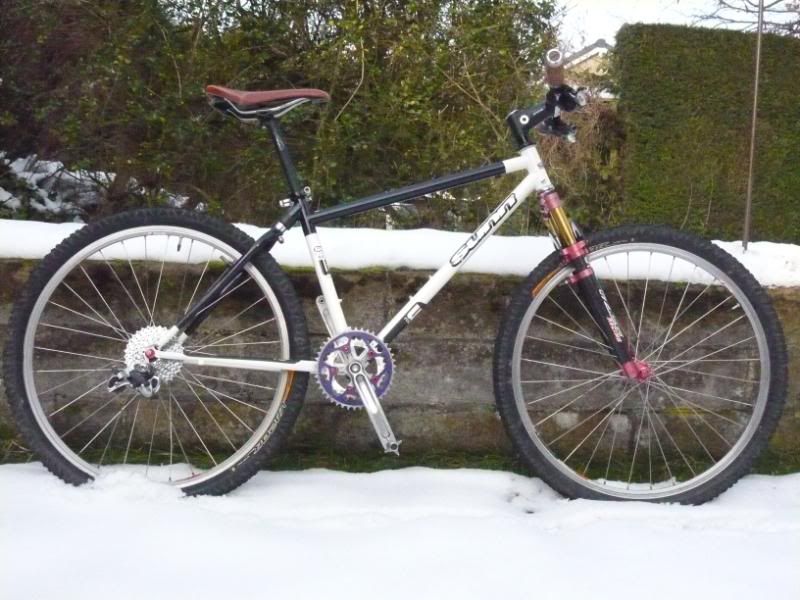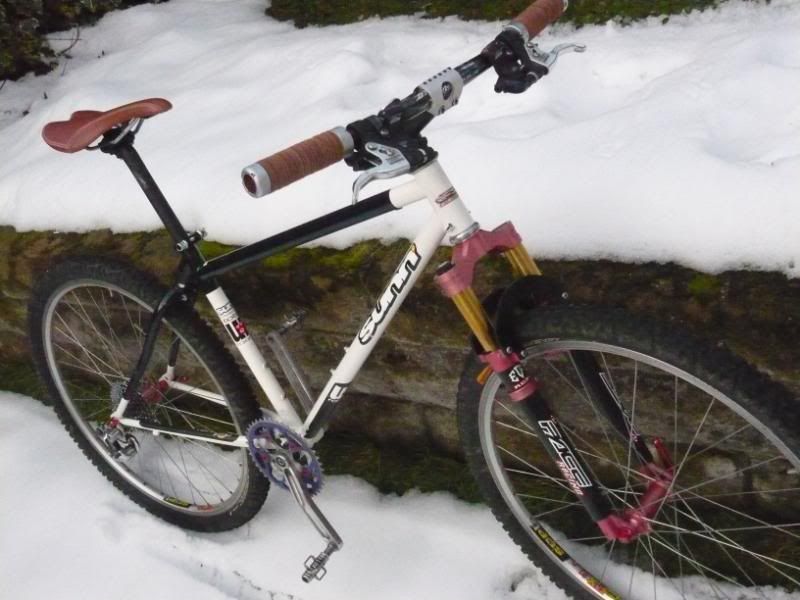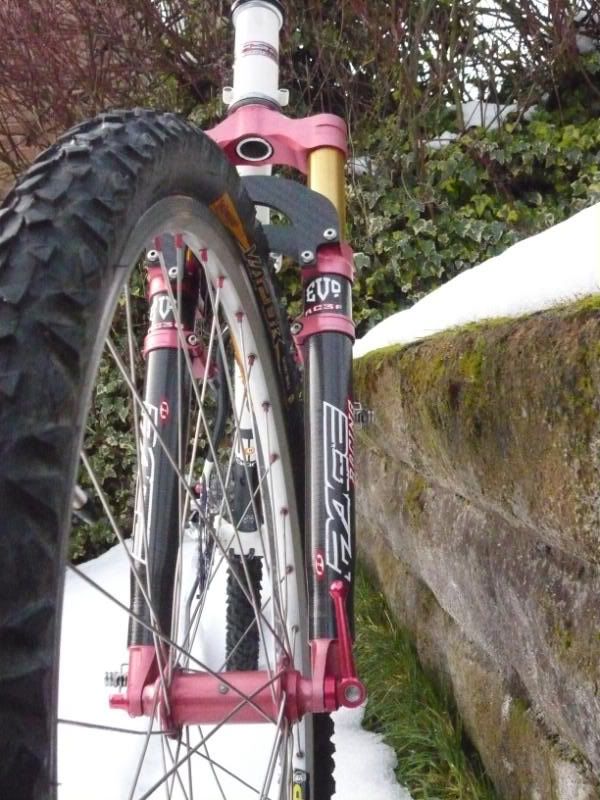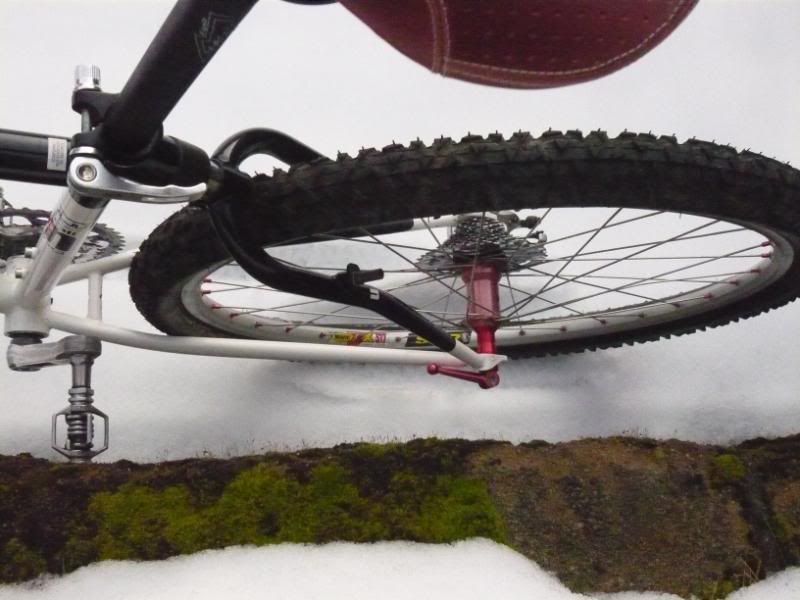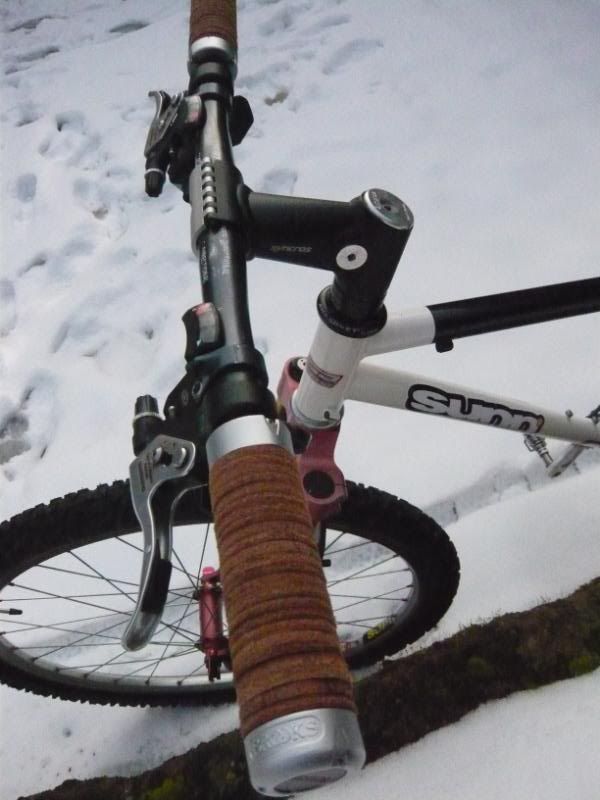 Sadly due to my impending move to London (approx 6 mnths) this is one of the bikes I will be looking to part with later on, as my London accomodation will no doubt be substantially less palacial than my current Oxford flat, and space will be at a premium. Hence why I am not looking to spend much on the build.
I am wanting to get it together and give it a blast first though!
----------------------------END OF UPDATE---------------------------------------
Massive thanks to the ebay watch forum for bringing my attention to this frame for a bargain price.
I will use this thread to show the build as and when things happen.
So far I have just been playing around with parts from my bits box.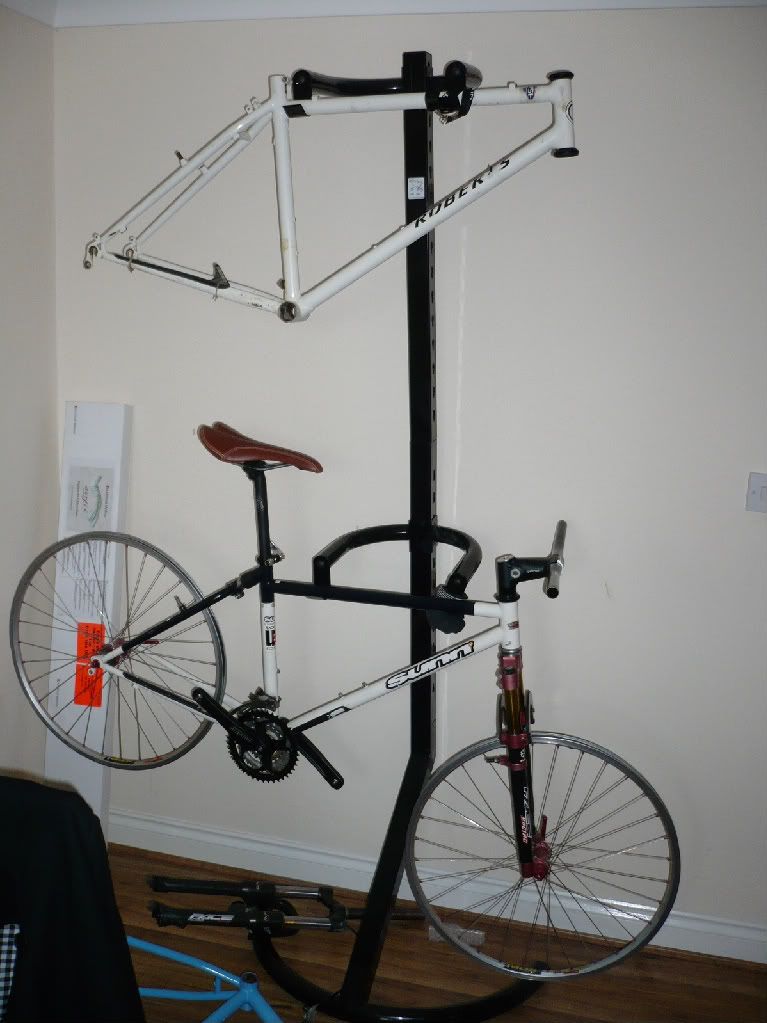 (yes I know the bars look silly!)
I have some race face turbines ready to go on, but I need to pick up the BB from Leeds first. (the icky looking truativ chainset was included in the auction)
I am sort of looking out for a proper sunn fork for it as I understand the travel was intended to be around 55mm, however I think the irvine fork/middleburn wheel set look pretty good.

_________________
[size=67]Where we're going we don't need roads!
Under cover operative of the YVMBAPFS cartel.

The Pace fleet:
16" RC100/ 21" RC100/ RC100 Trials prototype/ RC200 F5/ RC200 F8/ RC250 Trials/ RC300 Gunmetal/ RC300 Silver/ RC500 F1 DH