Wasn't sure where to post this, so as a lot of the components used in the build are brand new I opted for the safety of the post 98 section - even though she's retro at heart!
Similar to what a lot of people have done over the past 12 months or so, I thought I would have a go at making a Singlespeed bike.
I have owned a '95 Kona Hahanna from new and used it fairly regularly until 2007 when I upgraded to a 2006 Kona Dawg. The Hahanna had changed a lot from its origininal incarnation with many parts upgraded or replaced when needed. However, a modern racer it was not!
Upon moving to Manhattan last summer, I started to ride around the city fairly regularly. Whilst the Dawg was capable, it certainly wasnt suitable as a city bike. Rather than invest in a brand new bike, I thought I would recommission the old Hahanna and give her another shot at life.
Unfortunately I dont have a before picture, but here is a similar one I found on the web (apologies if it is of someone here's bike)
A lovely shade of bronze I think that you will agree. Mine had a set of blue RST forks, blue riser bars and a short planet X stem. Other than that, no major visual differences.
So how to upgrade into a modern retro build? Forks where the first thing to be bought and I opted for a set of Carbon Rigids that I think complement the frame well. They will also give me a bit more comfort over the uneven road surfaces here. I then decided to upgrade to Disc brakes and chose a set of Avid BB7's after a number of recommendations on various sites. Of course that meant a new set of wheels, but I got my hands on a decent set for a reasonable price. Once I then got all the single speed conversion pieces I had to wait for another 3 months before I was due to head back to Blighty, were I had 2 days to strip the old bike down, prep and paint the frame, fit the forks with the new headset and test build to see if it all fitted. I managed to get this done in between Turkey sandwiches and whilst the paint job is not perfect, it is good enough for me.
So, back to the US now and starting to fit the new peices. I'm still waiting on a few more parts (rear brake, levers, cables, new saddle and seat post) to finalise the build but here is how she looks so far. A couple of before and after stickers shots.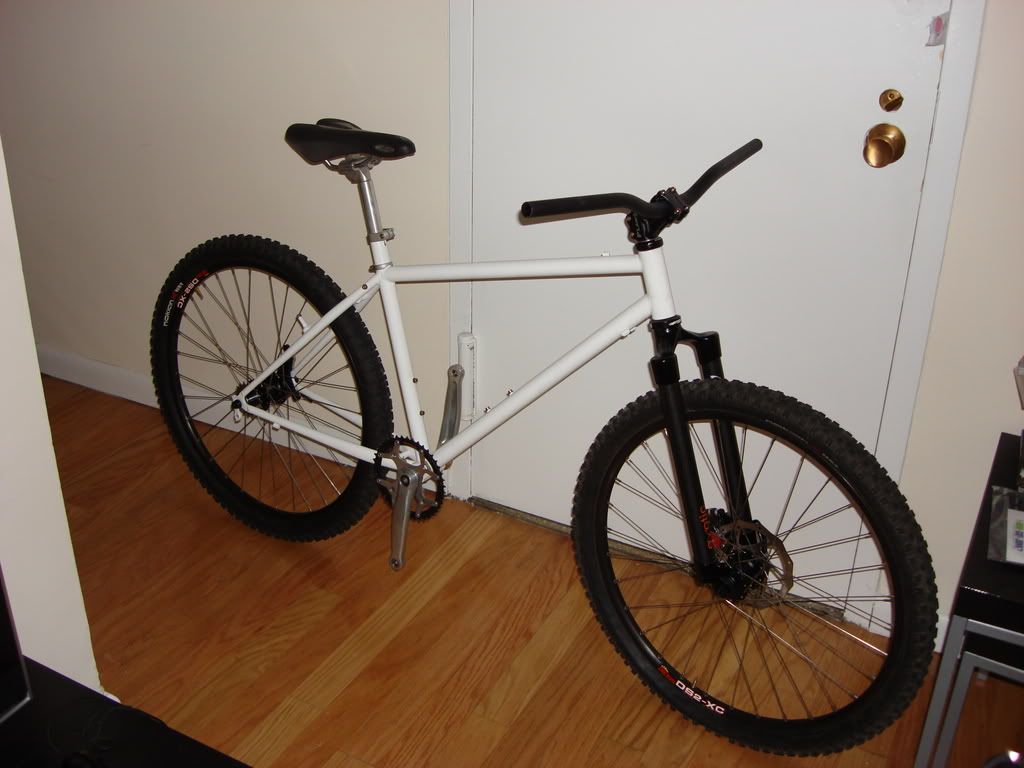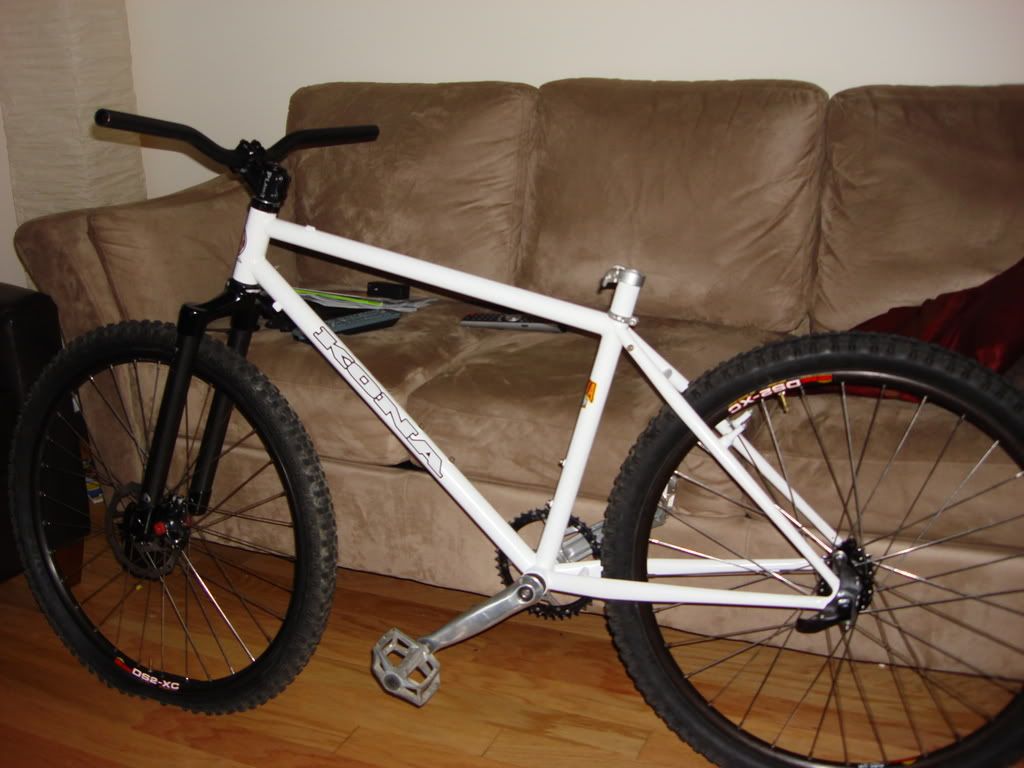 Unable to get the Hahanna original decals, I opted for the Explosif ones, just to get the set. I had no intention of trying to pass the bike of as a higher model, but wanted something on that front end... a moment of inspiration later and this was the result.
I'll post up the final pictures once all the new parts are assembled and she's ready to hit the road. I'll also complete a full spec list.
I know that I could have done this cheaper, but if a job is worth doing, etc..... I have thoroughly enjoyed the planning, buying and building of this project and can't wait to get her out where she belongs.
Thanks to those that gave input on questions I had about the build and also thanks to those that gave inspiration with some of the excellent bikes found on this site.