This arrived Yesterday for the modest Total of £67 inc postage:
I cant belive how massive that down tube is also Loving that Mango Colour...
It has not been used for a long time as it had spider eggs on it.
While it was not being used it had been dropped on its seat post - clamp area and was dented in so far that the seat post wouldnt fit. Fixed this is a round bar and a lump hammer.
Then I noticed it had also been dropped on its top headset cup - so this came out - got filed and finished smooth and has had its first coat of paint!
There is some play in the rear end - suspect rear shock mount. so the bolts are soaking in plus gas.
It even had its original bike shop sticker on with a telephone number without the "01" prefix!
Structure is fine - no cracks or dents
Paint work is a bit tatty mostly rubbing- but the rear triangle is the worst - its coming off to be flattened and painted.
The shock still had 140PSI in it - fingers crossed
BB "feels" ok - but I will get it out at some point to check it
Best of all its a 21.5 Inch frame!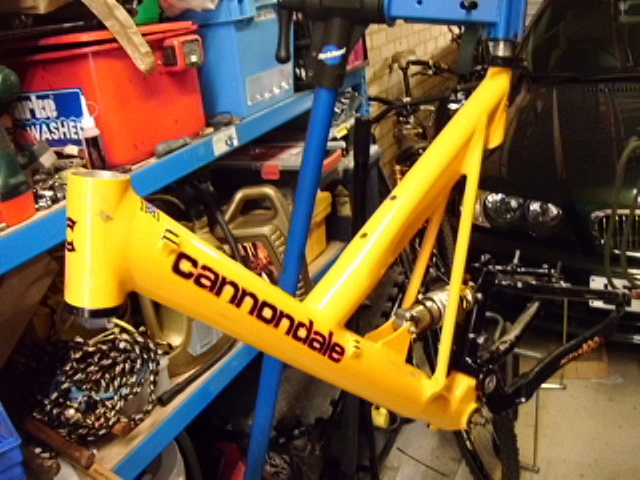 Bits I am missing(WHYG):
Left hand polished coda crank (Coda 300 170mm cpi7-170E) - Sugino
XT M750 V brake (1 pair)
XT M750 V brake Levers/pods
Cdale headset bearing X1 ( found a new one in my shed!)
Mango Fork - or just the legs minus the steerer shock!