From now on I consider the thread title a rhetorical question, for two reasons:
1) Following a bit of a spree I no longer want to know!
b) The accountants have put me off by insisting every last rusty washer is given a value
iii) There is no three.
First up was a new 184mm (yes 184mm measured eye to eye centres) kashima coated Fox shock and bushes, then a set of new Crossrides and hydraulic disk brakes. Some plastic plugs for the rear shock mount holes and various stainless bolts & washers to finish things off.
The stem has been swapped for a low rise one, but I am still unsure if it is quite right for me, possibly a longer stem but I plan to try some flat bars first. I am puzzling over the seatpost size, I can read 27 on the post but it is so feint I am unsure if it is followed by a .2 or not.
A new 9 speed XT cassette at a bargain price determined my transmission plans, accompanied by a used XT rear mech, XT 9 speed shifter and a 38 tooth chainring with a nine speed chain. It is all set to go as a 1x9
. Having read so much about the short life of external BBs I decided to stay Square Taper for now, and gave the existing scuffed black crankset a new look with some fine Wet & Dry. I am so pleased with the result I may just keep them despite being no name cheapies.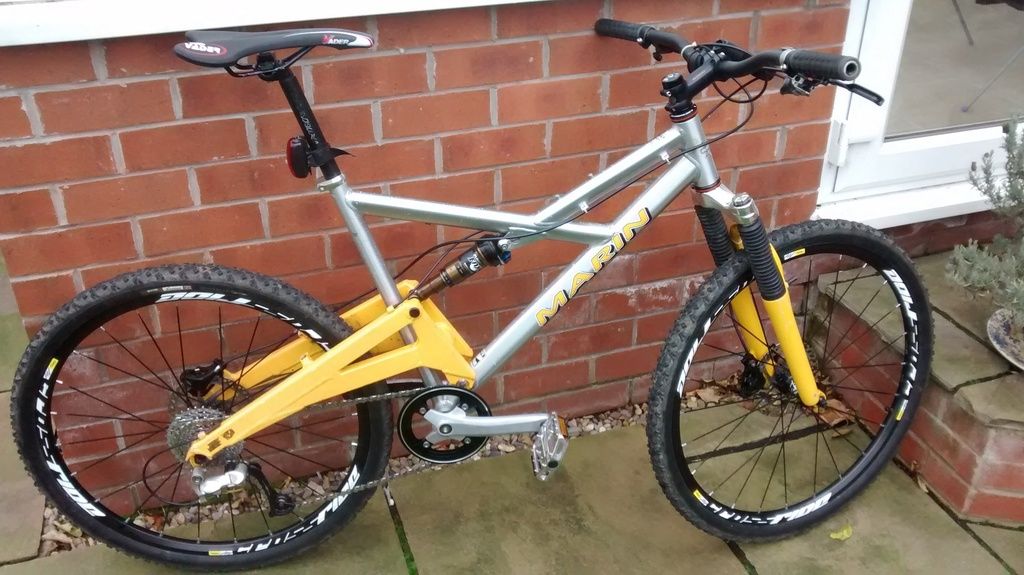 I still need to shorten the rear brake hose, I have the barb & olive ready but I don't have any mineral oil or a bleed kit yet. I have a new headset & a rockshox 30 Solo Air but won't fit them till it comes back from powder coating.
I am currently on the shakedown ride, just stopped for refreshments, and then time to try the hills back home and hope I calculated the gearing correctly.