Greeeeeeeeeeeeeeeeeeen
I was lost back in 1998, as soon as a buddy from school got a Specialized FSR Elite - the red one - with a Votec double bridge fork and Magura HS 33 Johnny Ts. I never forgot this bike - he neither, he still rides it - and how this bike got beaten down the hills of our childhood.
Somehow, as I hadn't enough money to buy a FSR, I ended up buying a Centurion Backfire Aero SX hardtail instead. Nice bike, some guy found alike and stole it only one year later. Ten years break, moving to a city with no hills I rode race bikes.
Then I found this grasshopper for 25 bucks and it all came back:
First setup, the Marzocchi Bomber Z1 had been in my garage for more than 6 years, I always wanted to build up a bike with this still great fork.
More parts added to have a look at geometry: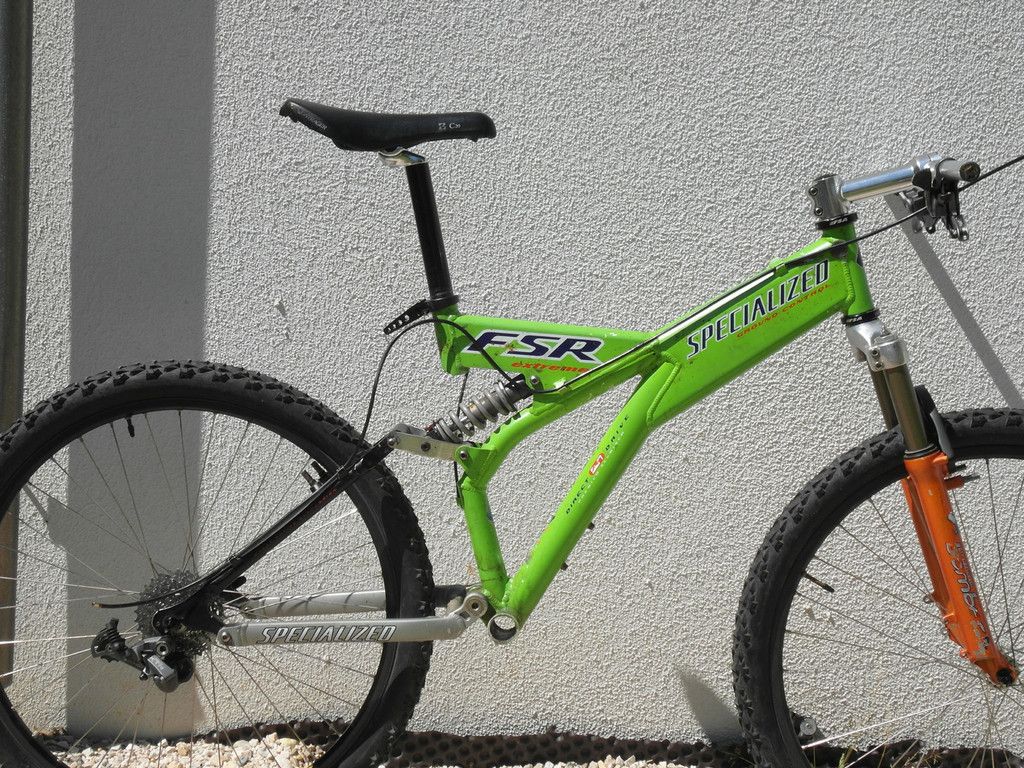 The question of what parts to install was answered quite quickly: XTR, Race Face, Mavics, Easton cockpit - I wanted the best. It took me less than a month to get all parts together for a first ride
First rides were quite remarkable, this setup was very handy, with 12,7kg not too heavy, the Bomber Z1 is still a stunner, the rear shock is... not that good. And despite some design faults at Specialized (the front derailleur installment is a bad joke, a really bad joke. And the seat post can be lowered for 2cm, which is not that much if you want to RIDE this bike like it should be). The old Ritchey Vader tires also were not THAT good. So still things to improve...
New tires, 2.2 is max for this frame.
Look what I found in this **** internet. A Bomber Z1 with 130mm in lime. What a perfect match. Sorry Z1 orange, this is fate!
(For the BETD I needed to turn a whole set of new bushings, was quite fun though!) (And as you can see, the 144mm position is not possible with the DT Swiss shock, it's too fat. The 125mm position is still nice, anways
)
Something time-incorrect to fix the seat post design flaw...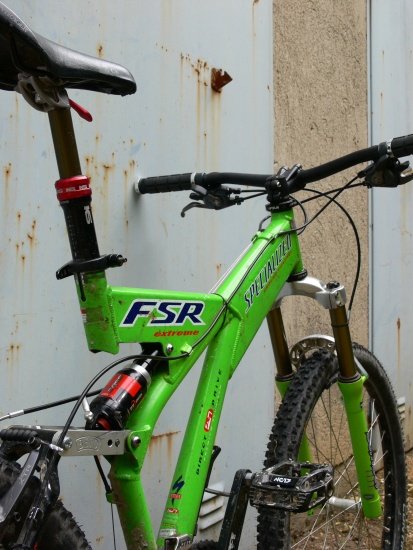 We are getting near...
But 3 chain rings at the front is too much. A chain guide made of 3 cable straps and a hosepipe is cheap, lightweight, and useful.
Next steps: Change the good-looking but unbrakeable (sic!) X517 ceramic rims for some normal, silver (:() ones. And a Hügi hub would make a nice addition....
current specs:
Frame: Specialized FSR Extreme M
Fork: Marzocchi Bomber Z1 130mm
Linkage: BETD 144mm (at 125mm position)
Rear shock: DT Swiss 220
Brakes: XTR 950 V-Brakes w/ Koolstop red
Wheels: Mavic X517, Hügi 240, Conti Mountain King II 2.2
Bottom bracket: Stronglight-Innenlager, Raceface Turbine (34-22)
Chain guide: Hornbach
Pedals: NC17 Mag
Shifting: XTR RD950, FD960, XTR-Cassette, KMC chain, Shimano cables
Seat post: Specialized (undefined) or Kind Shock i900 if it gets tough
Saddle: Bontrager C20 Titan
Cockpit: Easton 70 bar, Easton 60 stem

12,5kg

I'm looking forward hearing your comments, remarks, critique, or anything else!
Tom