So, I'm a bit of a lurker on here but thoguth I would post up some details of my recent project for all the Lawwill lovers out there!
First a bit of background....
I've always had a bit of a soft spot for Lawwill bikes, I know they are not perfect but there is a lot to like about them and they suit me down to the ground, over the years I've had a few 4 bangers and Straight 6's, and broken a couple too
When I realised parts were becoming scarce I started hoarding and ended up with 2 complete and usable s6 frames and a 4banger, plus a couple of rear ends, made all the harder as I am quite short so ride the 14 inch S6 and 15inch 4Banger so frames in my size don't come up that often.
Over the years I've loved riding them but have always had a few niggles that I wished I could cure...
1. The top tube was a little too short on the frames that fit me standover wise, I couldn't go up a size as the 17inch 4Banger top tube was just too high for me, even though the length was great.
2. They are a bit prone to cracking! I needed something a little bit beefier, or at least more repairable if I was going to keep using them long term.
3. The head angle was a little too steep, on the 4 banger with 120mm forks it was actually spot on, but on the S6 it's just a couple of degrees too steep.
I'd been toying with the idea of getting a new front end built for a while and so I started sending some emails and talking to frame builders here in the UK. I approached a few and got mixed results, a couple were just not interested, a couple were up for it but didn't have time due to other projects, but one of them put me on to a couple of guys who had recently started up a company, BTR Fabrications, based around gravity/DH oriented riding, their first couple of frames were a DH hardtail with some pretty radical geometry, and a really nice Enduro hardtail, all built in steel* and they were offering custom options...
Right from the beginning they were really enthusiastic and I really liked their approach and Ideas on their existing frames so we started to talk details...
* obviously steel is most people's first choice of material for a full sus, but it only works out a tiny bit heaver overall, and durability, and even more important, repairability, are major concerns for me and an extra 1 - 2 lbs is a price worth paying in my eyes. We also have another very successful steel based full sus in the UK, the Cotic Rocket and when the overall weight is so close the benefits of being able to get something like this built and above all, being able to keep it going in the long run make it a great choice.
The first step was to get the existing frame into a CAD model, so I shipped one of the Straight 6 frames to them and Tam at BTR started measuring and building a replica in Linkage to get his head round the suspension design.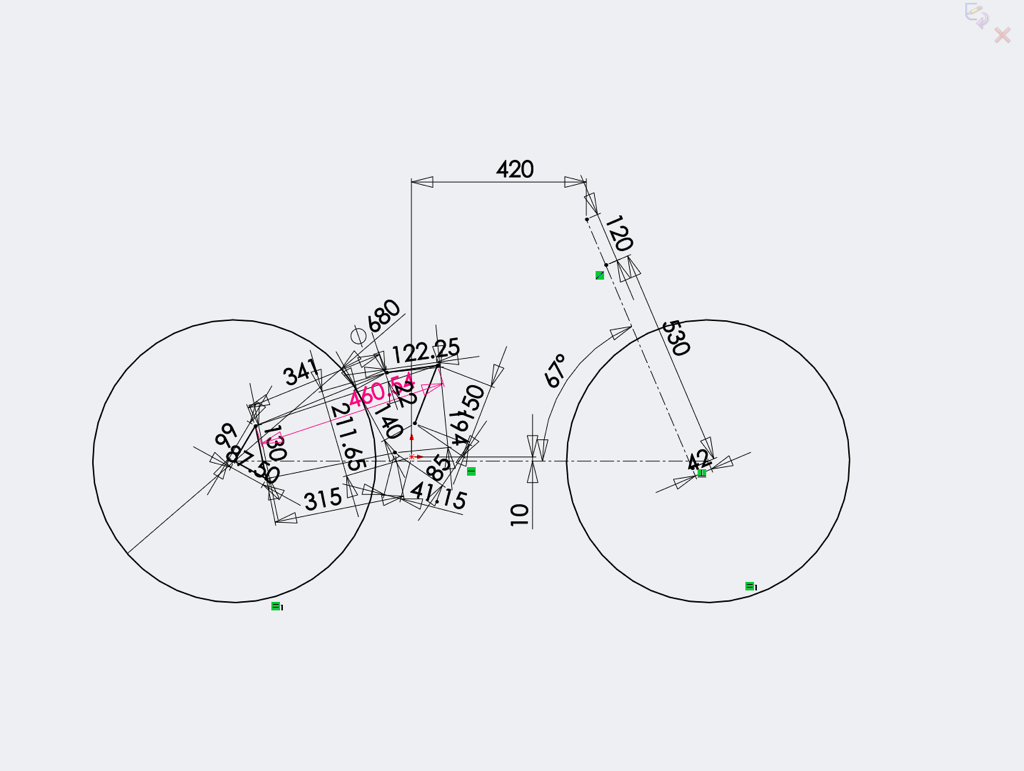 We had a few chats about propose new geometry, what I wanted from the project and a few details around tweaks to the suspension design and general frame details and such and he got to work on getting a basic design sorted. The plan was to creat e more modern front end to be mated to the Lawwill backend that I was so fond of, travel would be around 130mm and would suit a 130-140mm fork depending on model and axle to crown height. Top tube would get a bit longer, head angle would get a bit slacker, seat tube would get a bit steeper, and the BB would be dropped a bit to keep this as a reasonably short travel, tough little bike for ripping round the woods and general hooliganism but still capable of being pedalled back up when required, we deliberately tried to keep the travel around 130mm, the whole point of this bike was to be stable on the downs and through the kind of tight rooty technical trails I ride locally, and hopefully very very quick in the corners but with just enough bounce at both ends to keep it moving without becoming a big travel wallowing monster.
It soon became apparent that it was going to be a little tricker than first thought to make the changes I was after without need a lot of fancy tube bending and possibly running into some clearance problems with the way the shock and swingarms are mounted with the 4B/S6 design so a few more chats were in order and some proper scratchy-head moments trying to work it out...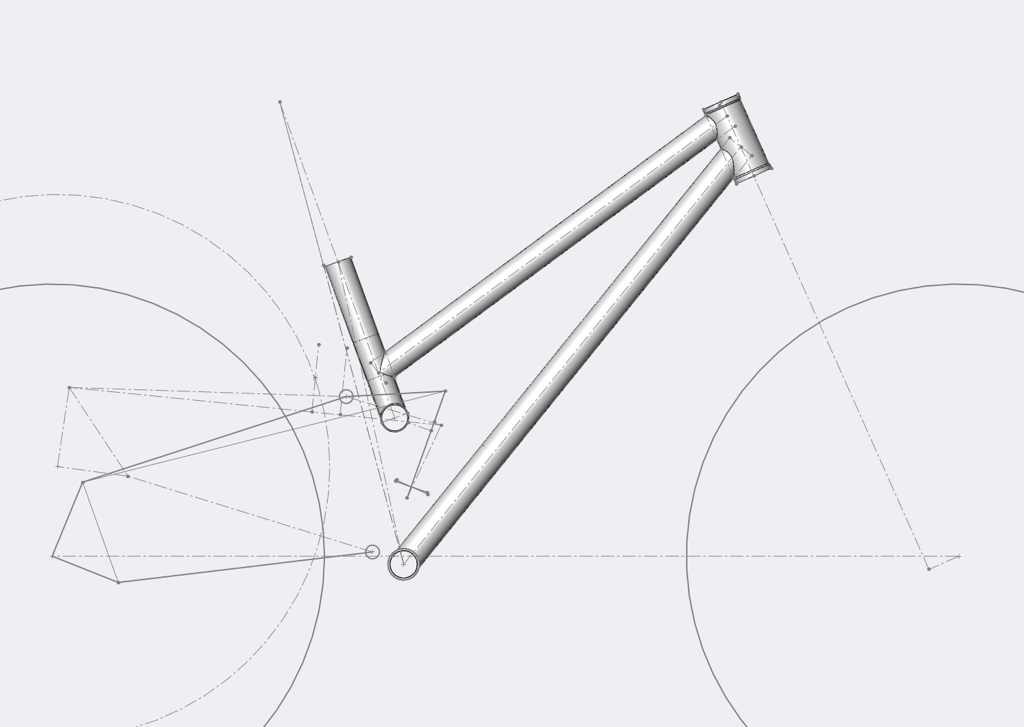 In the mean time Tam carried on working on the CAD model to get everything in the right place, and then came up with a great soultion by creating a 'shock tunnel' and plate linking section between the BB area and the (currently) floating seat tube which would allow the pivots to be where we wanted them, the shock to be mounted properly and create a solid backbone to the frame and keep the weight nice and low.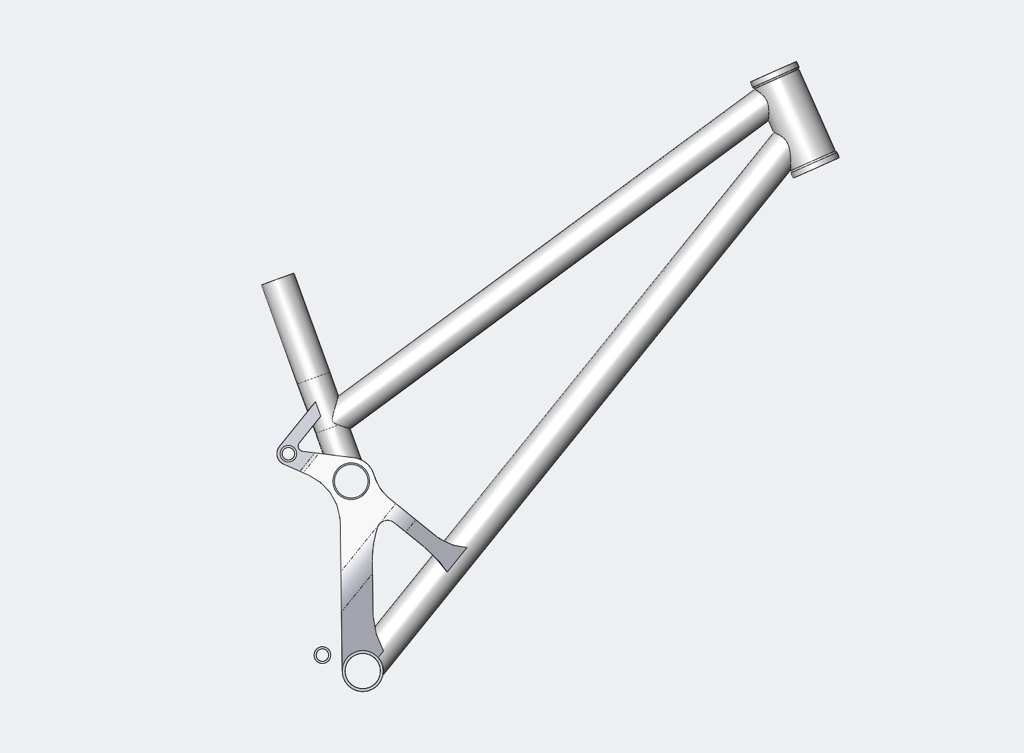 From there the design progressed reasonably quickly and I started to receive regular updates with new details and the frame started to take shape properly and it started to get really exciting!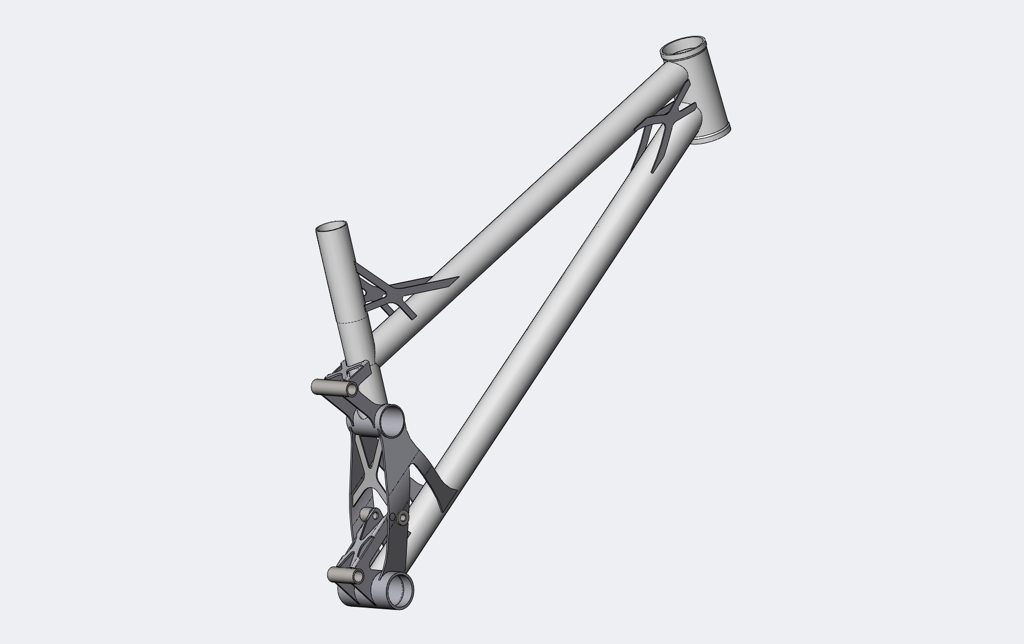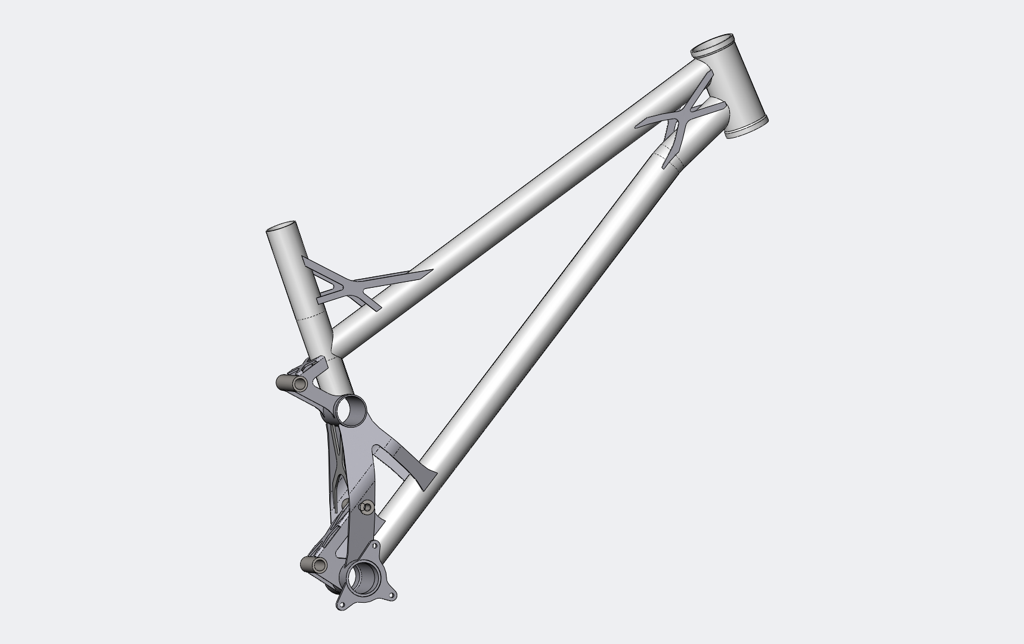 A few more minor tweaks and some parts back form the laser cutters and it was time for Burf at BTR to start welding this monster together!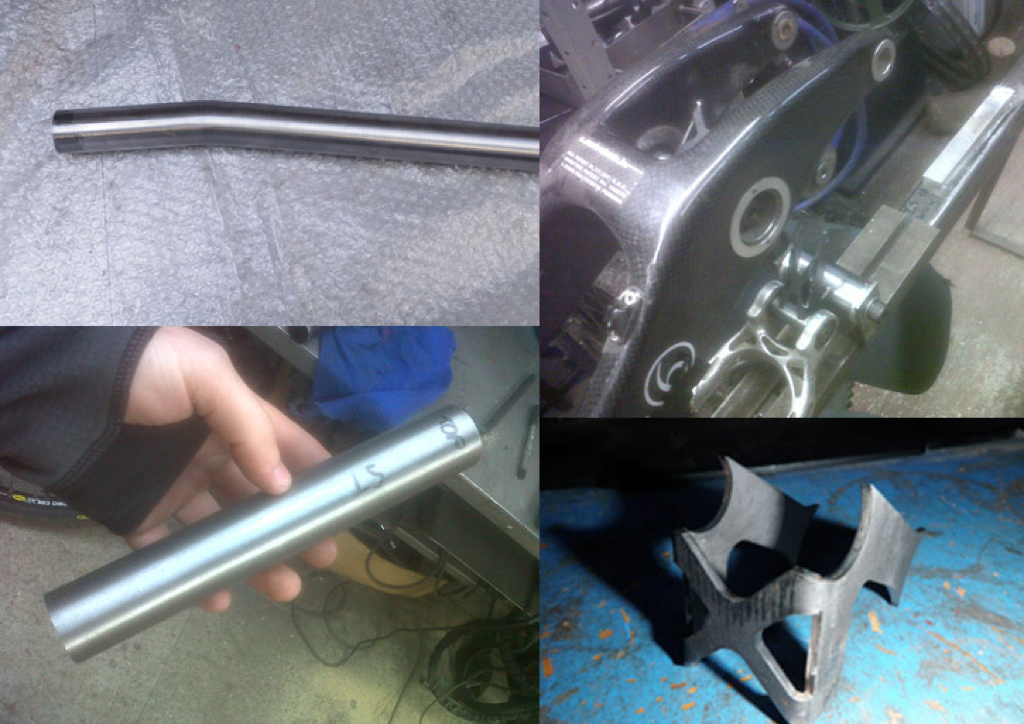 A few photo updates kept me excited while they worked their magic until finally it was frame shaped and all that was needed were a few finishing touches and a trip to the painters!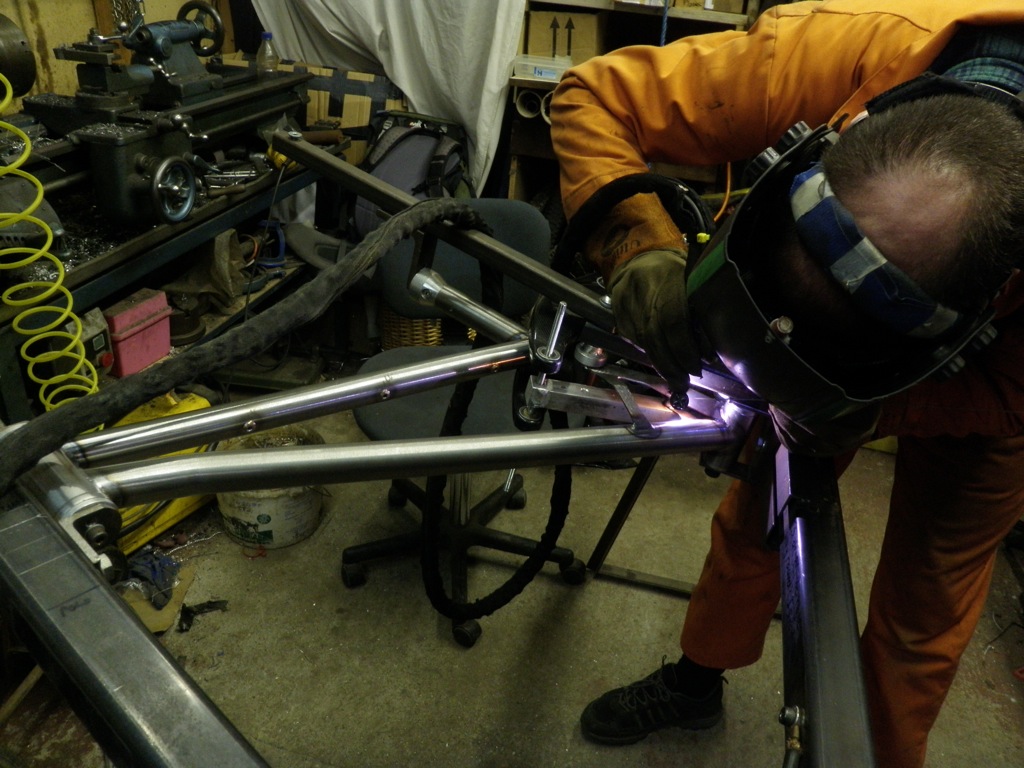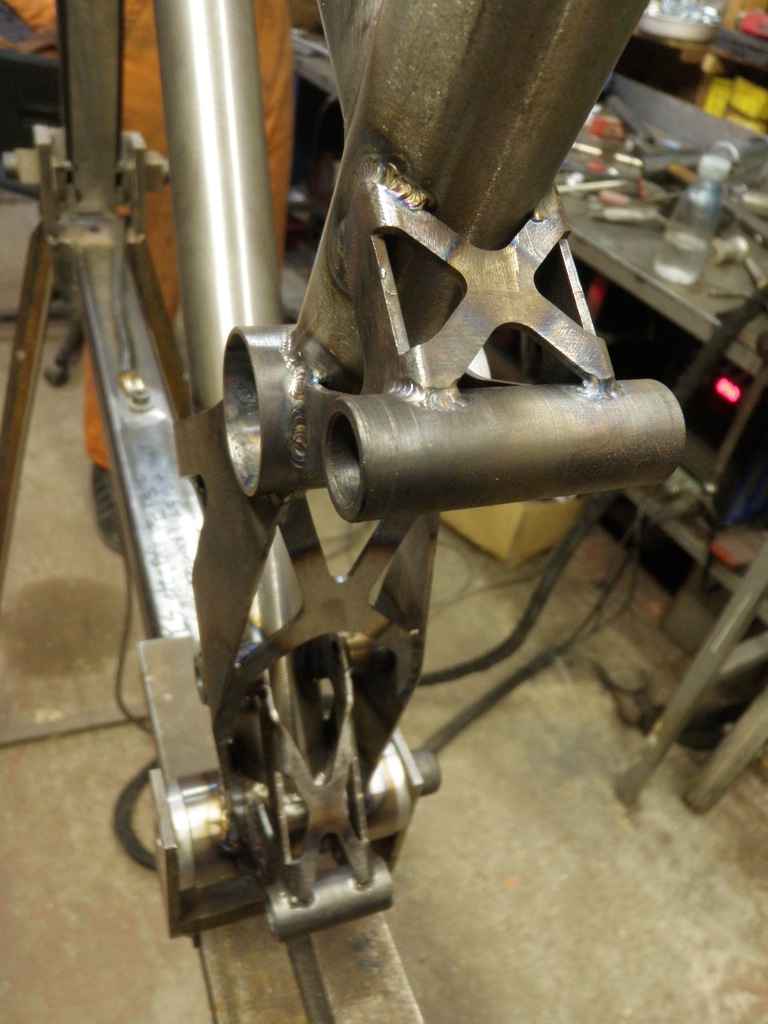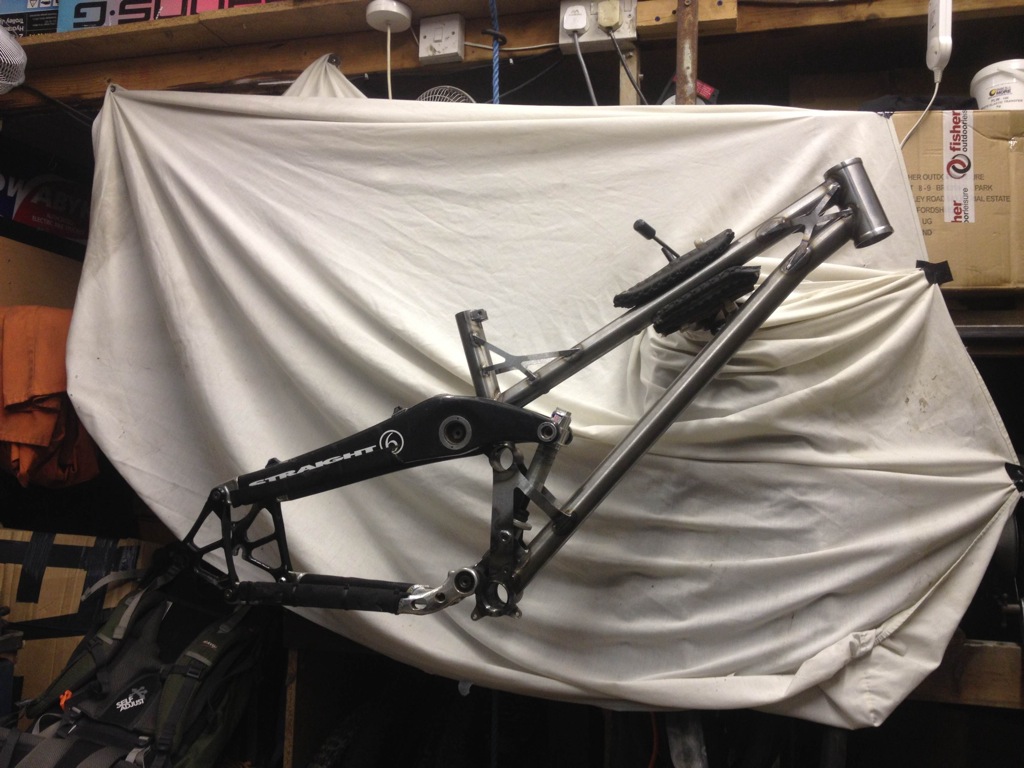 After it came back from the painters there were a few delays waiting for finishing bits like cable guides so I only had pictures to play with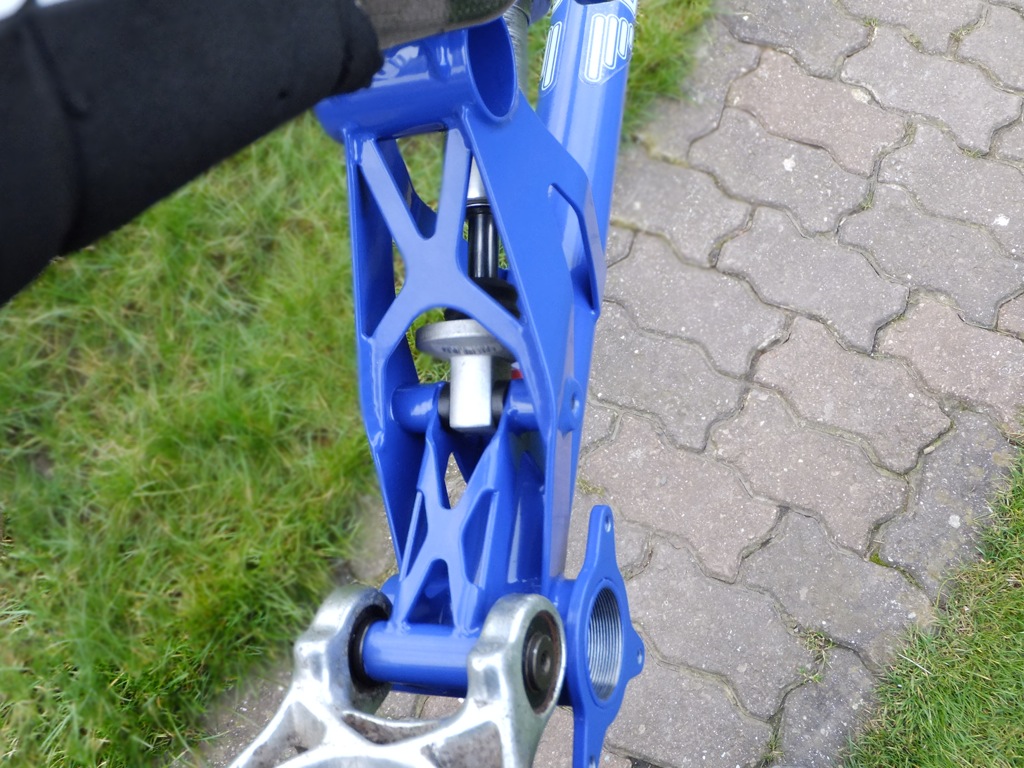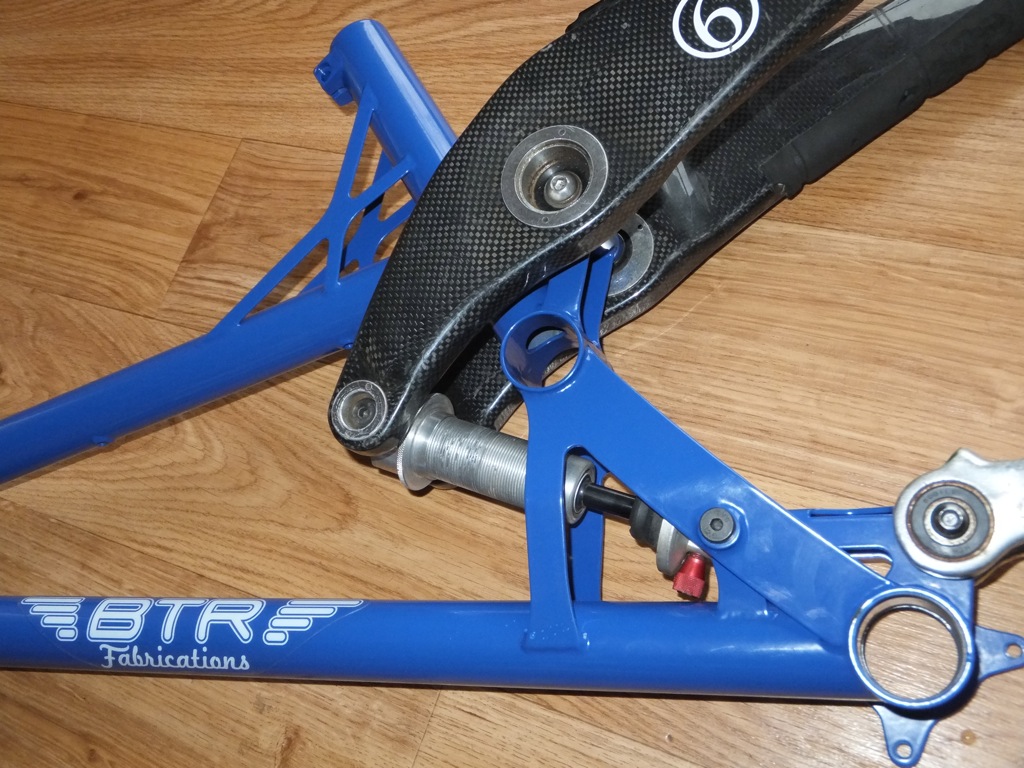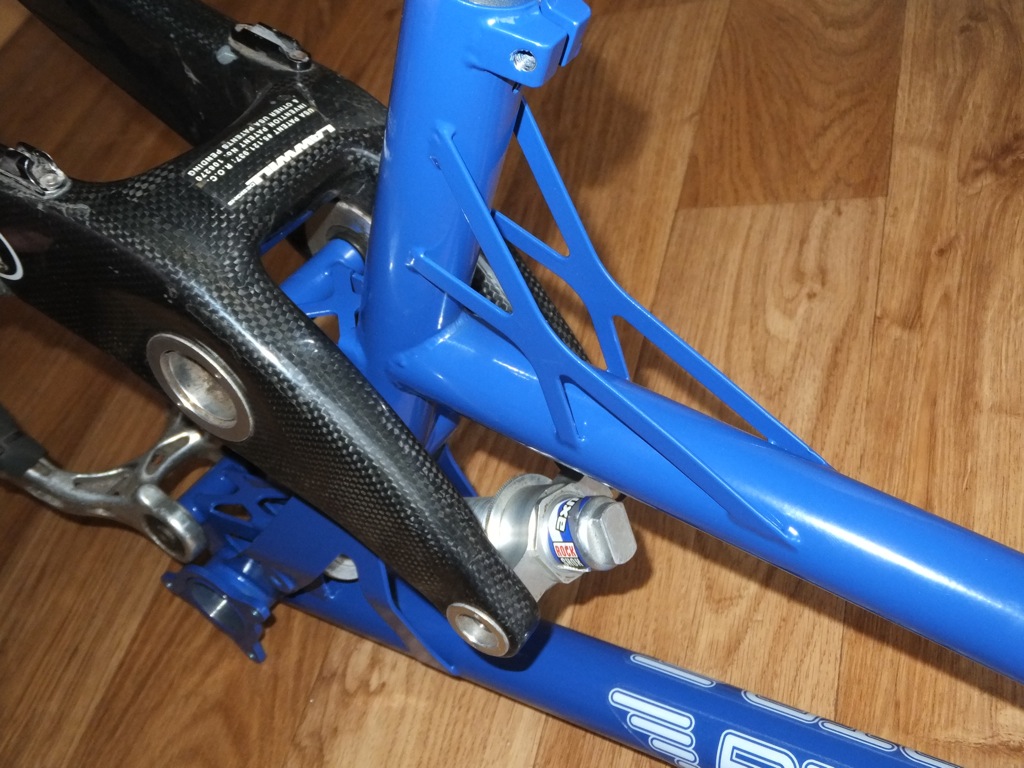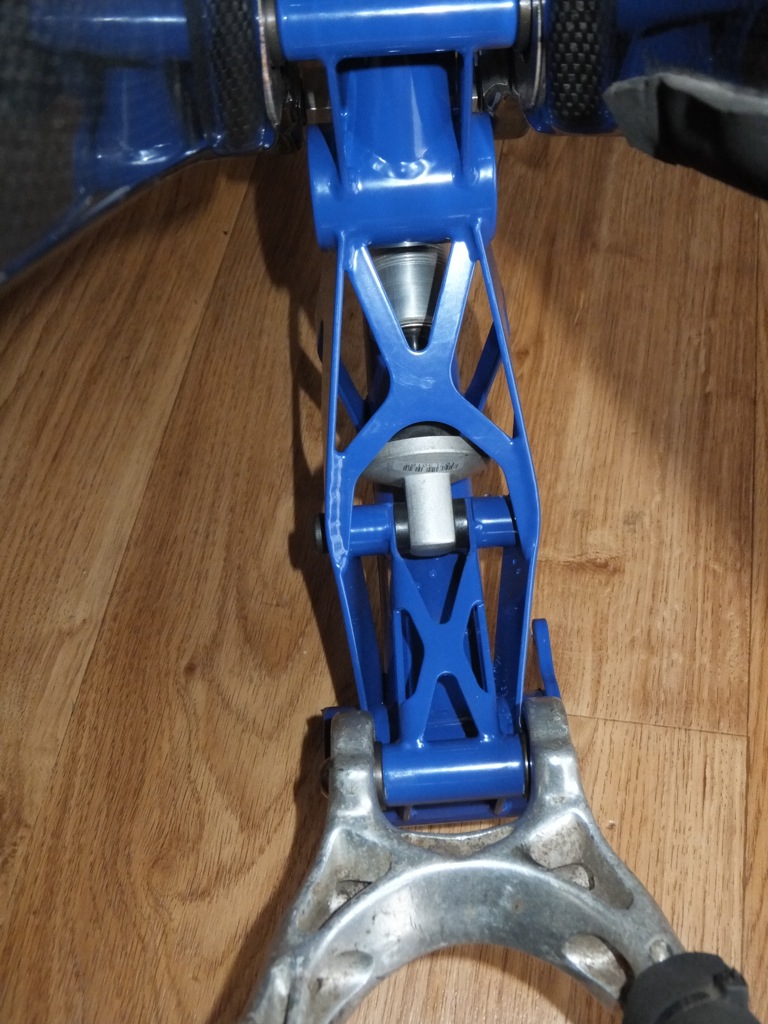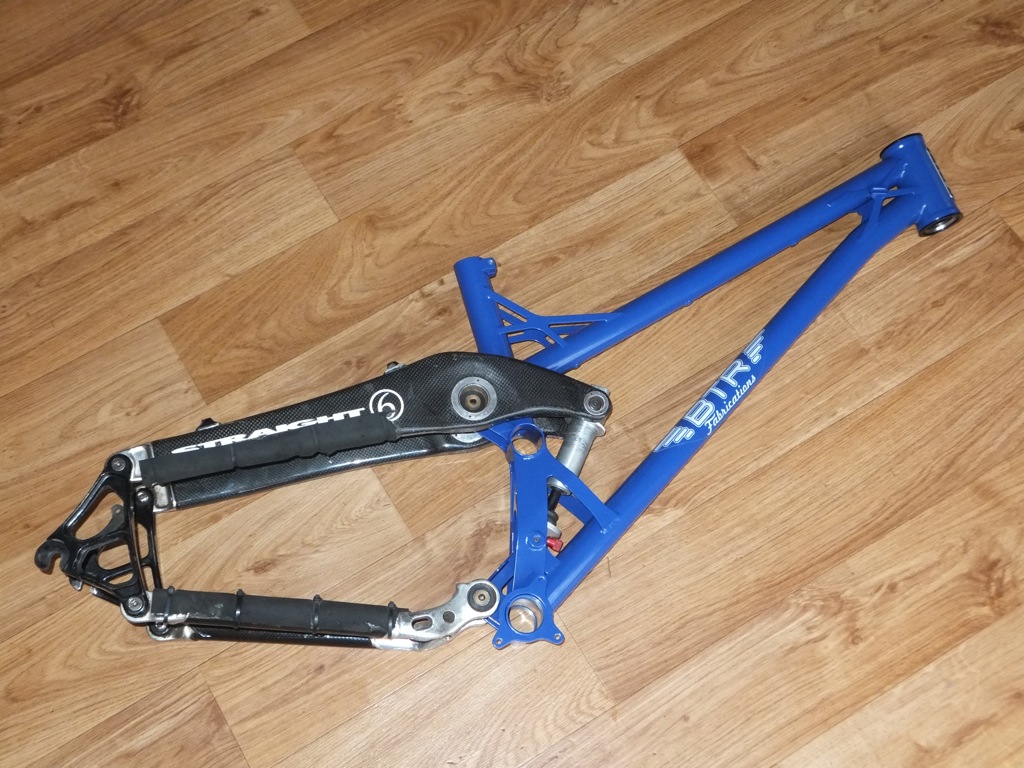 Finally the day arrived when it was delivered and there was only really on thing left to do... build it!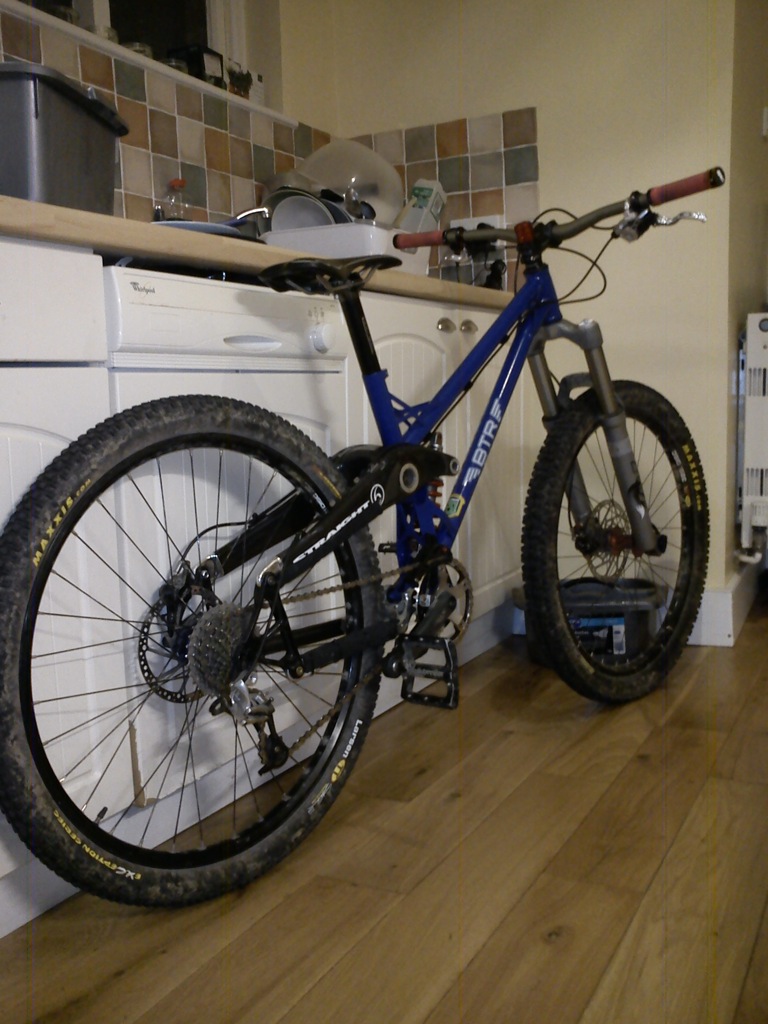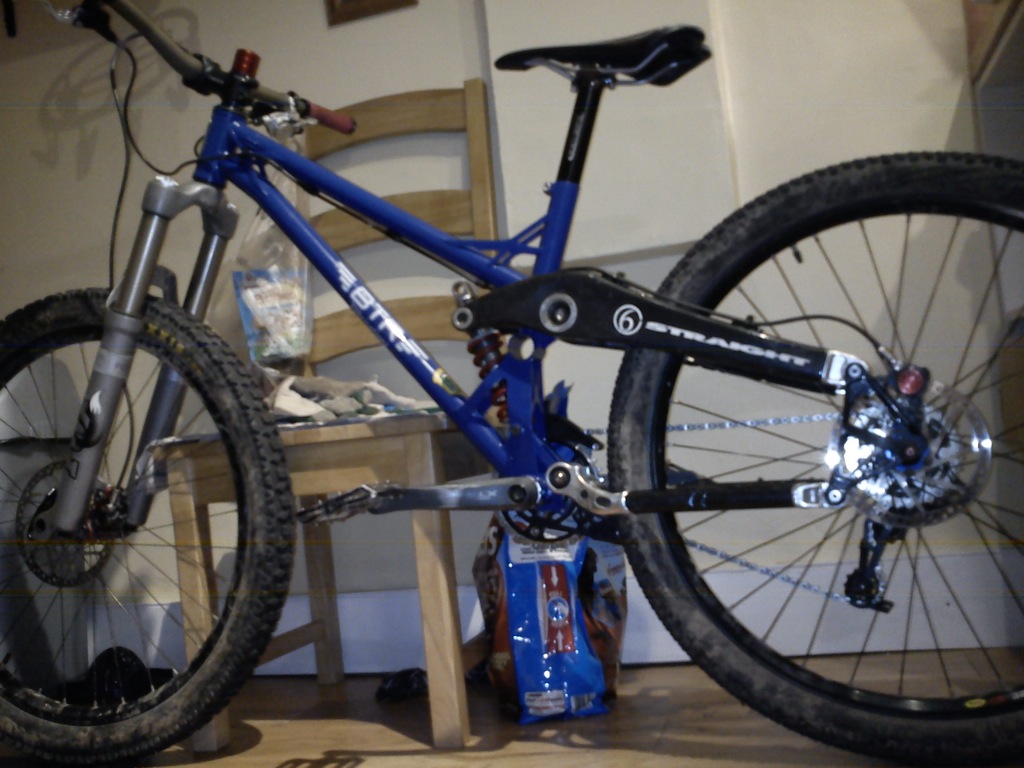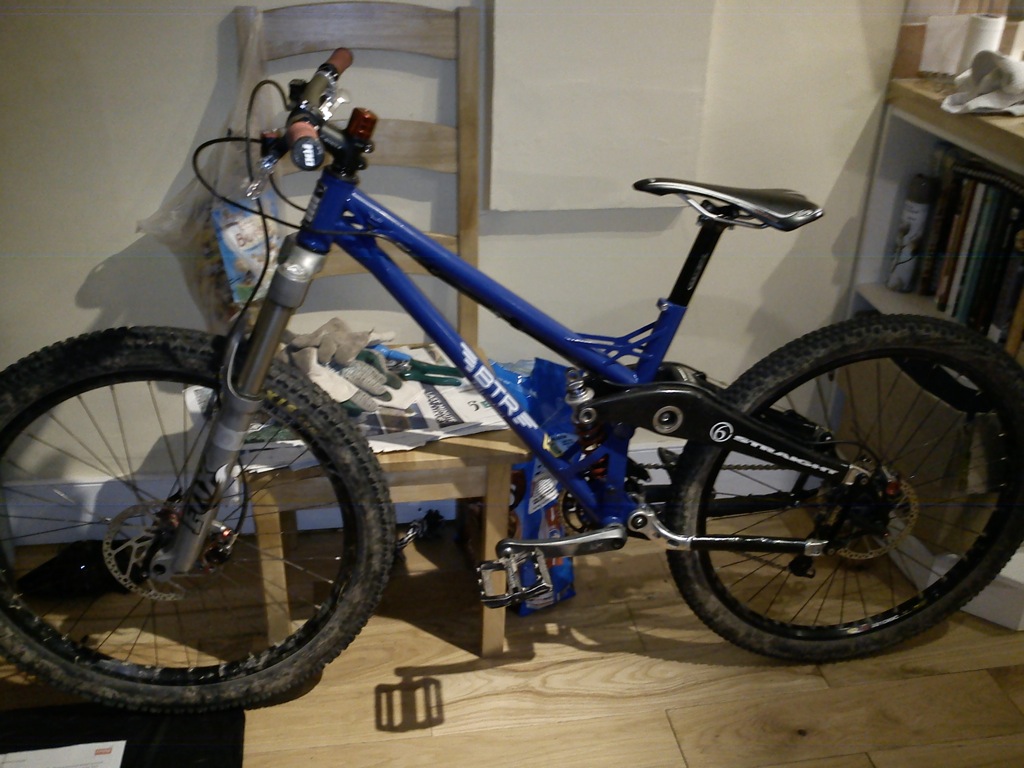 A hurried night of spannering later and it was bike shaped. It came in at a shade over 31lbs which is actually about 1/2 lb lighter than I was expecting and that's using a fair few heavy bits, there's scope to lop 2-3 lbs off that total weight with some new rims, carbon bar, slightly lighter front tyre and still not lose any of the durability that I was after. Still had a few things to tweak, a steerer to cut down etc but i was itching to get it out on the trails and see how it handled...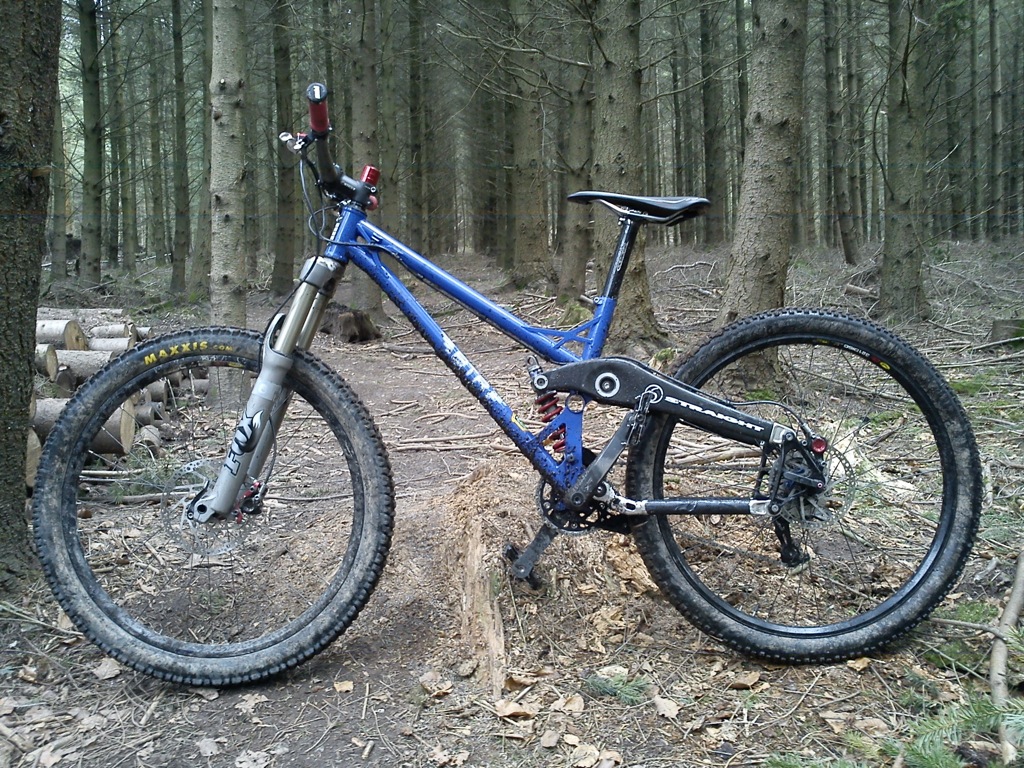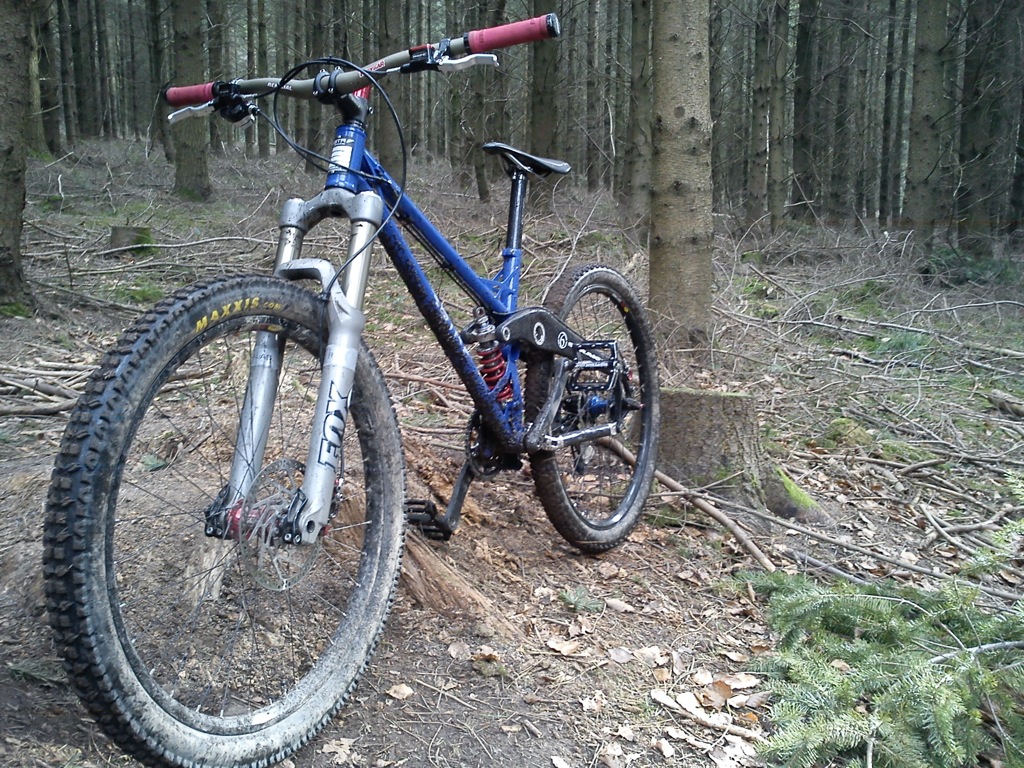 Took it out for a spin to get dirty on some of our local trails and give it a bit of a test...as it turns out I didn't need to do much, a little tweak of the trunnion to drop the BB a bit, shimmied the bars around until I was happy but that was it, so how did it handle?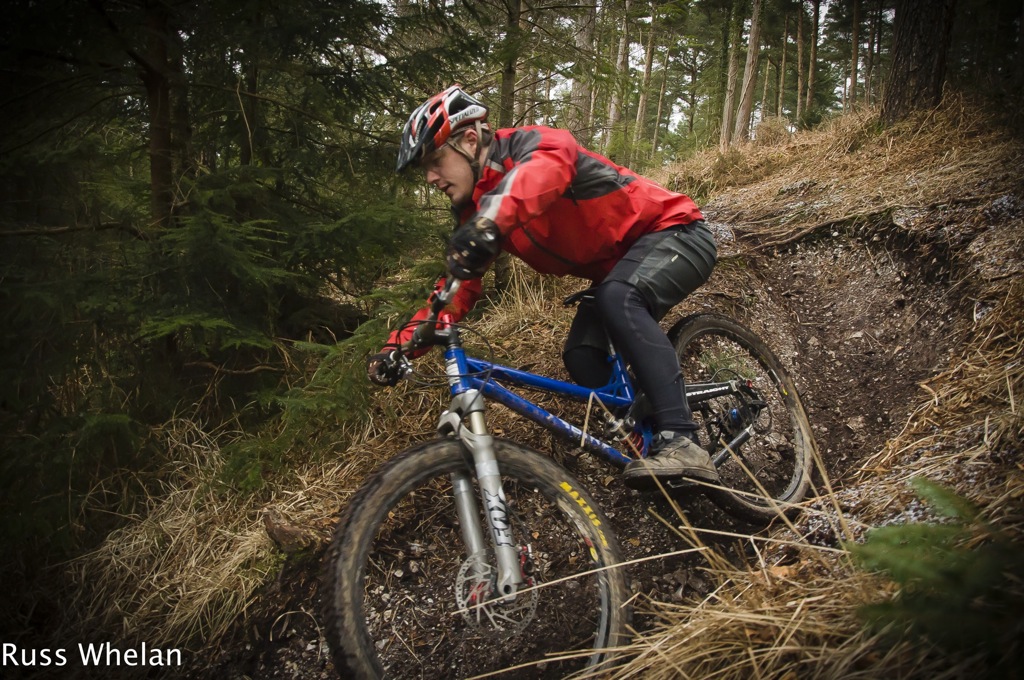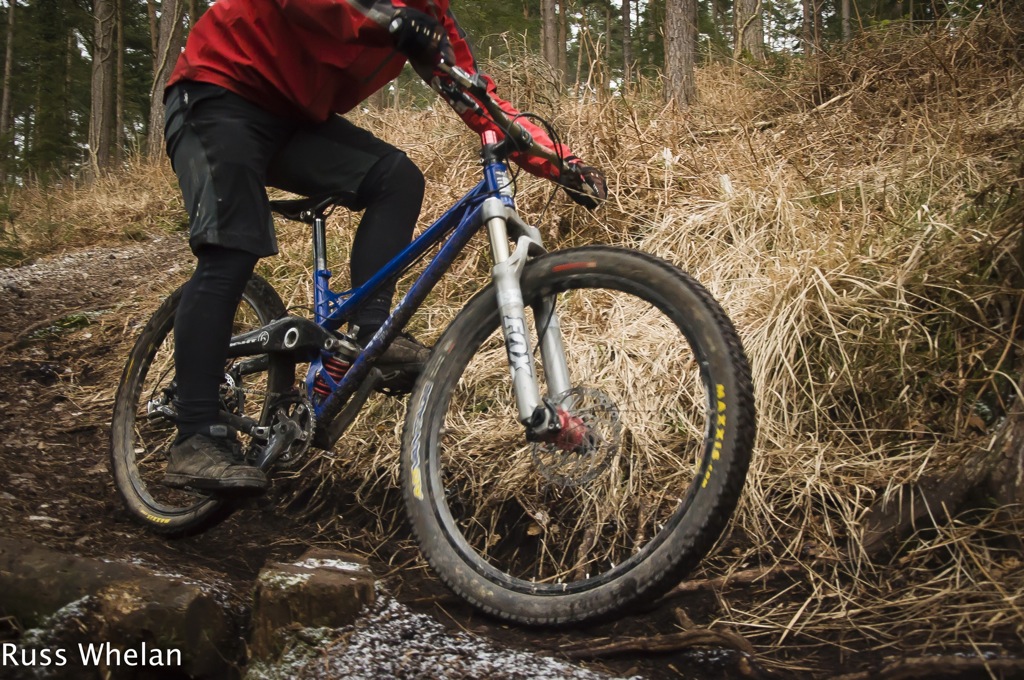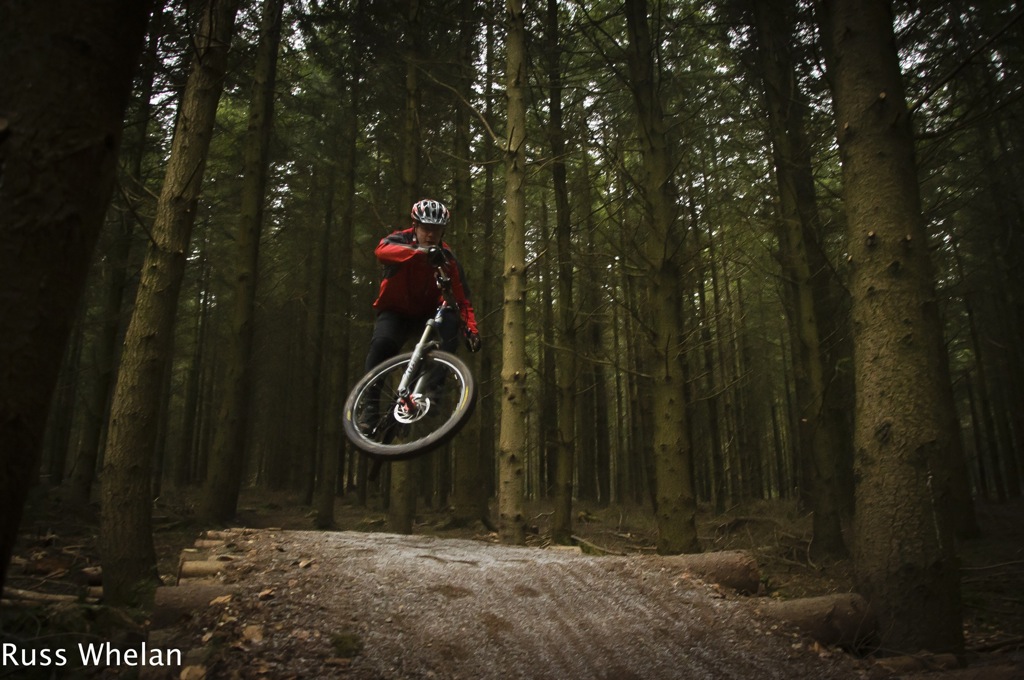 Absolutely bat-sh1t mental! It is unbelievably quick, and totally planted. The weight is all down low and consequently the centre of gravity is literally right between your feet, it is very very nimble and easy to maneuvere as the entire bike seems to pivot around you feet in any direction! The backend has kept all of its charms and just sticks to the ground like glue and generates crazy levels of grip in the corners, but it still has that 'slide button' where you can just drift the backend with a tiny little kick of the foot at the right moment without even needing the brakes and it whips round and bites again, its brilliant!
It's a lot more stable on the downs too thanks to being about an inch lower and having the slacker head angle it really loves to go fast and it just feels so totally planted it really is a massive improvement.
One thing I wasn't quite expecting is that there's a little more flex in the front end than the old frame but it actually works really well, especially with a big bolt through fork, if you smack it through a rock garden at full tilt the fork stays on line and the back kind of wiggles it's way through a bit instead of getting deflected off, makes it a very smooth ride and it carries the speed really well and it's not enough flex that it loses it's line, just enough and it means it is actually quicker and more composed through the rougher bits than the old Schwinn front end as it doesn't get smacked about as much.
The re-positioning of the pivots has given the back end a little more ramp up at the end of the stroke too so its a bit better at the extremes of it's travel too and I'm running a 50lb lighter spring than I was before now and it sits in it's travel better without blowing through it and remains nice and supple.
So there we have it, I know it's not technically a Schwinn any more but it was my love of the Lawwill Schwinns that started this journey so hopefully you can appreciate it for what it is, a Lawwill Schwinn re-born with a bit of a british custom twist
Matt
EDIT - final geometry:
66deg HA
75deg effective SA
330mm BB height in current config
1127mm Wheelbase (432mm chainstays)
134mm travel with 50mm stroke shock using 150mm i2i
695mm FC
100mm HT
400mm reach
563mm stack
518mm TT
551mm effective TT