Tripped over this bike messin around on ebay back in 2008 or so, saw some 4" lime green forks in same ebay session and an idea formed and the spunky, odd cafe racer ended up becoming the urban assault bionic klownbike that it is today. Paid 100.00 shipped for the bike originally so that was cool score. Now all you purists have no fear...the original seat with lights, curvy handlebars, Vbrakes and levers, fenders, stem, grips, chain, wheelset, 18t freewheel cog, headset, fork & horn have all been saved and put aside in case the bike wants to be put back to original state. (it hasn't demanded to be put back yet). I also have a pack of clownhead stickers on hand and a bobblehead rollo in the mail to complete the collection. I believe this to be a 2006 model and know it is 18.5" frame.
This is how it showed up....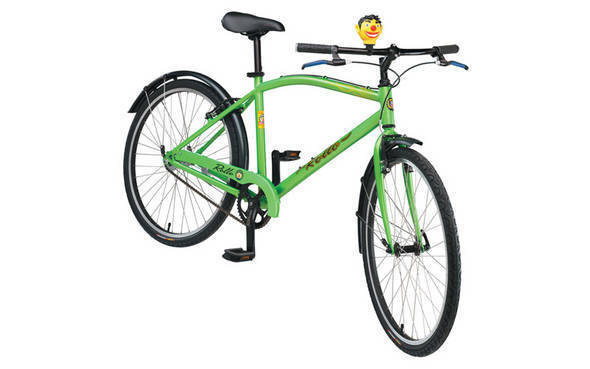 With a Kore stem, WTB speedmaster/Laser Disc wheelset, A2Z rr disc adapter, Hayes MX2 mech discs, LX servowave levers, black riser bars, Cane creek headset, Zokes 4" travel fork, ss adapter running 16t cog, USE carbon aero seatpost, WTB Speed V seat, ergo grips, all small hardware swapped to hex & Kenda Komfort 26x1.95 tires..........it was transformed into this.........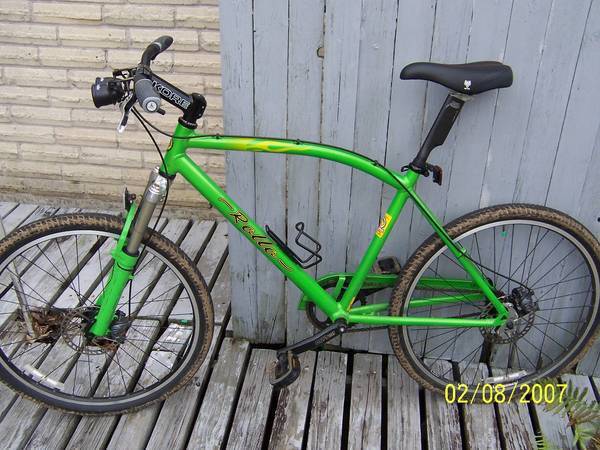 Since then, the carbon aero seatpost was used on my road bike and replaced with carbon wrapped round post. Bottle cage is now carbon fiber. Kore stem was used on another bike and was replaced with Easton and added carbon fiber stem spacer. CF theme original to bike with fenders & seat pattern still intact. Grips were swapped out with lime green Ourys. Chain was swapped to lime green KMC. Gold chainring bolts replaced the black ones.
This thing with the 42/16 gearing is ideal for me to clown around heavily downtown, on greenbelts or on light flat trails. Has nice 11-14mph cruise with bursts to 18+ when needed. Accelerates nicely. Need to take some fresh pics of the bike once the bobblehead comes in the mail. Love this thing. Even ride barefoot around the neighborhood with it's oem foot friendly pedals, lol.
Bobblehead..........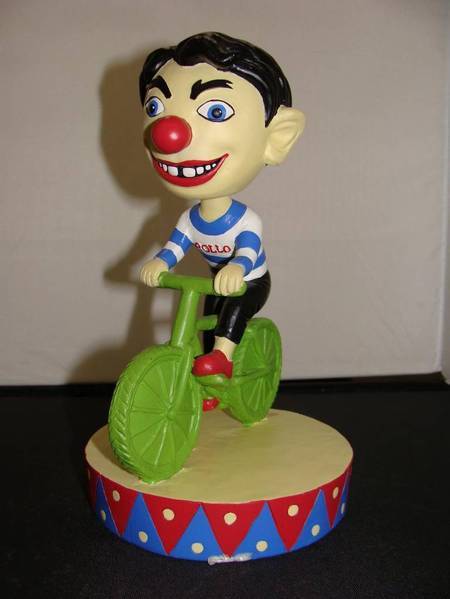 "More clowns on more bikes more often"