Well,
After getting shut of my 2000 heckler frame I opted to run a hardtail frame that I had donated to me. Seemed like a good idea as I was getting back on the MTB for some recovery training (currently racing BMX).
I thought modern stuff was supposed to be the bollox, but I was disappointed to say the least, only been hitting trail centres and decent singletrack (as in hitting as hard as I can), and the frame has died, won't name it just picture it.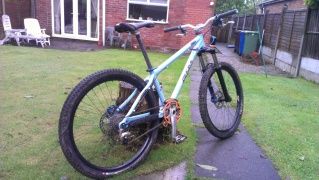 So, I'm going back a few years and see how it suits my current style.
Picked up this lot at a bargain price.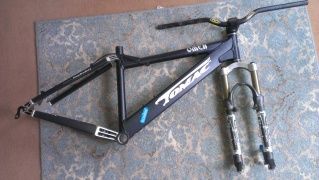 Some of the parts off my current ride (i'll ride it til it pops), will go over. Just gonna ruin it by keeping the XT hollowtech II cranks, as I love em.
As the build comes together, I'll post more. But, for now, I'm cleaning up these ready for going on.
If anyone out there has a decent era-ish correct 30.9 post, I'd prefer one longer than the 250mm trimmed that came with the frame.
Opinions?
Sutty