'Normal' people would buy and build one bike wouldn't they. Consider I have just completed a 24" DMR Rhythm, with an excess frame in tow, and a Genesis IO urban...
I'm not sure where this started, I think it was the idea of a play bike or simple SS or playable commuter, anyway it's sort of spiraled into more than 4 potential builds!
I fancied summat with short/no travel for less involved adventures, ideal was a Trailstar as this is what I should have chosen in 2003 but instead was lured into fat bright rigid as hell alloy BSX type machine...
As I'm now a bit older and just out for fun, riding on a 13" jump bike isn't right for me at all, Trailstar has heratage and 16" 71/73 frame doesnt carry any bravado it's a cool do it all small MTB that follows on from where we all started on XC machines... Most likely too short for me at 6tf 2 with long legs but we'll see!
First was this NOS bad boy, lovely. The geared thing was eating away at me but fancy a few close range gears on this. It justifies a tidy build though and the bits I have at present are a bit old for it, so it's been waiting patiently...
And more recently while I wasn't buying anything else...
This retrotastic horizontal drop '1997' Mk1 frame turned up. Oops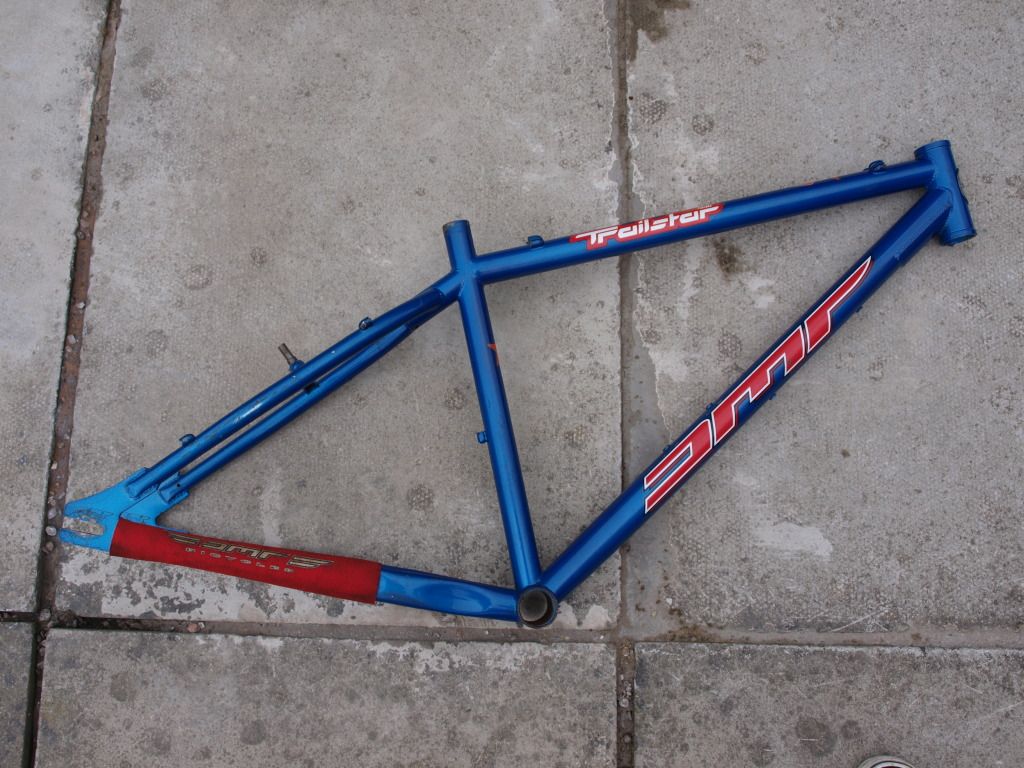 Idea for this was to build a sort of non flashy 'pub' type bike with old bits. Maybe with those Rigid FreeAgent BMX forks, or with the 2004 White Bros DT1.2 sus forks...
Rest of the bits are from 2000-2004 inc used old Hope brakes and 50mm gusset Sod stem or 75mm Acor lookalike-Azonic to stretch out the cockpit
So not sure which bits to do what with at the mo
Mk1=6.8lbs Mk2=6.9lbs
Surprised me this, that means they are both equal and both double butted...
The Mk2 was gonna go a kind of 4x type build, but fancied going trialsy though it does weigh a tonne so maybe not best idea, 4x type best.
Might do the MK1 with Gusset pigmy cranks Pig headset and go from there, and decide if rigid or 100mm (490mm A-C)..
Any kind comments welcome.
Also anyone to confirm the Mk1 is 26.4 seatpost?
Cheers