Not entirely retro I realise, but hopefully enough so to attract comments
After numerous builds and trying to sell the bike, it is now built as its going to stay.
Just been for a 13 mile road ride and it is certainly faster than I am.
Very quick and smooth gliding yet still quite forgiving on gravel ish paths, which is exactly what I want for my road ride into work.
Needs the front end lifting about an inch as the bars are too low, but all in all very impressed.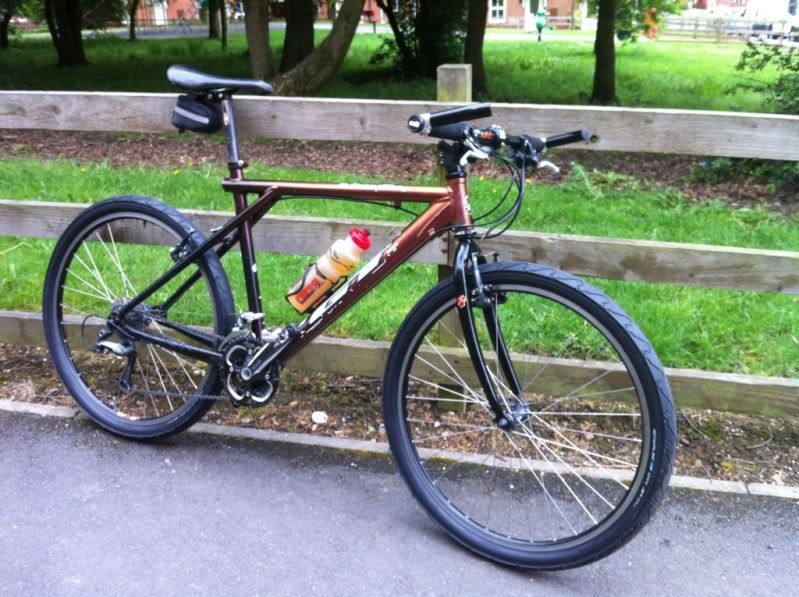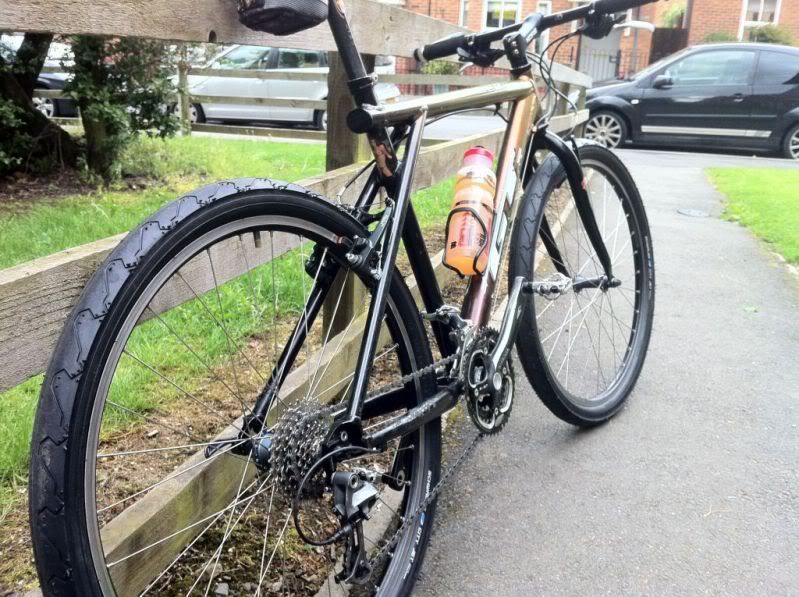 Frame: 1999 Zaskar LE cosmic Sunrise 18"
Forks: GT Cro-Mo
Bars: exotic alloy flat
Stem: Kore Lite
Headset: FSA XLII
Grips: Foam
Bar Ends: Yes
Front Brake Lever assy: Avid speed dial 1.9
Front Caliper: XTR V
Rear Brake Lever assy: Avid speed dial 1.9
Rear Caliper: XTR V
Shifters: LX 9Sp
Cables: XT
Front Mech: XT
Rear Mech: XTR M970
Seat: Flite Ti
Seat Post: easton ct2 carbon
Seat Post Clamp: integrated
Cranks: Aerozine XL12 carbon
Chainring(s): Aerozine 22,32,42
Chain: LX
Cassette: LX
Pedals: 520 spd
Bottom Bracket: Deore HTii
Front Wheel:
Rim: Old mavix X317
Spokes: DB
Hub: LX
Tube: yes
Tire: 1.95 City Jet
Back Wheel:
Rim: Mavic 317
Spokes: DB
Hub: LX
Tube: yes
Tire: 1.95 City jet
Weight: around 22lb