'bout time too slack ass update.
Front end is a little low as no headset yet. I couldn't find anything half decent in time, so have gone with LX cranks with a modified spider for runnng the single 36 Middleburn ring. I know... I'm a big hairy hore!!
I am going to run an adjustable Ritchey stem as I need to break myself in gently with my back getting back to 'normal'. The flat bars will go too as I have some wiggly ones knocking about. Ritchey WCS post and 'homemade' not by me, white flite.
Next up find some brakes.
ta!
al.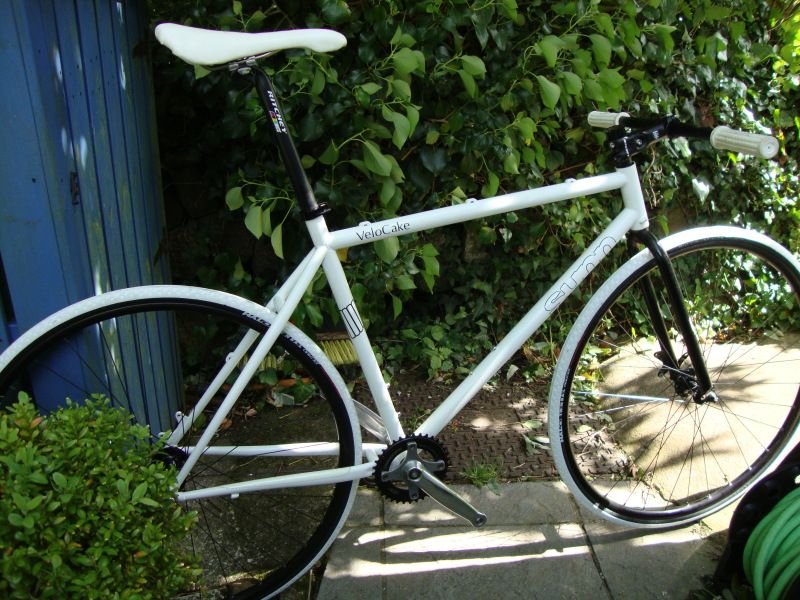 _________________
Hell no! I don't actually ride a bicycle.

'91 Haro Extreme Titanium, '93 J.P Morgen, '93 KHS Montana Team FXT, '95 Pascal Blanc Explosiv, '95 Softride Contour Powercurve '93 Trek 9000, '91 Cannondale M500, '96 Barracuda Tia 'hot rod', '89 Muddy Fox Courier Comp, '99 Sunn Exact Disc, '91 Carrera Katmandu, '92 Alpinestars Cro-mega LX(Projects) '90 Fausto Coppi 'Elegent' '89 Rudge bi-frame, '95 Kawasaki KMB 450, Ferraroli California Performance, 50's Rudge 'hot rod', '85 Schwinn Cimarron. '89 Laiti Mono, '97 Haro Escape, '93 Ridgeback 704 TX, '91 S-Bike Cromo, '93 S-Bike 808.