I purchased this a couple of months ago and must admit I have found it hard to love, being used to my Pace RC300 as a daily rider the more compact reach and more flexile frame have not been immediately welcomed.
I purchased it with Sids and an old M750 XT chainset and have now made my mark on it in an attempt to see if I can fall for it, or whether it has to move on. So on went the Pace RC31 ti/carbon forks and the race face cranks.
2002 Litespeed Tocoa
Pace RC31 titanium & carbon fork
XTR M960 front & rear derailleurs, Shifter/levers,brakes & cassette
Thomson seatpost & stem (stem inverted to give negative rise in an attempt to stretch out the riding position)
Hope headset
FSA platinum ISIS BB
Raceface Turbine cranks
Middleburn rings
M770 SPD's
Charge spoon ti saddle
ti Hbar
Mavic crossmax wheelset
(please note the photo was taken without the front brake, I had put the forks on last night, ridden it to work with the expectation that my new V brake mounts would be waiting for me at my desk, only to be dissapointed and extra careful on the way home too!)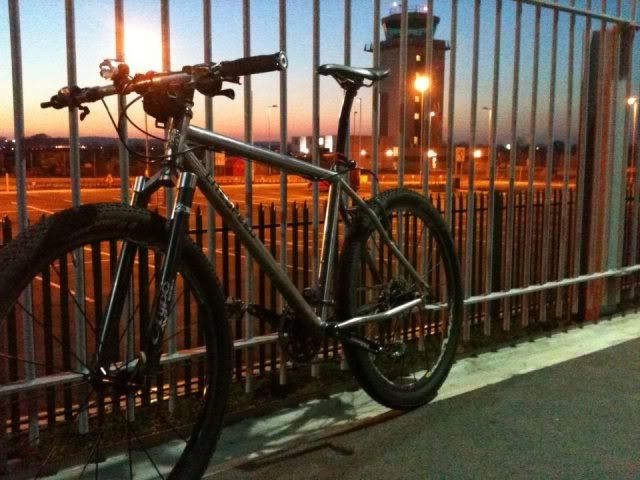 Photo taken on my Iphone 3gs, better photos when I have a better camera with me!

_________________
[size=67]Where we're going we don't need roads!
Under cover operative of the YVMBAPFS cartel.

The Pace fleet:
16" RC100/ 21" RC100/ RC100 Trials prototype/ RC200 F5/ RC200 F8/ RC250 Trials/ RC300 Gunmetal/ RC300 Silver/ RC500 F1 DH