Got a GT Avalanche from a friend of mine who was/is not really fit to ride or do anything much ATM..
It came pretty oddly built.. 80mm fork. WTB headset, STX cranks, Mismatched wheels half finished paint etc..
I've been slowly buying parts for it.
It's now pretty much complete just waiting on fitting of the final parts.
Frame: 2002 GT Avalanche 2.0 18" Sprayed Black
Fork: Marzocchi Bomber 120mm Black
Headset: Chris King Red (To be fitted)
Stem: No Name OS 50mm
Handlebar: No Name OS 700mm I think
Grips: RaceFace Good and Evil
Barends: N/A
Brakes: Hope Mono M4 (To be fitted)
Brake Pads: Hope
Brake Cables: Hope
Cantilever cable hangers: N/A
Brake Levers: Hope
Shifters: Rear Deore 9 Speed
Front Derailleur: Roox Chain Animal
Rear Derailleur: RSX ATM (To be swapped)
Derailleur Cables: Shimano
Cassette: Shimano Tiagra 12-25
Chain: KMC
Cranks: RaceFace North Shore DH
Crank Bolts: Shimano
Chainrings: Raceface 34T
Chainring bolts: Shimano
Bottom Bracket: RaceFace ISIS
Pedals: Oddysey
Hub Skewers: Need to buy some Allen key ones..
Rims: Mavic X317
Hubs: Shimano XT
Nipples: Halo
Spokes: Pass
Tyres: Probably Bontrager Big Earl 2.4 Rear and Maxxis 2.3 Front
Tubes: Whatever I've got.
Saddle: Selle Sphere
Seatpost: Titec El Norte
Seatpost Binder: No Name
Weight: 4 Tonnes. (EST)
Pics will be posted in there thousands when the changes are made.
I've got to thank cyfa and Dead Rats for there help and patience with me.. Holding parts for me and such. Plus answering my stupid questions with nice replies where if I knew the answer I'd be calling myself a stupid tw@ if I was asking myself!
Anyway..
How I got it.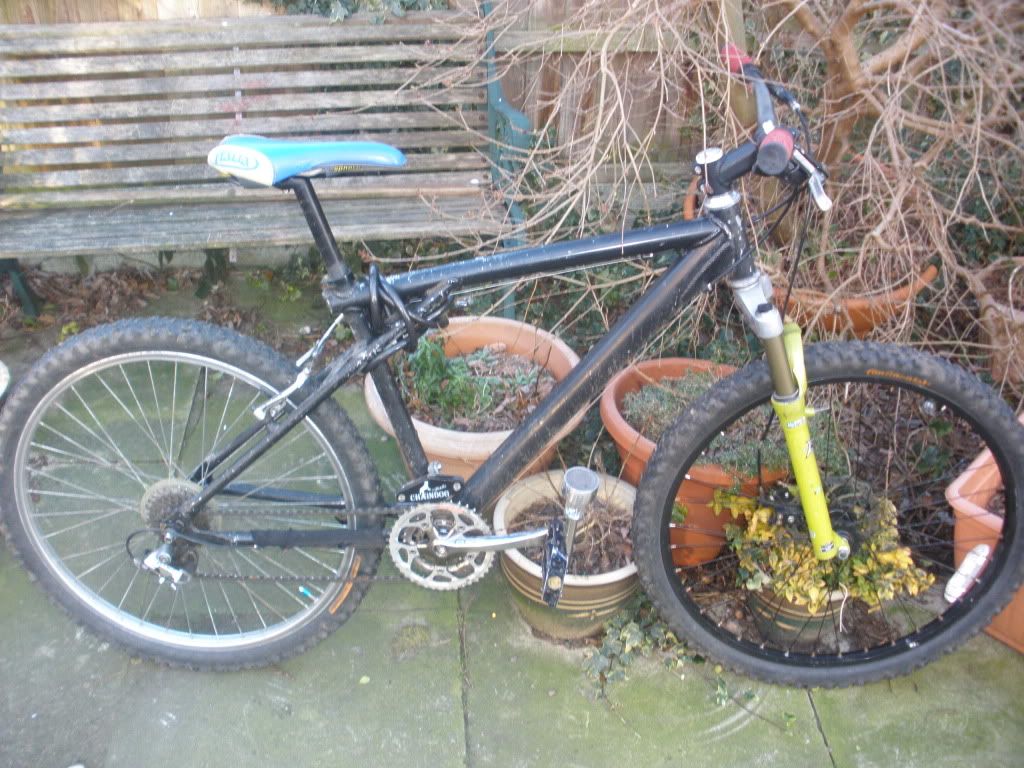 How it is stood today. (Sorry for the sucky pic) All I've got..
How it will be in about 4 days.
(Image to be placed)