The frame is back at my shop and making some progress.
My original frame suffered an ovalized head tube. In response, I have sourced a Chris King Steelset. These are made from stainless steel with extended length skirts to reinforce the head tube:
The needle bearings have been pressed into the main frame in lieu of the original brass bushings: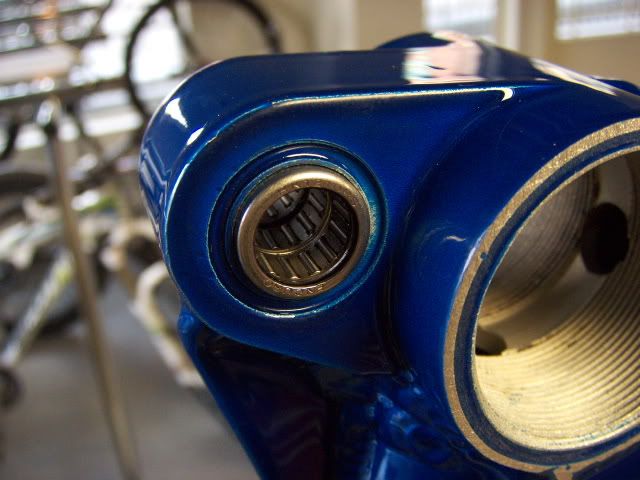 The rising rate linkage ran on problematic brass bushings. They were not well sealed and would require constant disassembly and greasing. The friction was so intense that I had to find a high temp synthetic grease to survive the heat! Most Rotec owners neglected this regular service and the drag link pins would seize in the bushings. Then the drag links would rotate around the pins, wearing out their mounting holes and eventually breaking. For reasons I cannot fathom, Rotec beefed up the pins and drag links in the MKII bikes. Which of course did nothing to solve the primary issue of the ineffective bushing system.
So like my original race bike, I have converted all the bushings to needle bearings which makes for a dramatic improvement in traction because the wheel can track the ground without all the friction hindering its movement. The bearings have an internal lip seal, and I have added an external o-ring seal for additional protection.
The old pins have been replaced with hardened chrome steel custom machined races and titanium bolts.
Note the use of shoulder bolts for maximum shear strength. Each drag link pin will run on four sets of needle bearings. The frame has three sets, and the lower shock eye will have a set of needle bearings also. PLUUUSH!
The old hardware on the left, new stuff on the right:
Here is a pic of the rocker with the new bearing race/shaft and Ti hardware. The little bolts at the bottom are for plugging the extra holes in the main frame when the seat mast is located in the rearward setting:
The first round of anodizing was supposed to be done last week, then this week, and now they say next week... The swingarm was in that batch, so hopefully next week I can assemble the frame.
I've got a little surprise in the works for the rear shock. It's the last piece to be fabricated, and should be done in a week or two. After that it's all the easy stuff - assembly and sourcing the last few components.
Oh, I just remembered the missing Mr. Dirt chain guide.... Probably going to have to fabricate something there...