Winter pictures added 10 Feb 2013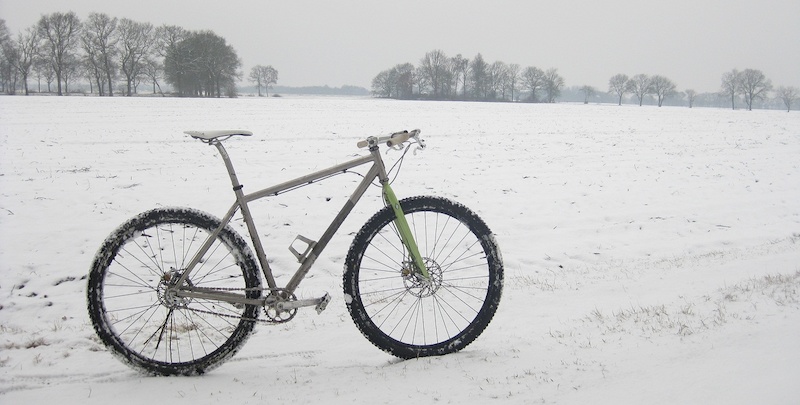 *******************************************************************
Not looking for new SS frame but came across this Pegasus last year, what to do? Went for it and took my time collecting the parts, plus fitted some bits I had stashed apparently waiting for this to come along. Not quite fimished but could not resist snapping a few picyures in the dying light this afternoon, so here goes
Frame: Singular Pegasus Ti in XL
Forks: Salsa Cromoto Grande in a King headset
Wheels: Industry 9 Singlespeed onto Arch rims
Tires: Nobby Nic rear and Rampage front, both 2.35
Brakes: Formula R1 polished, F 183mm, A 160mm Hope discs
Drive: White Bros ENO, Boone Ti 38t en Surly 20t, 1/8 chain
Seating: Moots Ti setback, Fizik Tundra
Cockpit: Thomson X4 100mm 10° flipped, Jones Ti H-bar ESI Chunky's
Extra's: USE seat clamp, Salsa wheel QRs, Middleburn valve caps
silver Ringle H2O "there can be only one"
Like I said, could not resist
I was still well chuffed with my Curtlo SS with the \royce wheels, but gradually formed a plan around SS specific wheels. Found this set of I9's on ebay.uk, nice chap handed them over to me in Nijmegen Holland, what a wonderful world. they sure look the opart I wonder how they will perform on the trail.
No ride yet, first off-road miles sometime late night this week. Here's one more:
Enjoy!!

_________________
Common sense was never common

looking for:
28h silver rear Suntour hub
32h Ritchey champagne WCS front hub