A few random shots...it was cleaner than this when it arrived!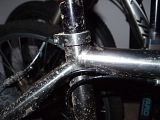 Yes this is the Taccoa that was for sale on Gumtree in Falkirk. It was a bit of a random find for me, but I took a liking to it and ended up pulling the trigger with Aarons assistance.
Spec:
2000/2001 Toccoa frame
Sid Dual air forks
Thomson post/stem
Charge ti saddle
XTR M960 FD/RD/V's & Dual control shifter/levers
XT M750? Chainset
Crossmax wheel set
My intention is to swap out the chainset out for a black raceface turbine that I have in. I shall also be ordering a new decal set from Litespeed and possibly the rear disc adaptor whilst I am at it.

_________________
[size=67]Where we're going we don't need roads!
Under cover operative of the YVMBAPFS cartel.

The Pace fleet:
16" RC100/ 21" RC100/ RC100 Trials prototype/ RC200 F5/ RC200 F8/ RC250 Trials/ RC300 Gunmetal/ RC300 Silver/ RC500 F1 DH