I don't know if any of this will be any use to you but you never know.....
Ratios - depending on what sort of riding terrain you have, obviously, but I'd start with a 32 tooth chainring (it's more or less the law
) and an 18 tooth sprocket and take it from there. If the climbs are too hard then go to 20T, at least to start with until you get into it more.
Just deal with spinning out at 16mph on the flats - it'll get you used to spinning high cadences. Unless of course
everywhere
you ride is flat - if it is, then you can gear up accordingly (like a 16 or 15 tooth sprocket).
Have you decided what cranks you'll be using? Rather than just use the normal middle ring on a triple I'd replace it with a singlespeed chainring, in the interests of greater chain security. In other words, one with full depth teeth. Something like
this
.
You'll need some way of adjusting chain tension and if you use a tensioner that fits on the mech hanger go for one that is fixed rather than the spring loaded type.
This sort
rather than this sort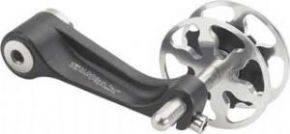 The neatest solution (IMHO) is an eccentric bottom bracket (EBB) converter like the Forward Components or Trickstuff Eccentriker. Both of these need an external BB type crankset.
Excentriker
and Forward Components review
here
.
However, I believe that the FC is no longer in production - I do know of an Excentriker going spare though
.
The best chain, in my not-so-humble opinion is the KMC Z610 HX
This one
.
Wideish bars (660mm+) are a big advantage (or I think they are) and don't shove the saddle back too far - I find that it's easier to spin high RPM's with it further forwards and you don't need power in the saddle as any time that there's any appreciable climbing you'll be out of the saddle anyway.