The longest distance I typically ride in one hit is around 25m off road.
At first (after years on a steel Marin and a steel Sunn) if felt pretty punishing, but now, after 18 months of between 8 mile and 15 mile round trip commutes depending on the route I choose, I really don't notice that the back end is super stiff.
Fitting the Crank Bros wheels made the back end stiffer again and at first I thought I'd made a big mistake with the wheels, but over time, the whole thing seems to have gelled. Whether that's the setup softening up a little or whether its me getting used to it I don't know.
Beyond the superficial, this isn't a bike I immediately took to, though after 18 months I appreciate it's fine points. It really is a super fast, very sharp handling, very positive light weight XC / trail bike. My riding style changes when I'm on this bike. It's very suited to fast sweeping trails, and does respond when you put the hammer down. It's the best climber I've ever ridden - which is where the stiffness of the rear end helps. I find this bike above any I've owned has improved my fitness as whenever you get on it's whispering to you to blitz it! I can hear it saying "Go -on... you know you want to! get out of the saddle you pussy!!!!" As a result, my commute times have been shattered by this bike!
On the down side, it can ping about a bit on rooted or rocky patches, though airing down the tyres a bit helps loads. Haven't ridden the Fox equipped one but the Recons work well enough.
For the price - and the discounts you can get on a 'last season' bike, it has to rate as unbelievable value. I saw a 2010 Team LTD early this year for £700 at CRC. I got mine for £999 on the cycle to work scheme
And just because - here it is in it's original state on my very picturesque commute late summer 2010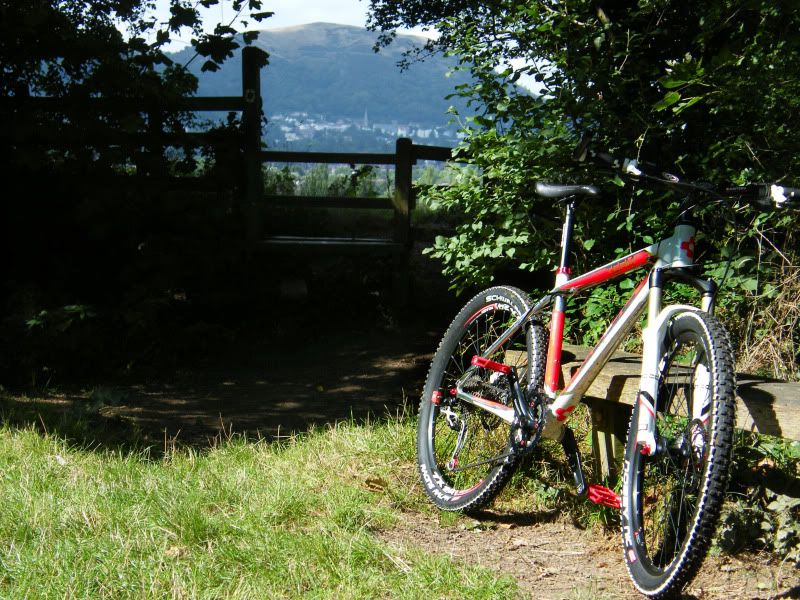 _________________
"Two very small men cutting steps in the roof of the world"