A little update on the 5 Spot... Some comfier grips with the Oury's and swapped the TRP levers with a set of Pauls. The TRP's didn't feel that great with the BB7's where as the Paul's feel very strong and positive. Will use the TRP's on my Funk along with the Goodridge hoses which have been swapped for Jagwire Ripcord carbons.
Biggest change has been the wheels... Swapped the black hope hoops for a set of FRM Urano XC Team wheels and the Nobby Nic's for a set of Racing Ralphs. I know really lightweight wheels wouldn't be many peoples choice for this sort of bike but thought why not... Plus give a bit more colour contrast to the bike.... And given the light weight it absolutely flies even more than I thought it did previously!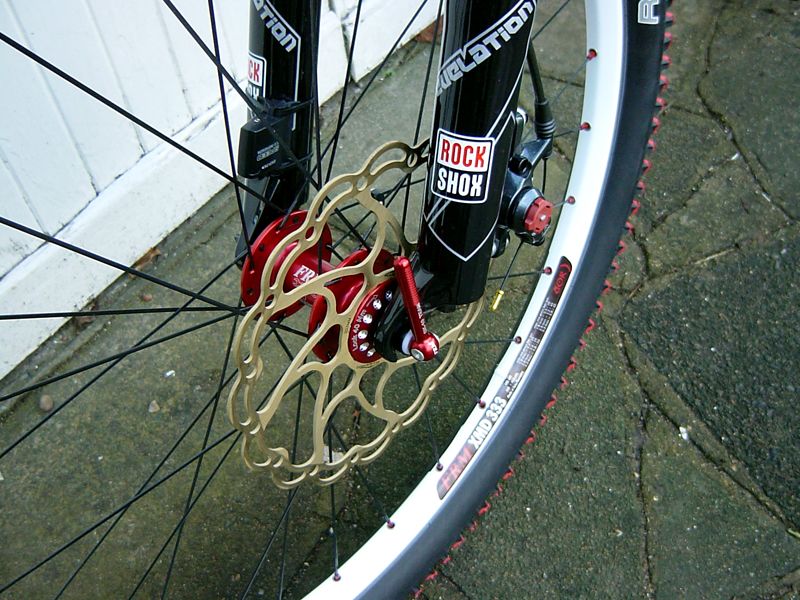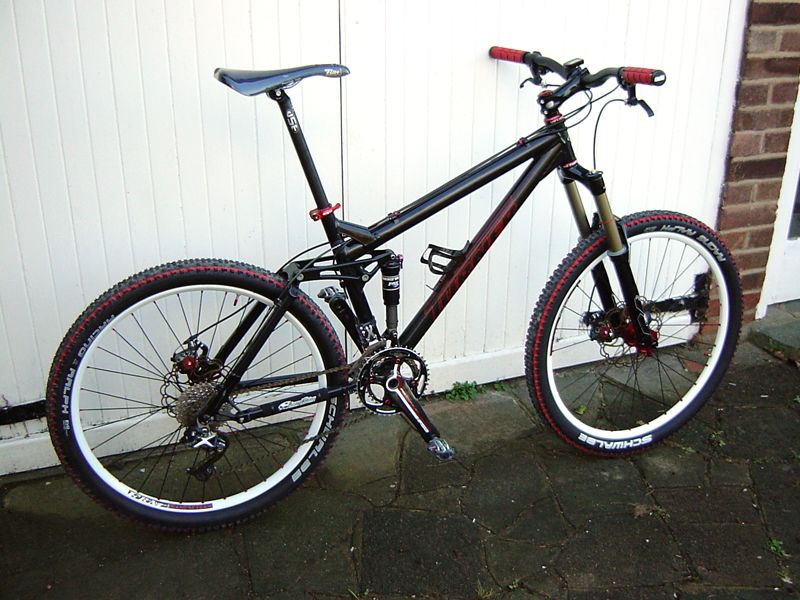 SPEC:
Frame: 2005 Turner 5 Spot (medium)
Fork: 2011 Rock Shox Revelation RLT Ti with Black Box Damping
Rear Shock: TFTuned RP3
Headset: VP (cane Creek)
Stem: Use Atom
Handlebar: Use Atom Carbon
Grips: Oury
Brakes: 2012 Avid BB7 mechanical disc brakes
Brake discs: Alligator 203mm fr / 180mm rr Ti Nitrate coated
Brake Cables: Jagwire Ripcord Carbon
Brake Levers: Paul Components Love Levers
Shifters: XT Thumbshifters
Front Derailleur: M970 XTR
Rear Derailleur: M972 SGS XTR Shadow Medium Cage
Derailleur Cables: Jagwire Ripcord Carbon
Cassette: HG61
Chain: KMC
Cranks: FSA K-Force Light Hollow Carbon
Chainrings: Shuriken Chain Blades 44/34
Chainring bolts: A2Z
Bottom Bracket: Gusset EXT24
Hub Skewers: FRM SK10-M
Wheels: FRM Urano XC Team (Urano hubs, XMD333 Rims & Sapim bladed spokes)
Tyres: Schwalbe Racing Ralph's
Tubes: Specialized 1.5 inch tubes
Saddle: Flite Evolution 3 Carbon
Seatpost: Use Sumo Carbon 400
Seatpost Binder: Hope
Thanks for looking
Alex.