trickylad wrote:
small but important - those schwalbe's with the white stripe look sweet. could you post some pics of the frame repair you did?
This is a quick sketch of the repair scheme that was undertaken.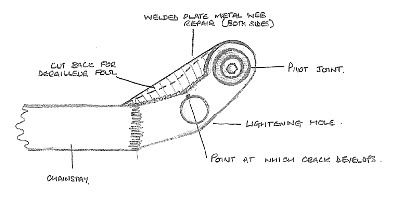 The crack itself had grown down the lightening hole and the web was put in place for strengthening, also within the space where the wheel goes between the two chainstays some webbing was put in between the chainstay and the crossbrace leaving enough space for tyre clearance. Note on the drawing the dotted line, this was where i had to file back to to create clearance for the front derailleur when the suspension was compressed and the derailleur was on the smallest ring. The plate material used was about 5mm thick.
Hope this helps, I'll have to try and take some pics of the actual chainstay when I get a chance.
_________________
My Rides
2007 Trek Soho 1.0 Hybrid
1999 Cannondale R500 CAAD2 - Restored
http://www.retrobike.co.uk/forum/viewtopic.php?p=1301418
1999 Specialized Stumpjumper FSR XC - Restored