Wow remember my Cannondale?
Anyway it had the legendary massive EVOLUTION headset, I put an EVO 1/4 to Aheadset 1/8 adapter cups, a nice Aheadset/stem/riser bars, then some Marzocchi Bombers on it, and had it sprayed blue, threw the pivot brakes away (Remember those instead of a straddle), and fitted some great DEORE V brakes to it, then some twat nicked it! The spray job even had TOP TUBE decals with my name on my bike (S. RANDS), and I updated the model number (To something else, 1000, so reflect it's new componentry level!) so if you see it grab it back!
It looked alot like this one:
The Alpinestars eh, my younger brother still has his hardly used mint ALMEGA DX. The blue/white one that looks modern, similar to this photo.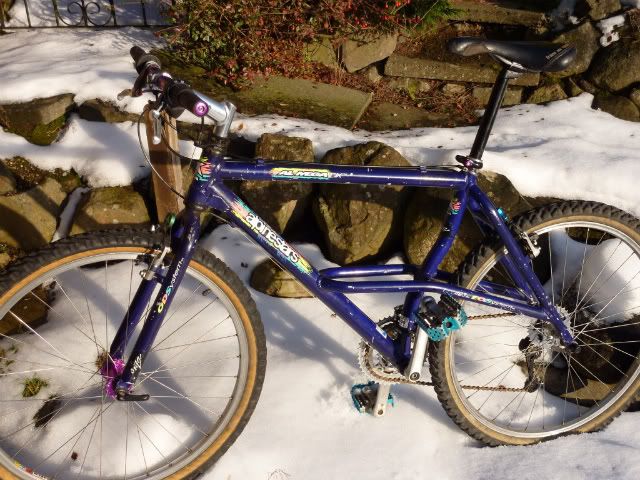 Funnily enough I don't remember which shops used to sell them locally, maybe Freetown Sports or Kingston Cycles?
Talking of shops have you ever been above
ROCK CITY
(Hawthorn Av: Between Hessle Rd and Anlaby Rd)? Well top floor there is a bike shop called "
WE LOVE MOUNTAINS
",
They have very nice bikes, that you'll appreciate, few below £3k though!
http://www.welovemountains.com/CMS/fcke ... -level.jpg
[/img]
http://www.welovemountains.com/mountain-bikes
~ Orange 5's
~ Mondraker's
~ Lapierre's
~ Orbea's
As much as I'd like a quality full sus, I don't need one, especially round Hull, but obviously on jumps a quality full sus would mean bigger air time! And you know how much I enjoy lots of air! Huge jumps I love them. But finding a quality, sub 16" (less then) full sus bike isn't great.
My hardtail is really a 13" (Once top tube passes the seat tube the end measures 16"), as you remember I'm not tall! Well I certainly haven't seen many 13" full sus quality bikes in shops or any of the mags recently!
Anyway nice to see £50k's worth of bikes!
Worth a look sometime, if you thought Freetown Sports had the biggest range of the bikes with the highest RRP.
Cheers
Stephan
MTB routes in/near Hull, Humberside
www.srands.co.uk