Reeto blast from the past, what's 4 years between friends anyway! I spent at least 2 winters on My DMR Rhythm and sporadically went out, and took it to bits cleaning in it properly 2 years ago, since then had a wee sprog, and shortly after a commuting RTA!
so I've been waiting for this summer (and almost missed it) after fitting some nice trick parts at the end of last year.
It's a great bike with loads of promise sturdy and nice to get on with though it's last build felt more at home downhill - on normal trails.
It was a bit heavy and overbuilt and not quite doing it for me and not hitting the spot for me as a rugged but sensible all round trail machine, so got some new wheels, tyres, wider posher cassette, smaller posher chainring to help climbing, a 50mm Thomson stem, fancy matching seat and grips and some Hope QR's to finish the Britishish attention to detail theme.
I finally got a shake down last week at a local trail. more on that below but it's still not right and I think the forks may be a bit too long really for the geometry which is based on the original Soul (100-140) so keeping the BB high and angles back and forks now after being cleaned and not used for 2 years, sticking or making a loose headset style jarr noise/feel, or not as buttery as they were.
Also I think maybe though I'm tall I have my bars too high keeping weight back too far, so will lower those, considering trying the old 25.4 DMR stem again as it's 60mm along with 750 Funn bars, or Try the 70mm Thomson stem again with 720mm Answer bars... hmm
So dunno if I'll keep it yet or split it or refine it or whatever, but here's the latest pics and spec.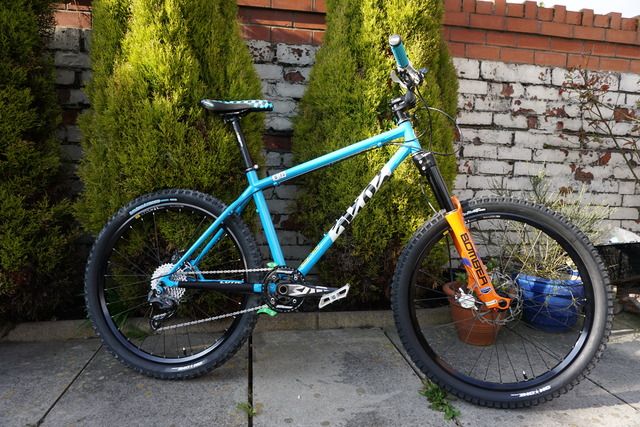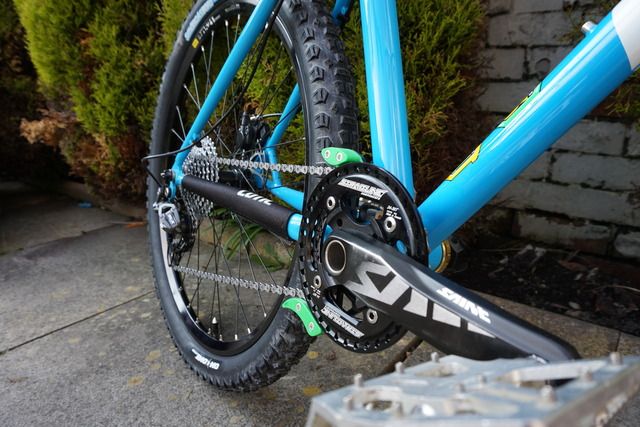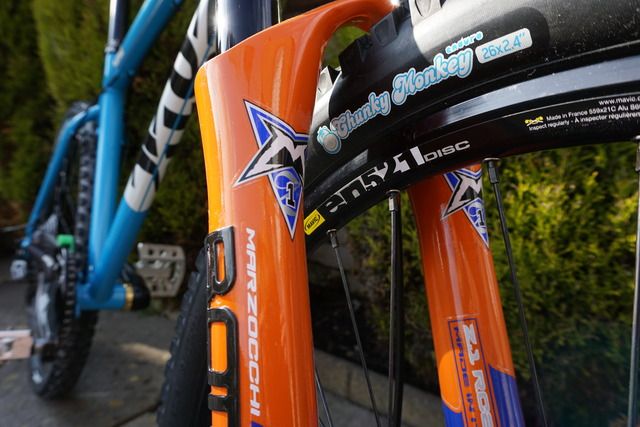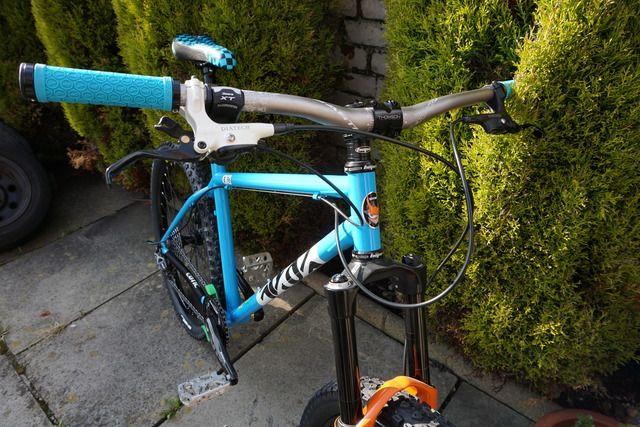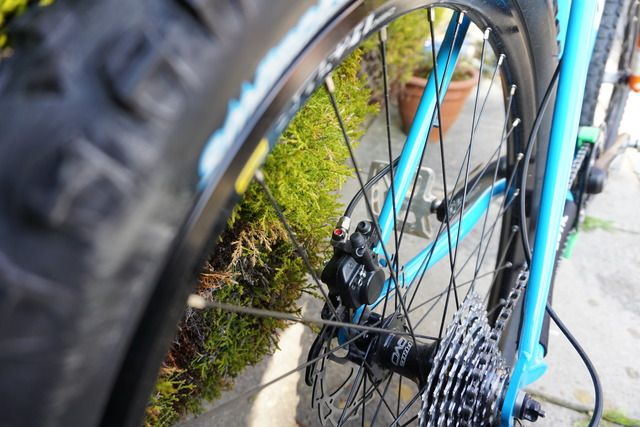 Frame: Cotic Bfe MK2?
Fork: Marz Z1 2007 RC2 ETA
Headset: Hope
Stem: Thomson 50mm
Handlebar: Easton Havoc 750mm
Grips: SDG ODI
Brakes: Diatech Anchor with Gusset R rotors
Shifters: XT 9 Speed
Straitline SilentGuide chain device
Rear Derailleur: SLX medium cage 9 Speed
Derailleur Cables: Shimano
Cassette: XT 9 speed 11-34
Chain: XT?
Cranks: Saint M810
Chainrings: RaceFace NW 34t
Bottom Bracket: Saint M810
Pedals: Wellgo Concave
Hub Skewers: Hope
Rims: Mavic en521
Hubs: Nuke Proof Generator front and Hope Pro 2 rear
Tyres: On One Smorgasbord 60a /Chunky Monkey 50a
Tubes: odd
Saddle: SDG
Seatpost: Nuke proof
Seatpost Binder: Hope
Weight: Under 30?