well better start with this!!
one Reebok 'Zone'
i was REALLY into the kite buggy scene from about 2001 but towards the end of 2008 i had pretty much lost the mojo for the sport
. we moved house and ended up on the door step of Cannock chase (you know where this is going dont you?) well it didnt take long to spot the cars travelling past with bikes on the back on a regular basis, so i investigated. WOW... i found the 'follow the dog' trails!! so i needed a bike asap lol.
now i wasnt keen at the time to admit to my self that i had lost the kite buggy mojo so was reluctant to sell my kite gear which left my struggling for funds for a new hobby. so a trip to hellfrauds see's me owning the reebok lol (i know i know! lol.. it was a sin but in my defence. i hadnt been/seen a bike since my teens and i'm now 41 so all in it didnt look bad!! and had more than 3 gears! lol).
Off to the trails i go
!!
WOW
HOLY COW!!!
it all came flooding back.. my youth spent at birmingham wheels bmx track.. ridng the monkey run under the m6 in bromford (birmngham inner city lad me) etc etc!! i was addicted!
then the problems began! lol
brakes? what brakes!! seemed i needed new ones (although while waiting i did master the art of setting up mechanical disc brakes
)
gears?? why wont they change up when i'm giving it some stick??
looked like i had to sell some kite gear didnt it lol
que the parts!!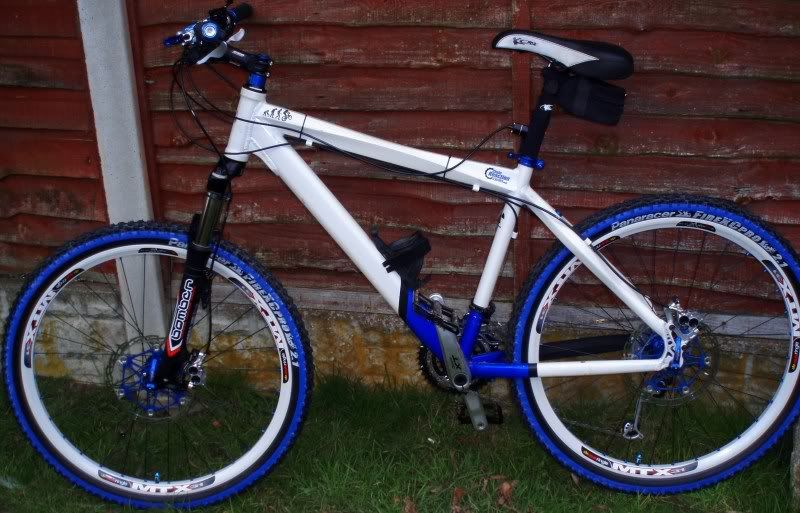 ended up selling ALL the kite gear lol.
over a period of maybe 10 months i added
xt drivetrain
hope tech m4 brakes
hope pro 2 hubs on mtx 31 rims
gravity dropper (best thing since sliced bread)
easton bars
fattys flattys pedals
marz xc comp forks
and a few bits of bling lol..
i was happy....... for awhile!
the prob i had was i had gone up from 80mm travel forks to 100mm travel forks and i came across some pictures of some guys poor broken frame. and he had put it down to the longer forks.. the more i read up on it the more i worried about mine breaking lol
cue the GT xcr frame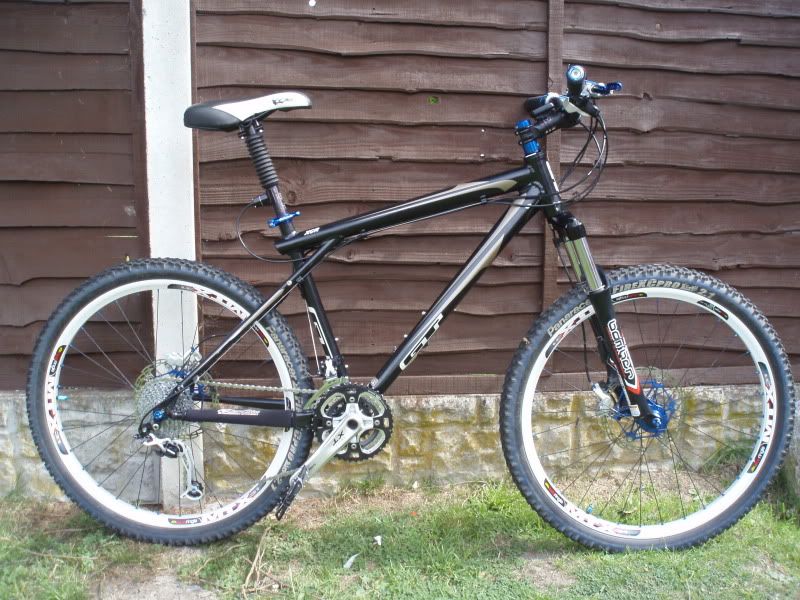 i got the frame cheap from a local mtb forum member and did the rebuild..
WOW!! the change in ride was truely impressive
.. switch backs suddenly became easy,, it went where i pointed it and did exactly what i asked of it...
but
i was aware the frame could take 130/140 travel.. and indeed that they came this way new lol..
the hunt was on for longer forks.
cue forks
life was good... ish.
i hated the colour of the black frame.. hated it with a passion.. and as i had said before the frame came cheap meaning it hadnt got the best of paint finish's lol.. infact it had a fair few battle scars on it. also the bike had originally been built around a white frame so was kinda themed to match.
cue frame hunt number two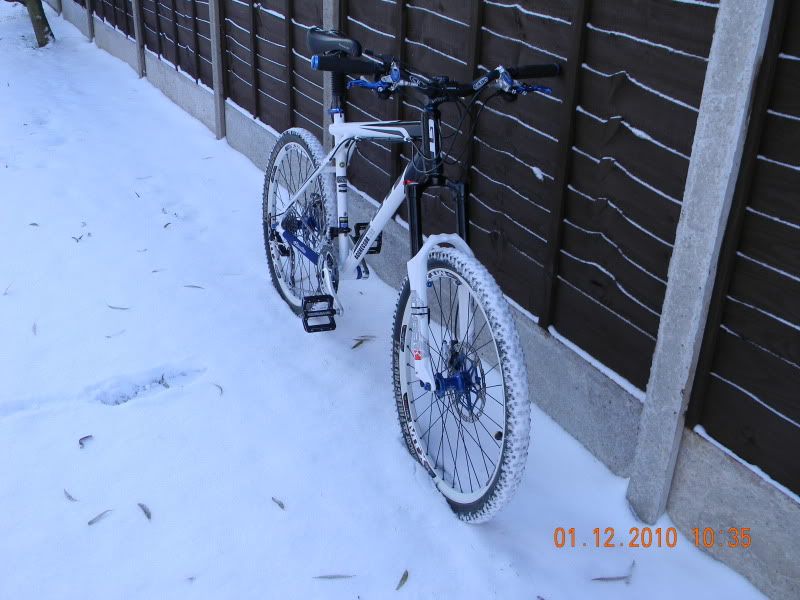 frame is a totally mint GT aggressor xc2 which i bought as a complete bike and transplanted the parts onto my sons Saracen mantra 2 (and thats another thread in the making lol)
lifes good for now
very happy with my bike and it certainly does its job over at follow the dog or indeed around the monkey..
heres the spec list
GT xc2 frame
marzocchi Bomber 44 tst2 airs
gravity dropper turbo
Hope FR 50mm stem
Hope Integrated Headset
Hope Head doctor
Hope Grip Doctor
hope Space Doctor
hope 203 floating saw rotors x 2
hope QR skewers
hope tech m4 brake front
hope tech m4 brake back
hope tech levers x 2
hope tech Master Cylinder Lid x 2
Hope fork cable guides
Hope seat QR seat clamp
Hope Bottom Bracket (SS)
Hope Mount Adapter rear
Hope Pro 2 Front hub
Hope Pro 2 Rear hub
Sunringle mtx31 rims (welded)
DT Swiss comp 2mm-1.8mm spokes x 74
Blue Spoke nipples x74
Fatties flattys pukkas pedals
Easton EA30 bars
Giant lock-on grips
Shimano XT 9sp shadow deraileur M772
Shimano XT Front mech M771
Shimano XT M770 9sp cassette
Shimano xt HT2 M770 chain set
shimano xt shifters (F&R) M770
Sram PC991 chain (9spd)
Tacx ceramic jocky wheels
Clarks Gear cables X 2
titainium m5 bolts x 12
aluminium m6 bolts x 8
Kcnc jocky wheel bolts
M-part fork cable guide
Cateye w100 trip comp
lizard skins chain stay protector
panracer XC Pro 2.1 x 2