Well I have now been playing with latex and rubber
These are the crossmax's of GT-Steve, I give them a bit of a clean up and am really happy with them
I wouldn't mind replacing a few of the decals so if anyone has any, knows where to get them or knows someone that can get them – a pm would be greatly appreciated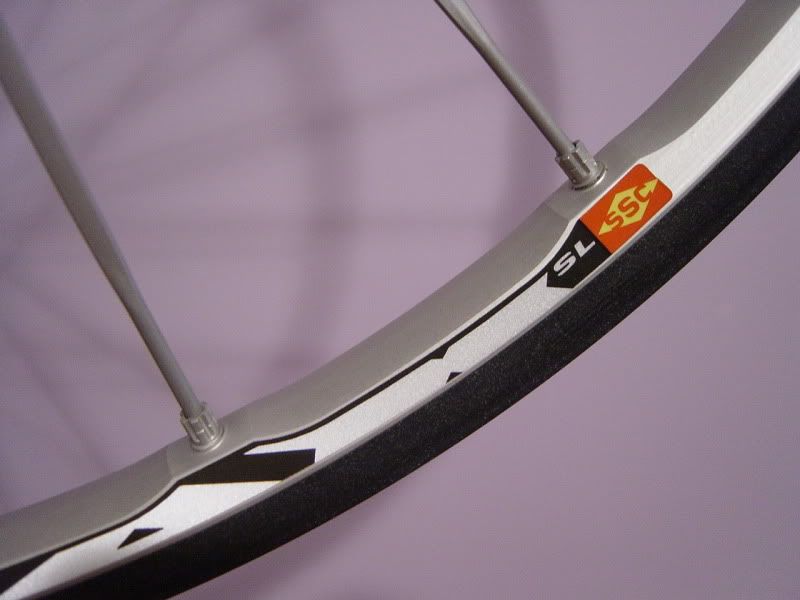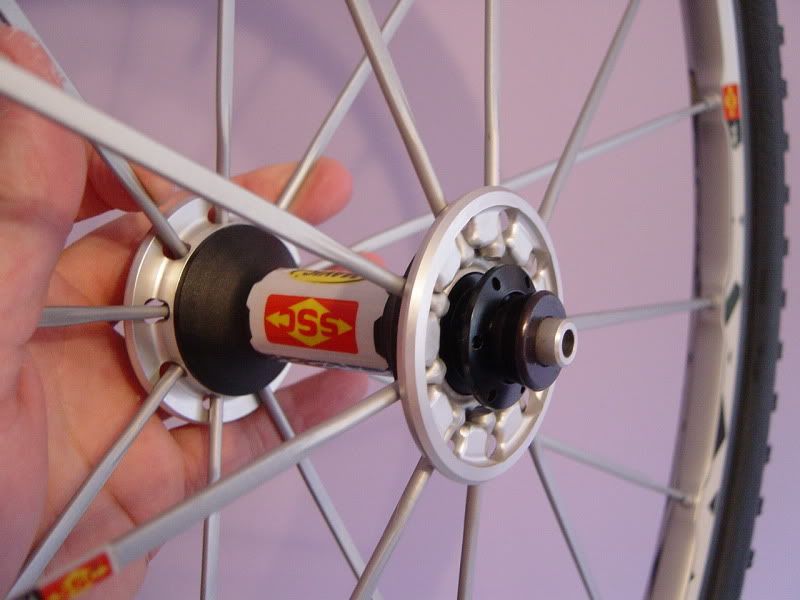 I think the adjustment collar is Ti ? :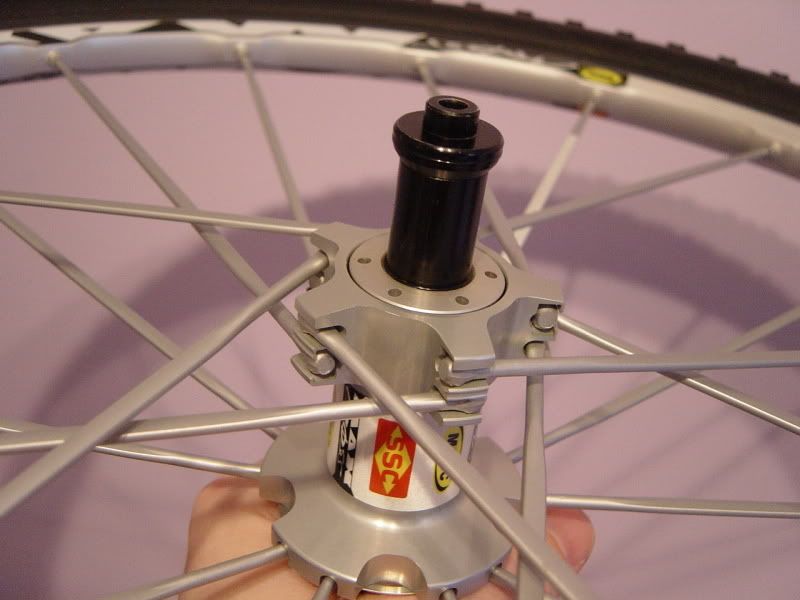 This had some surface rust on it but it cleaned off with a spray of GT85 and a light scrub with a toothbrush so I suspect it might have been transfer from the cassette ? – I don't know what material it is ? :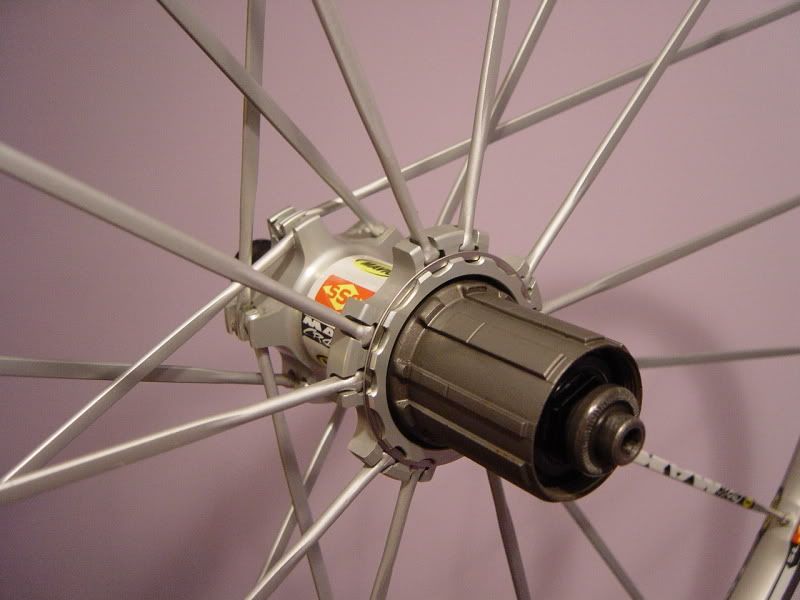 I cleaned the ceramic up with one of those rim cleaning blocks, I thought they were only for ally rims but Mavic say they are good for the ceramic to. I was surprised how much crap was baked / burnt onto the surface and they came up well :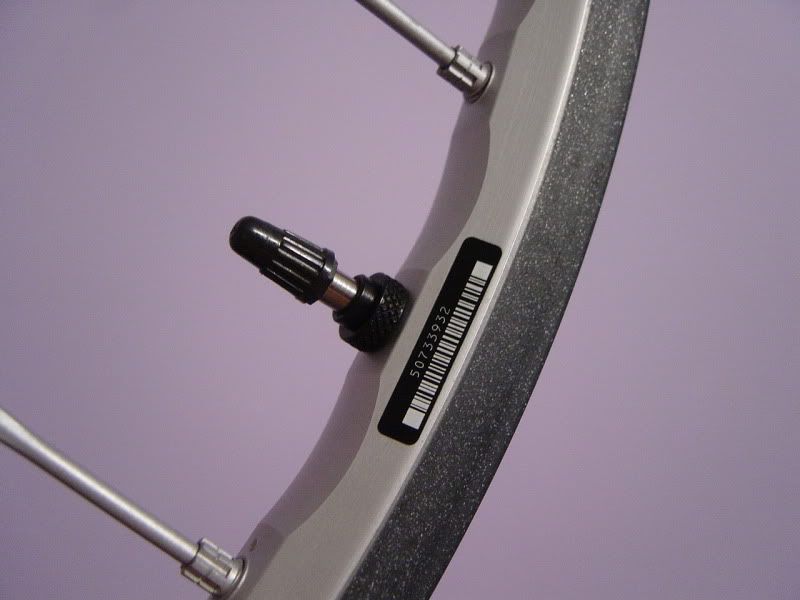 Spoke count / lacing patterns: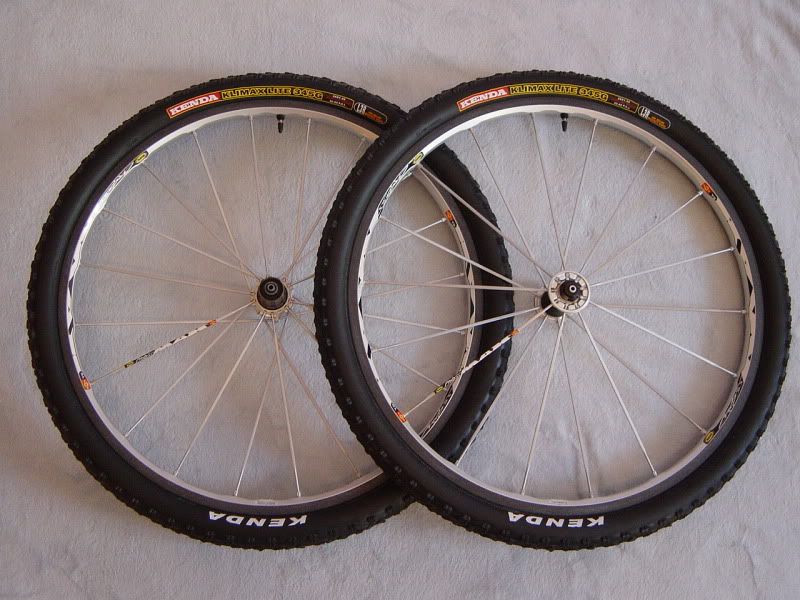 The geeky alignment shot
: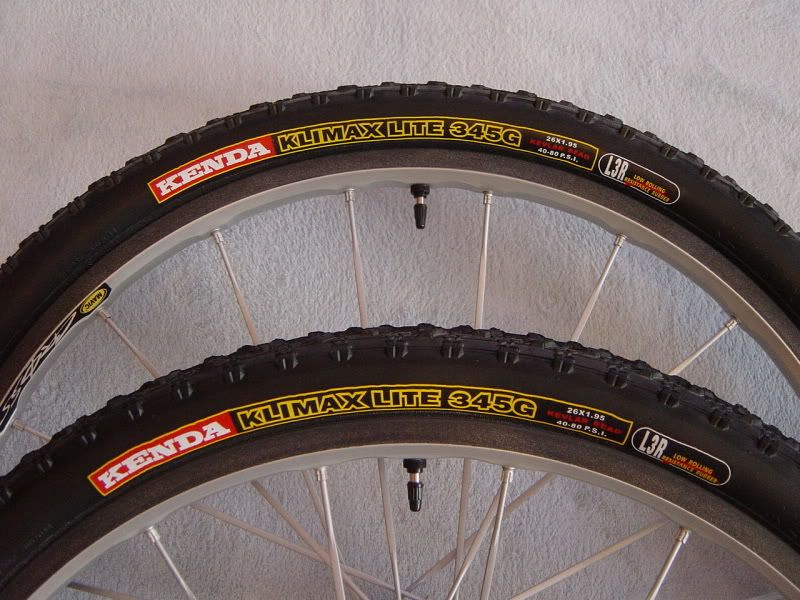 The tyres went on really well with the Stan's sealant, after I had learnt a few tricks
I am well impressed with the kit
I did a lot of reading on the Stan's forum and the net before I started. I tried the compressor method (which was a small garage forecourt one) and it was crap, didn't suit the Mavic valves - I would have been better off having a curry and farting on it
The Mavic valves will only accept a Schrader valve when the valve core is in and the valve core restricts the flow enough not to allow the beads to seat
So a rethink over night resulted in a method that involved no sweat and was all done (cleanly !) in the kitchen and watching telly
I have never tried these tyres or rims before but the combination has a really tight bead (60psi on a soapy rim to seat it - BANG !!). Tyres were new if that made a difference ?
I don't know if a bead / rim that grips like this is good for tubeless but I guess so ?
My method was :
Fit the tyre and an standard tube.
Soap up the rim and tyre bead (align the logo's
)
Inflate with a track pump to seat the beads.
Deflate.
Unseat one bead and remove the tube (don't unseat second bead but with how hard / tight mine fitted this wasn't a problem
).
Fit the UST valve with no core.
Refit tyre.
Re-soap the rim bead.
Dump a full Co2 cartridge in the tyre to seat the bead. The Co2 pump slid onto the smooth part of the valve stem and sealed well, it even held itself on with 60 psi trying to push it off ?
Let the tyre deflate. This took about five mins with the leakage from the bead / rim joint.
Let the tyre temp get back to normal.
Inject the Stan's (I used 2oz) though the valve.
Refit the valve core.
Inflate with track pump, I used 60 psi (Note : my tyres are good for 80 psi so be careful !)
I then followed the Stan's method for sealing.
They got a lot of shaking / turning yesterday and then left from 5 to 11 last night whilst we were out (dads 70th) and they were both still inflated but had defo dropped some pressure, I gave them a good shake, left them for a while, inflated to 60psi, shook them again and then left them on their side on mugs overnight - This morning both were still rock solid
WD