Here's one of my two main (non retro, but have a couple of those as well) MTBs, this Salsa is just crazy light & what I use for fast flat XC.
It's pretty much complete now, although it took about 6 years to get to this stage with major & minor upgrades as I had the cash or found bargains. The only things I plan to change are the brakes & maybe the crankset. The brakes for a set of R1's or black Juicy ultimate's (got the blues in a swap for a pair of Mono Minis!), the crank for XTR, or more than likely I'll just change to a 29/40 double ring set up. It could be lighter if I mixed & matched manufactures parts but I like the WCS theme & I hit my sub 8kg goal anyway.
I think of it as a modern retro race bike with it's rigid forks. Riding rigid is a lot of fun for me & I prefer picking lines over using suspension to soak it all up. I like the way the angles are always the same & the fork tracks loads better than a flexing suspension fork. Don't get me wrong, I do like suspension bikes as well & have an 08 Rocky Mountain Element 50 full suspension bike, but this is my favourite bike.
Hope you like it!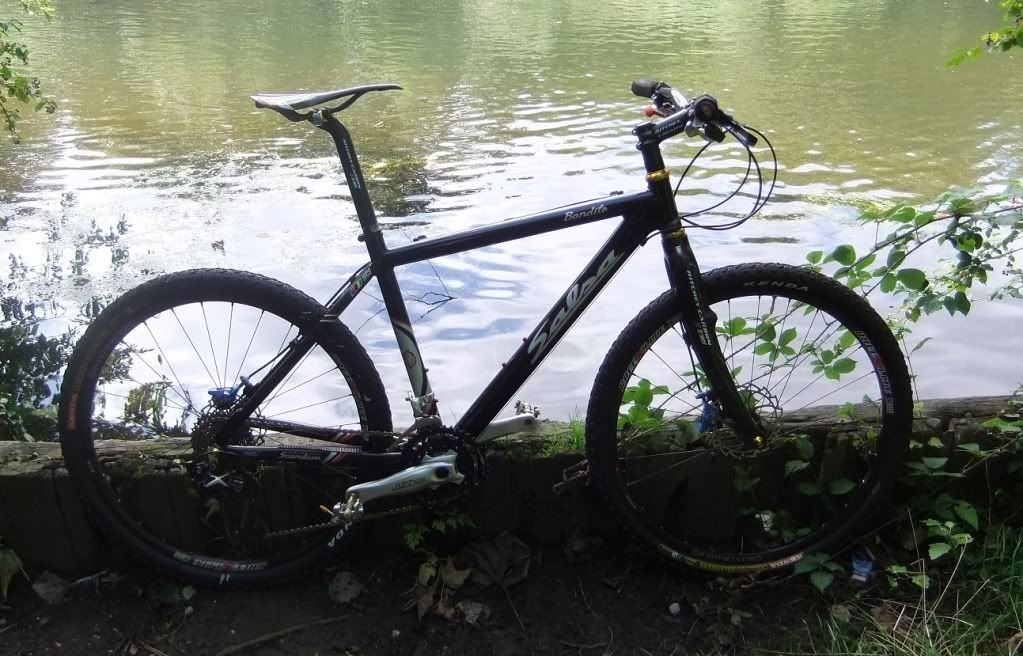 Frame: Salsa Bandito full Scandium 18"
Forks: Ritchey WCS Carbon
Bars: Ritchey WCS Carbon Rizers
Stem: Ritchey WCS Carbon 4 Bolt 90mm
Headset: Chris King NoThreadset
Grips: Ritchey WCS Neoprene
Bar Ends: Plastic
Front Brake: Avid Juicy Ultimate
Front disc: Alligator Wind Cutter 160mm
Rear Brake: Avid Juicy Ultimate
Rear Disc: Alligator Wind Cutter 140mm
DT Swiss Centre Lock Convertors
Front Shifter: SRAM X0 with Avid Matchmaker
Rear Shifter: Shimano XTR
Cables: XTR Premium
Front Mech: Dura Ace Triple
Rear Mech: Shimano XTR Carbon Shadow SGS
Seat: Token Full Carbon
Seat Post: Ritchey WCS Carbon 1 Bolt With 9mm Rails Conversion
Seat Post Clamp: Token
Cranks: Shimano XT HT2 Triple
Chain: KMC X10SL Ti Nitride
Cassette: XTR 11-32
Pedals: Xpedo Ti/Mag
Bottom Bracket: Shimano 105
Front Wheel:
Rim: Bontrager Race X-Lite
Spokes: DT Revolution
Hub: Bontrager branded DT Swiss 240S
Tube: Continental Supersonic
Tire: Kenda Klimax Lite
Skewer: Halo Hex
Back Wheel:
Rim: Bontrager Race X-Lite
Spokes: DT Revolution
Hub: Bontrager branded DT Swiss 240S With 36 POE Upgrade
Tube: Continental Supersonic
Tire: Kenda Klimax Lite
Skewer: Halo Hex
Extras: Few Ti bolts/Pace Carbon Patches/Carbon Spacers
Weight: 7.9KG or 17.07LB