Heres my latest ongoing build which is now rolling but still in need of some finishing touches..
I realised I wasnt to enthralled with dragging two ankle biters along in trailer and need something that would do the job a little better. The Big Dummy seemed to fit the bill nicely, the xtracycle format would allow me to mount two child seats to the rear deck with a bit of fettleing.
The bike should be suitable for a little off road whether with the nippers on board or not. I orginally built it up with Maxxis High Rollers (2.7 front, 2.5 rear) on the Mavics but the drag on tarmac was huge so I have chucked on a set of Twin Rails which should roll significantly better but dont look quite as good.
The rear deck wants a little refinement and a double stand is essential as its a real pig to push/manouver when the kids are on board although once you chuck a leg over and start riding you cannot really tell the extra weight is there.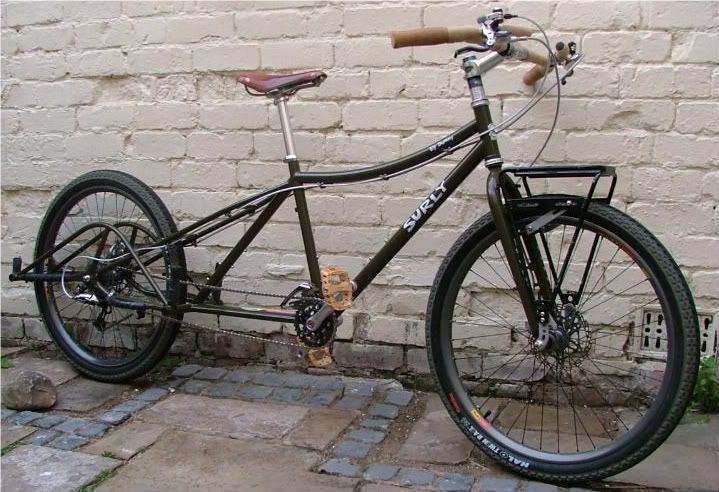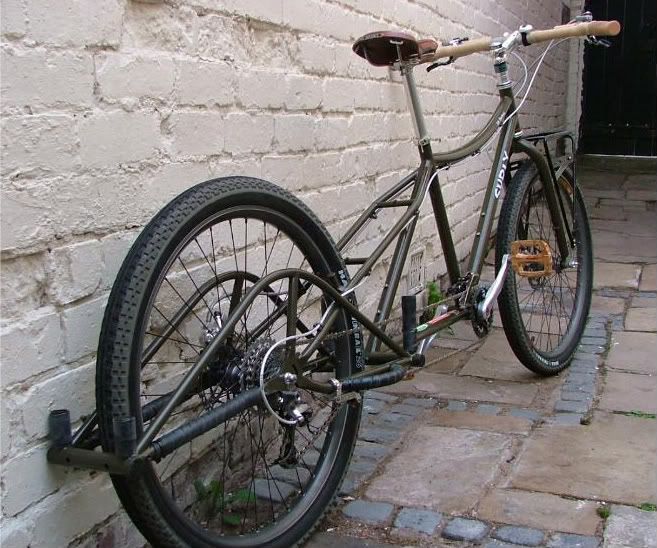 Frame: Surly Big Dummy 16"
Fork: Surly Big Dummy
Headset: Hope
Stem: Thomson 110mm 10 deg rise OS
Handlebar: Titec J bar
Grips: Dimension cork grips with Cinelli cork tape, with hemp binding
Barends: N/A
Brakes: Hope Mono Minis
Brake Pads: hope
Brake Cables: Hope stainless braided
Cantilever cable hangers: n/a
Brake Levers: Hope Carbon levers
Shifters: Shimano Dura Ace barcons
Front Derailleur: Shimano XTR bottom pull
Rear Derailleur: Shimano XTR rapid rise
Derailleur Cables: Jagwire switch braided
Cassette: Sram 990
Chain: 2x Sram 991
Cranks: Middleburn RS7 (175mm) square taper
Crank Bolts: Middleburn
Chainrings: Middleburn 22/32
Chainring bolts: ?
Bottom Bracket: Shimano UN54
Pedals: Outland kustom wood effect
Hub Skewers: Hope
Rims: Mavic en321
Hubs: Hope Bulb 36h
Nipples: yes
Spokes: dt swiss db
Tyres: Halo twin rail dual compound
Tubes: Michelin dh
Saddle: Brooks Ti Swift in honey
Seatpost: Thomson 27.2 x 320mm
Seatpost Binder: Thomson 30mm
Weight: hahahahahaha yes lots.