Been looking on and off for a big hit DH bike this year, fancied a Kona Stab or Specialized Big Hit, dont know why as i'm pretty crap going downhill and it'll probably just mean i'll be going faster when i crash but what the hell
This frame came up for sale localy having been MacRetro celebrity BigEcks rig for a while before he got his dream San Andreas.
This was the bike when Alex had it.
I had a shot of it when it was like this, frame is a 17" but me being a stumpy wee bloke at 5'7" the very high BB height made the bike feel like a horse, funny enough felt fine when actually riding it, just had to make sure i pulled up along side a kerb or big rock to get off the thing
Plan to fit 24" wheels to reduce the standover height, recon this should work ok, the forks will be no problem (will be Shivers like the ones Alex used), had to cut the brake bosses off the rear stays even so may be restricted to a 2.3 tyre in the rear, forks should be able to take a 24x3 though.
Frame is pretty sound but me being an incurable tinkerer had to strip it anyway, no play in the bearings but a couple are a bit sticky so going to bung a new set in anyway as they are pretty cheap.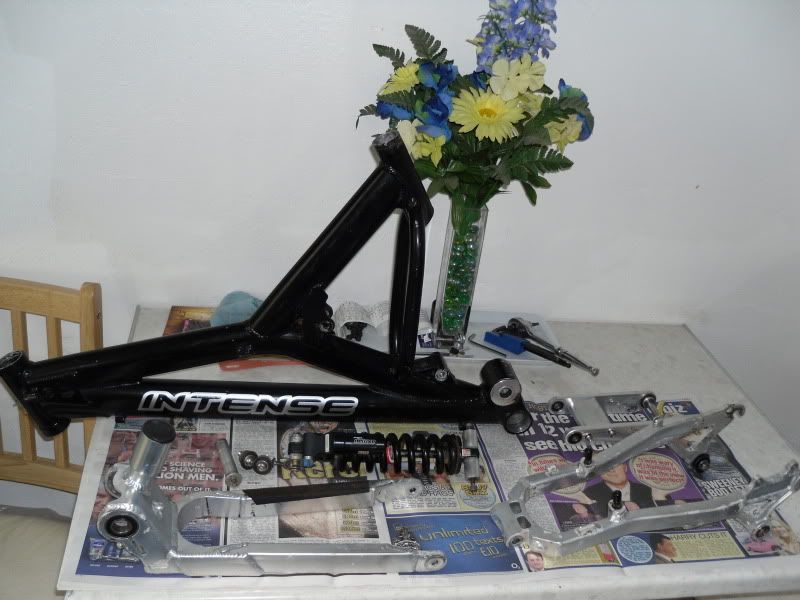 Decided to strip and paint the main frame, considered a couple of options before deciding on forest camo
Stripped to bare alloy.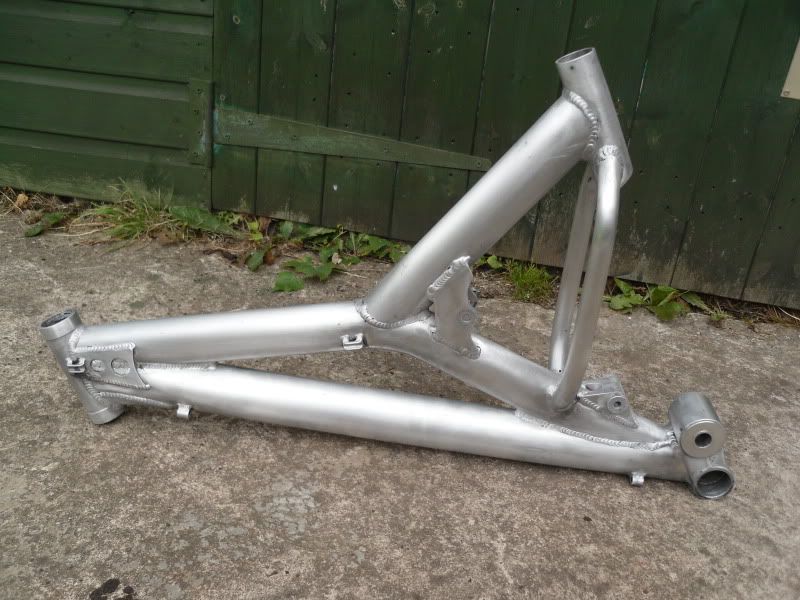 A quick prime and coat of Rover Applejack.
An hour with some pots of Plasticote paint and some bits of sponge and it's just about done and ready for some laquer, undecided whether to put some Intense stickers back on it
.
Got these big brakes to go on it, Hope DH4 for the front and Enduro4 on the rear with 203mm discs.
Got these green anodised bits to got on, going to get a green Hope seatcollar
Going to be using black 24" Halo Combat rims, XT rear hub and 29" low rise Renthal MX bars i like to use on DH bikes, gears and cranks will be whatever i can get to get it moving.
Forks will be Marzocchi Shivers, already bought these but they are leaking which was'nt mentioned in the add, damn E-bay
, luckily they are very easy to strip and service so will get some seals next week, get the bearings for the rear and will update this thread with the gory details