picked this up tonight from neil7, felt so bad as he didnt want to sell but unfortunate knee problems have dealt him a cruel blow bike riding wise.....
cracking guy who loves his bikes as much as the rest of us on here, and it was nice chatting with him today, we even went over his local fields on the bikes for a test ride.
december 2009, one of the last merlin built jones, not sure how many are in the UK, maybe another 4 or 5. think there were 75 made worldwide so not something you will see regulary.
also came with single speed cog and custom mudguards front and rear.
stopped off at evans cycles on the way home as i was desperate for a seat, was going to buy a basic charge spoon, but they had a single titanium railed one in my colour, result!
anyway heres some quick pics as i stuck the wheels on, and before i have set it up to my body.........enjoy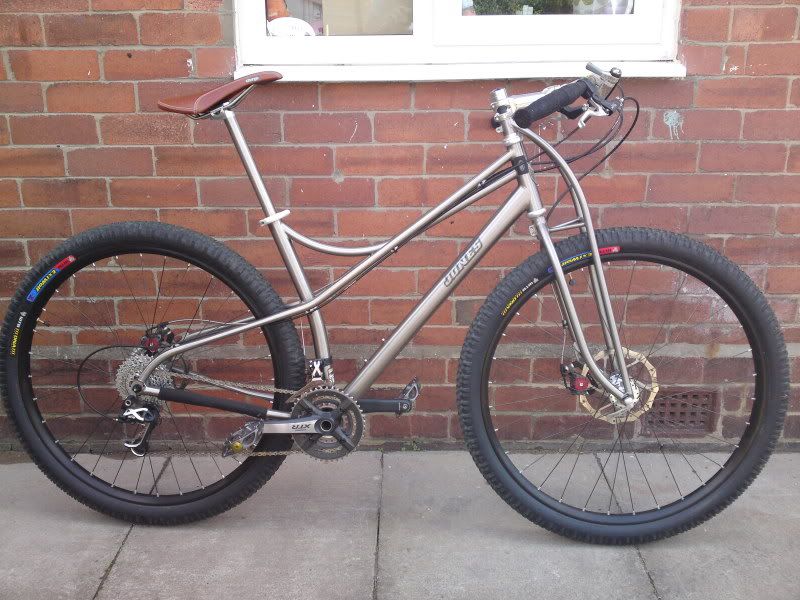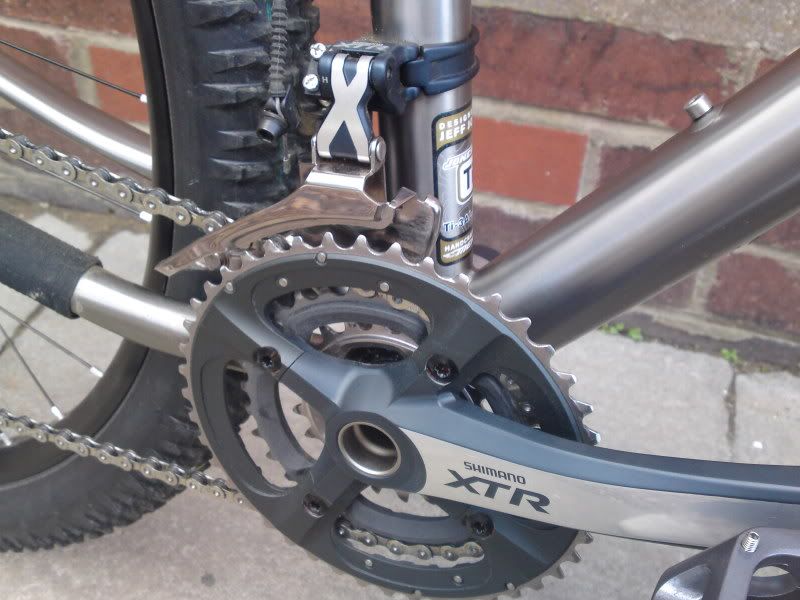 Frame: Jeff Jones 3D Spaceframe 24''
Fork: Jeff Jones truss Titanium
Stem: Moots Titanium 110mm/31.8
Handlebar: Jones H bar Titanium
Grips: cork
Brakes: Avid BB7
Brake Pads: Avid
Brake Levers: XTR
Shifters: Pauls thumbshifters
Front Derailleur: modified XTR
Rear Derailleur: XTR
Cassette: custom 6 speed
Cranks: XTR
Chainrings: XTR
Bottom Bracket: EBB
Pedals: DMR V12 Magnesium
Hub Skewers: XT
Rims: Salsa
Hubs: Chris king
Tyres: Continental Mountain King 28x2.4
Tubes: continental
Saddle: Brooks B17 Titanium
Seatpost: Moots Titanium
Bottle Cage: King Cage Titanium
Weight: 25.8lb

_________________
2014 surly straggler
2012 surly moonlander

14 badboy 14 carbon beargrease 13 jones spaceframe 14 straggler, 05 pugsley, 13 pugsley, 12 moonlander, 13 krampus x2, 13 fargo 2, 11 surly pugsley, 01 Volvo Cannondale, 01 dekerf limited, 98 cannondale caad2, 94 san andreas, 96 san andreas, 93 pace rc200 f3, 08 Ti moots rigormootis, 93 Ti merlin xlm, 09 Ti jeff jones spaceframe, 93 fat chance yo eddy (ex dave hemming), 11 salsa mukluk, 00 scott octane, 03 stumpjumper comp, 07 s-works fsr carbon, 08 revolution triad 2, 94 claud butler kylami, 96 cannondale m500, 93 townsend, 07 scott scale 30 carbon, 92 CR dogs bolx, 09 hooligan 1, 99 trek 6500, 10 badboy