Here's my feedback thread
http://www.retrobike.co.uk/forum/viewtopic.php?t=53189
Price includes postage within mainland UK - sorry No International Postage on this one
NEEDS TO GO SO NOW OPEN TO OFFERS 07/04/10
I can only say NO
1998 GT STS-DH Lobo Thermoplastic Frame size Small £625
SOLD ON EBAY
In stunning Condition. Only Recently built up after years in storage, ridden about 2 miles. Everything is perfect on this frame. Rockshock Coupe Pull Shock is perfect. The Frame also comes with a BRAND NEW Hope Headset, Original Torque Arm Disc Adaptor, X-Lite Brake Boss Blanks and Seatclamp and Hope Hydraulic Hose Guides.The only thing wrong with this frame was that the original decals had started to become brittle and flake so I had a new set made by Gil_m and they have only recently been applied. The frame also has a NOS Sharkfin on the driveside chainstay
Also included in the sale is a Brand New additional rear shock. Still boxed with manual. Not many of these left and specific to the Lobo. Having this additional shock will mean this bike can be ridden for years to come.
I've seen cheaper ones but they're a bit rough and as most of these frames were put through some serious abuse I would be really cautious in buying one. Trust me been there done that.....this is a good one.

I WILL COMBINE THE FRAME, CHAINSET, CHAINGUIDE AS PICTURED FOR £720 DELIVERED
SOLD ON EBAY
1998 Marzocchi Monster T Dual Crown Forks £140
sold to Soupie69uk
These forks are amazing, they are in excellent condition, stanchions are clean. Marks present are on the lower dropouts which being polished aluminium could be polished out. However there is a slight problem, they have a 20mm Bolt Through Axle and the Allen Hex is starting to round. I was going to get this sorted at a local engineering firm but as I am now selling the bike I will leave this to the new owner.
AC (Adventure Components) ProGuide Chain Guide £50
Bottom Bracket fitting, Spring loaded lower arm with preload adjust, 7075-T6 aluminium plates, fits 40 - 52T chainrings SOLD ON EBAY
AC (Adventure Components) Chainset £140
110mm 5 bolt
Crank arms made from from billet 7075-T6 aluminium alloy in excellent condition. Crank Arms Originally Retailed at $219.99
With BRAND NEW AC Holeshot 42T Chainring and Red Anodised Chainring Bolts. SOLD ON EBAY
Toxsin Lock On Grips £6
SOLD to dan28
Mint Condition with Anodised Red Lock Rings
GT Stem Cap £5
SOLD ON EBAY
Hope Headset Spacer £4
sold to Soupie69uk
WTB Venturer Comp Saddle £15
SOLD ON EBAY
NOS Brand New mint condition saddle as per original Lobo spec
USE Sumo Seatpost £25
SOLD ON EBAY
Mint condition 27.2mm Cut to 300mm
THIS IS WHAT IT USED TO LOOK LIKE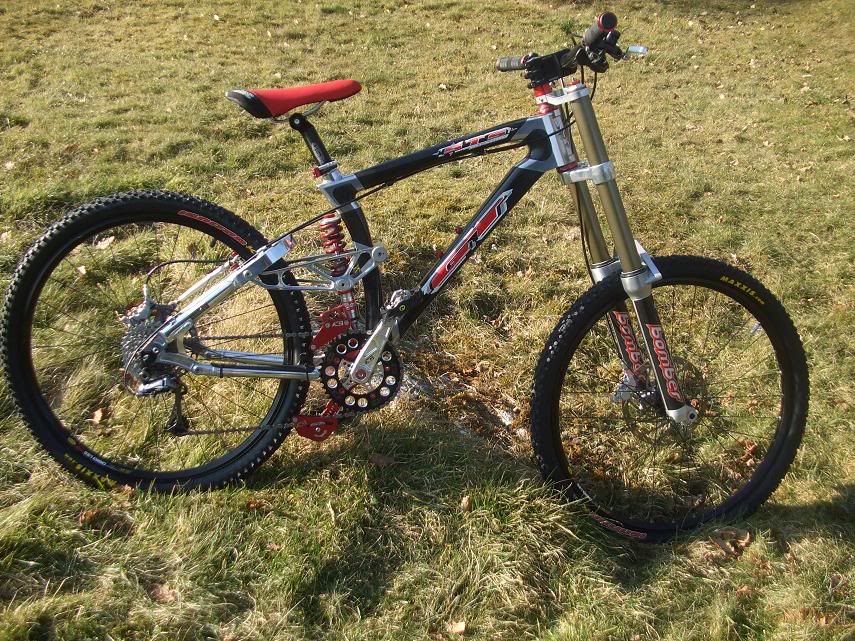 GT STS-DH Lobo Frame
GT Stem Cap
Additional Rockshox Rear Suspension Unit (Comes with Frame)