Still need some dosh & still some gear left, chaps - reach for the credit card.
Deore dx 1-1/8 headset, barely used in box with instructions
sold
left hand only mavic wishbone shifter
make me an offer
XT 34.9 mech, bottom pull
£9 posted ?
FS - GT tequesta 1990 frame forks stem large size, blue marble finish, few scrapes here and there but no dents, would make a nice hack or singlespeed, canti, u-brake & f/mech inc but needs blocks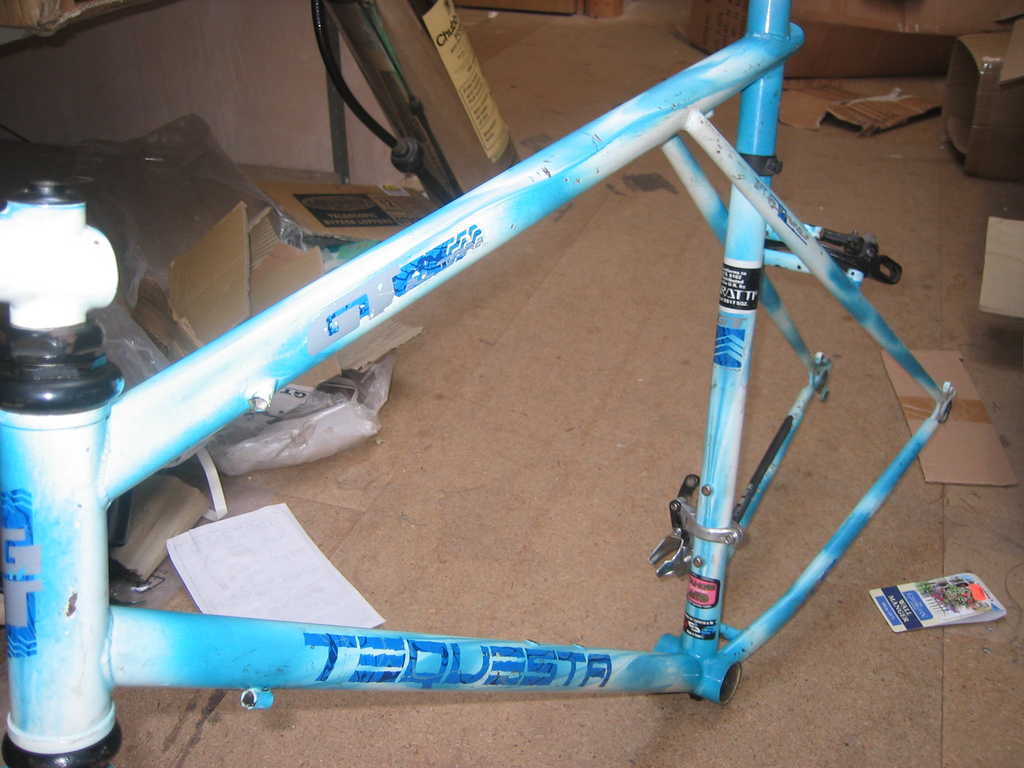 £45 posted or make me an offer
more pics available
FS - Rockshox series 2 mags 1-1/4" 180mm threaded , need service + 1cap, untidy but once painted up (or polished) these would be great on a yeti or fisher .
sold
FS - manitou Comp forks, 1-1/8" 190mm long ahead & spare threaded 1-1/8" 145mm steerer Nicer CNC arch than M4's. Very reluctant sale
SOLDposted
FS - Answer alumlite riser bars, good condition
SOLD
FS - manitou mach5 SX 1" 200mm long ahead & spare 1-1/8" 160mm long threaded, rare canti hanger version
Perfect forks for keeping the old 1" steely going, manual included and in
great
condition.
SOLD
Tioga stem Very rare and unusual 1" quill, accepts a staight bar with no bulge !.
£15 NOW £12 posted
Ritchey seat post 27.0, marked
£8 NOW £6 posted
ritchey Vector saddle in grey unused
sold
Ritchey QR's in black bit of rash
£12 posted
generation 1 dia compe SS5 levers (advantage5)
very untidy & dirty includes the rubber hoods
SOLD
altus levers, cheap , cheerful & lightweight
£3 posted
Bontrager saddle
£10 posted
pics available for all of above
postage a bit more for overseas, please ask

_________________
Stabled = 91 Browning Test unit - 87 Chas Roberts Snow Leopard - 88 Overbury's pioneer - 89 Bromwich - Dave Yates Diabolo - Mk1 Thorn Nomad - Thorn Raven tour - Dave hinde disc - frontiera 531 - Serotta Proflex - 92 orange clockwork - 86 Orbit Frontier - 85 F.W.Evans