Raleigh TI 753
Due to a refocus on what the core of my collection is, forced by constraints I have concerning space, time and so on, with pain in my heart I decided to let this beaut go. It deserves better than the upcoming years hidden away as future project.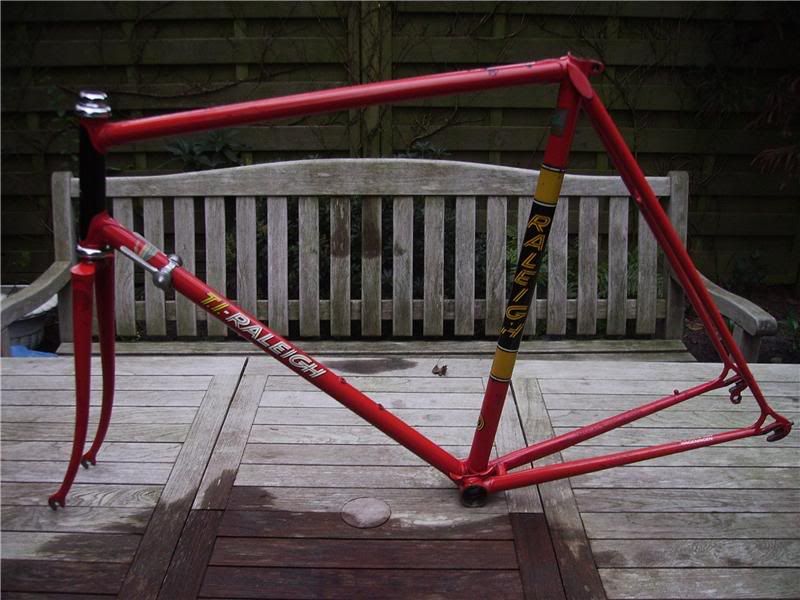 Most of you are of course familiar with the history of the 753 Raleigh and the tough to beat Raleigh team from back then.
Features:
- feather weight
- Legend
- Reynolds 753
- drilled ends
- red
- Seatube 60cm ct
- Toptube 58cm cc
- frame and fork only.
So does not include headset and shifters like shown in the pics.
Note on condtion: Structurally okay frame. Toptube needs attention, there where the cable clamps were attached. Surface rust with in particular the 3rd clamp. Personally I would do:
- or clean and spray full top tube and also do the chainstays. 95% of the spots are taken care off than. Touch up for the remaining. You still have an original frame than!
- or full repaint. Looks neat and the frame is worth it. Decals can be had through Lloyds cycles.
Currently the frame shows touch up here and there, but from a distance its looks good and it is still original.
EUR 185 shipped
GAZELLE Champion Mondial Jubile 77/100
Issued celebrating 100yrs of Gazelle bike building ! Champion Mondial blue print, but many special Jubile features.
Features:
- 100 made, this is #77
- Champion Mondial => means excellent ride characteristics !
- many nice detailing like jumping Gazelle cut outs in headlug and on rear brakebridge and mentioning in headlug and on stays of the fact it is a Anniversary issue celebrating 100yrs Gazelle.
- Reynolds 531 tubing for full frame and fork
- Cinelli spoiler bb shell
- Campa ends
- internal cable routing
- ST 58cm ct
- TT 56cm cc
- Stronglight needle bearing headset mentioning ''Gazelle 1892-1992'' and so on
Note on condition: This frame has seen many many miles and has been everywhere, hence the low price. Frame doesn't require reall work, but cosmetically I would say it fells a bit short for a garage queen to solely look at. Why would you, as this is such a nice riding chassis. Great for all day use, for example journeys to work. Headset adjusted with incorrect tools. It is mainly the locknut that shows damage. Should source a new one.
EUR 130 shipped
SOLD (pending payment)
Van Herwerden by Zullo
Van Herwerden is a shop in Holland who believes in steel, steel and steel. They still do. They had their frames made with Jan Legrand, Jan v Dalen and this one is neatly made by Zullo in Italy.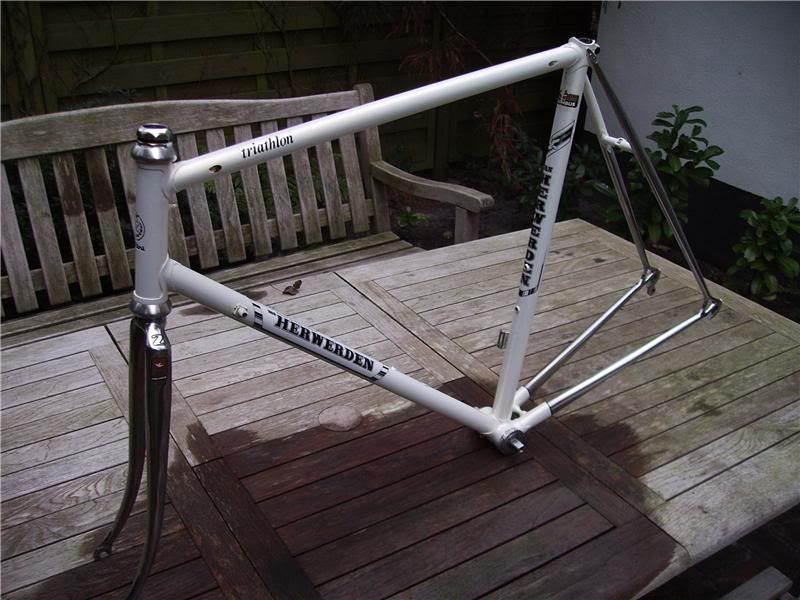 Features:
- pearlecent white
- Columbus tubing
- Campa ends
- 'Z' cut outs
- internal routing
- ST 56cm cc
- TT 56cm cc
- including good Stronglight needle bearing headset and Campagnolo Nuovo Record bottom bracket
Note on condition: Very good condition. Hardly ridden. Some cosmetic imperfections here and there, but minimal. Moving parts in great shape.
EUR 140 shipped
SOLD (pending payment)
Shipping = to UK or Europe. Other destinations, please ask quote. Shipping is covered/insured.
Feedback
Who first comes gets! Not a fan of dibbing.
Also view my
other stuff
Thank you