SORRY GUYS, SOLD
I just don't seem to be able to build this beaut up, I have tried twice with different components but I just never finish it off so............its for sale
Its a 1997 breezer storm in alu, 17.5" C-c, 19.5 C-t, Beautiful metallic blue with the cue dart paint job, classic breezer dropouts, and the breezer badge up front.
I bought this about year ago from Italy and it has sat in the shed eversince, occasionally dragged out to admire.
It was bought as NOS and I paid about £150 in total for it.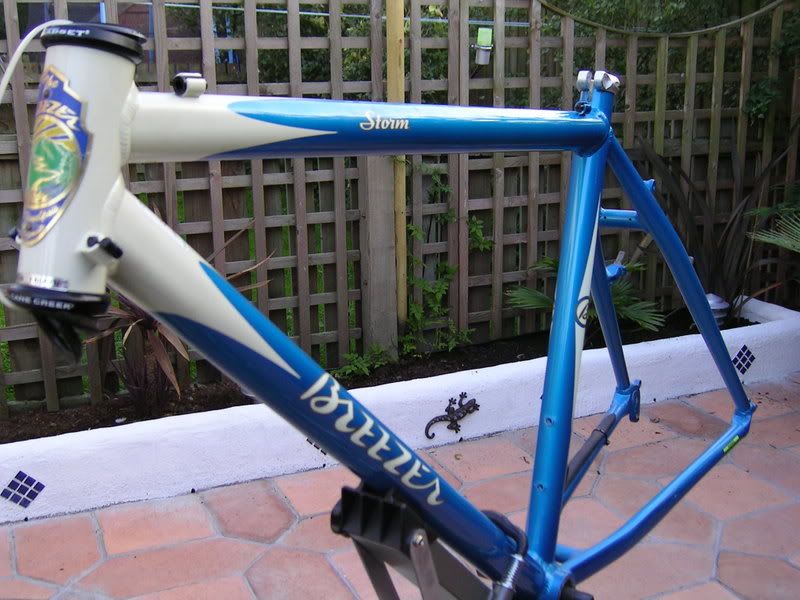 Included will be a cane creek aheadset which has a bit of dust in the bearings but will put you on till a nice CK headset in blue can be fitted (it deserves it) and an XT chainstay protecter, got some canti studs to fit it and some cable-stop reducers for the top tube cable guides.
The bottom bracket will be removed before posting as I still need it, sorry.
It is in fab condition for its age but it does have a couple of chips from storage (I have done my best to show on the photos), but otherwise this frame is in great condition.
plenty more photos here guys (and gals)
It would also appear to be begging for some lawill leader forks,

Is this normal for breezers
£130.00 posted, would prefer Paypal

_________________
Stabled = 91 Browning Test unit - 87 Chas Roberts Snow Leopard - 88 Overbury's pioneer - 89 Bromwich - Dave Yates Diabolo - Mk1 Thorn Nomad - Thorn Raven tour - Dave hinde disc - frontiera 531 - Serotta Proflex - 92 orange clockwork - 86 Orbit Frontier - 85 F.W.Evans