Having a clear out as I am reducing myself to one bike to perform every task as I don't ride as much as I used to. All prices are with postage (cheapest available through rm) I will post recorded / special at your cost.
Sensible offers on multiple buys will be considered or if someone wants to take everything and split it themselves I will accept a very, very daft offer!
Posting will be on Fridays, payment by PayPal welcome, gift at price advertised or pay the fees on top for protection, your choice. Cash in collection / through the post is also fine by me.
Pics will be added when photobucket starts working for me again! More to be added as I strip other bikes. Dibs are welcome pending more info but priority will be given to unconditional offers to buy.
Thanks
First up, a complete single speed conversion kit consisting of alivio m410 crank & 32t middle ring, race face bash ring, silver spacer kit, unused kmc 1/8 chain, unused dx 16 tooth rear and an unused gusset tensioner
£35 posted for everything you need to make a ss project.
Next lot...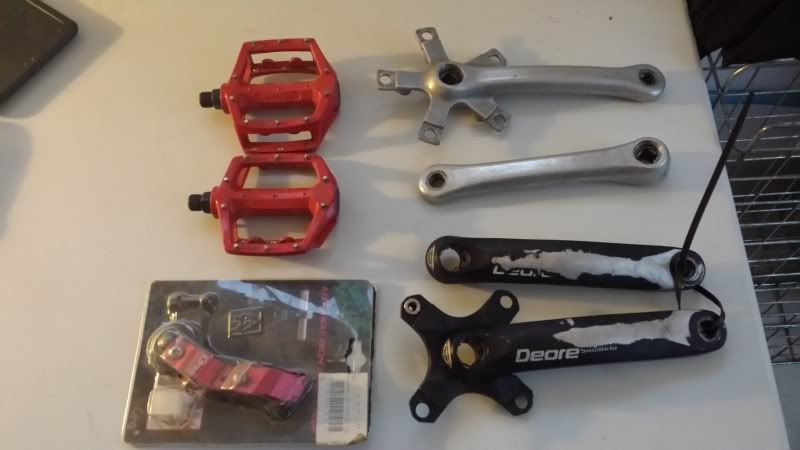 wellgo v8 replicas, red, mucky but in vgc, probably done 50 miles tops. £10
Deore m510,175mm crank, no rings, loads of heel rub £8
Shimano at10 crank, no rings, 170mm £8
Red ano ging tensioner £8 (was nos , fitted but never ridden)
Moving on...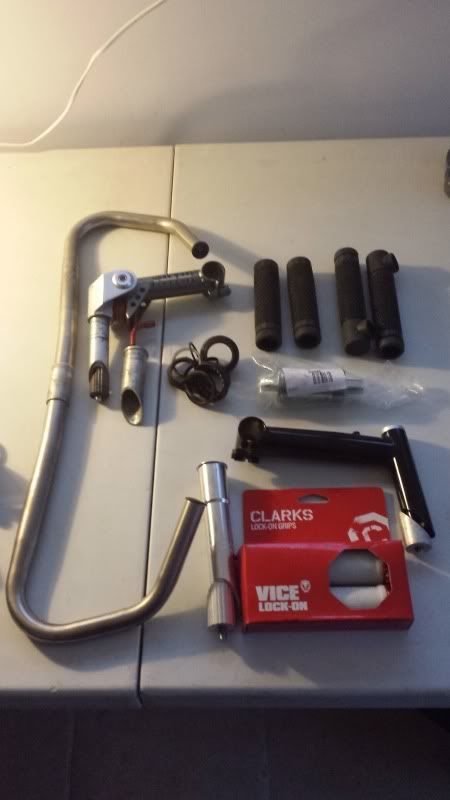 ATI grips, 2 pairs, normal and bar end grips, as a foursome gotta be worth £10 - barely used.
Fsa square bb, 68x110,new,unused £8
1 1/8 ritchey headset - beaten but complete £8
Tatty flexstem, 1" quill with shim for 1 1/8" £10
1 1/8" quill to ahead £10
White Clarks lock on grips, still boxed but grubby from handling etc. Red ano locks & white plastic end caps £6.50
Long toga tbone quill, 1 1/8"130mm long I think. £10
Titanium brahma bar. Originally off a dynatech I think £30
Next picture...
Black deore m510 rear mech £8
Deore m530 shifters (9spd) £20
Avid sd7 brake levers £15
Single Black tektro v brake, no noodle £5
Single Avid sd5 v brake, no noodle £8
Single promax lh brake lever, £karma with tektro brake / £4
Single Avid ad1.0l brake lever (left hand) £karma with sd5 brake / £4
Pair Avid sd1.9l brake levers £10
Shimano front shifter mc40 £5
Syncros stem (a bit Tatty but not bad) £10 (£15 if I find the top cap!)
Still more to come...
Madison cromo post, 26.8mm £10
Deore m510 control set £25 includes lh brake, lh shifter and rh sti unit. I ran these on a 1x9 that got put to 3x9 for winter commutes
M510 v brakes, 2 pairs, includes boots, noodles and bolts, (aetec pads on one pair, Swiss stop on the other) £15
Charge spoon, black, red logo, white stitching, black plastic underside. Barely used £15
Charge spoon, black, red logo, red stitching, red plastic with white trim underneath (Ltd edition I believe but could be wrong) £15
Front white crud £8
Easton ea30 riser uncut, £10
still got more bits to list as i break other bikes... keep checking back.
syncros stem is 110mm i think, unsure of the rise, possibly 10 / 15 degree